Hitting the right notes around the world
Hitting the right notes around the world
How FedEx is helping to spread the music internationally
How FedEx is helping to spread the music internationally
Global music aficionados love these unique hand-made guitars from Philippines-based Ferangeli Guitar and FedEx is helping this small business deliver.
Spreading the joy of music


How FedEx is helping these Philippines-based guitar craftsmen reach their global customers.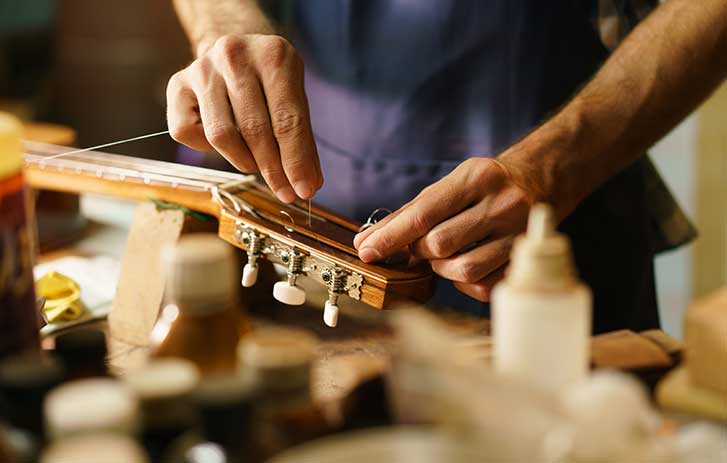 Artisan guitars find international fans
With international demand for their products surging, Fernando M Dagoc Jr, Marketing Manager at Philippines-based Ferangeli Guitar Handcrafter knows the importance of exceeding his customers' expectations. In fact, his reputation for crafting instruments that not only sound perfect but are also beautiful in design and form is growing daily.
For this craftsman and his team, making something his customers will love is one of his greatest joys. Fernando shares, "As a small business, what we are really specializing in is making instruments that we can be proud of as Filipinos."
Delighting customers to the last mile
Ferangeli's instruments are much sought after by the global acoustic guitar community, with happy customers in the US, Australia, Singapore, and Europe. To meet the increase in orders from international and e-commerce buyers, Fernando recognized the importance of choosing a reliable logistics service to create a positive and reliable shopping experience. And that's when he called us.
"What I like about FedEx as a shipping provider is that their API solution allows me to integrate my e-commerce website, so customers will know straight away what the shipping rates are from our address to theirs."
Fernando takes comfort in the FedEx promise of a carefully handled and safely delivered instrument to his excited and appreciative customers - with no unexpected cost surprises.
It starts with connection
There is a quiet creativity in the air at the Ferangeli studio, where Fernando and his team fashion plain materials into acoustic marvels.
Starting with just pieces of wood, they shape the guitar's basic structure. Then what follows is a masterclass in measuring, refining, smoothing, and assembling individual elements into a uniquely, perfectly pitched musical instrument.
With so many Ferangeli instruments destined for foreign shores, Fernando sees every instrument as another reason to celebrate this small business and his community's contribution to their local economic growth.
"For us it's really heart-warming shipping our guitars to other countries. It's not about us, it's that we're offering our Filipino products to musicians around the world and they like them. I'm really proud of what's happening."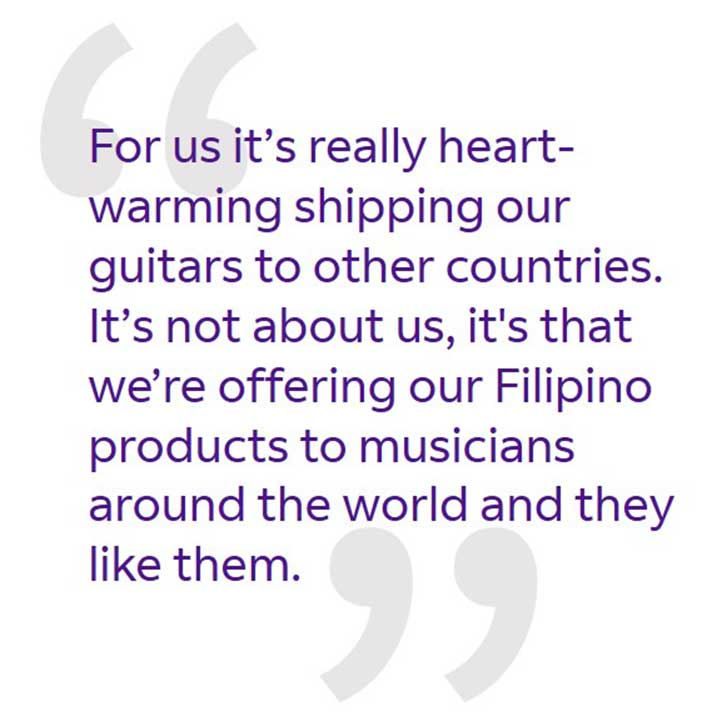 Delivering inspiration every day
Ferangeli partnered with FedEx for two reasons. Firstly, he needed a logistics service that delivered an end-to-end customer experience, through to the very last mile. Secondly, he was impressed by the flexibility in services FedEx could offer his growing small business.
"What I like most is that after the day, or by 6, 7 or 8pm, even in the middle of the night, I can book my shipment for pick up and they will pick it up the following day."
As Fernando steers Ferangeli's e-commerce strategy toward ever sweeter sounding success, his enthusiasm, excitement and energy is infectious. "As a customer of FedEx, it's possible for us to reach our customers anywhere in the world."
As a small business, you know the difference a happy customer can make, and with fast, reliable shipping with FedEx, you can relax knowing we will deliver the right experience end-to-end.
---
More from Small Business Center