Service, Regulatory Updates and Important Notifications
Service, Regulatory Updates and Important Notifications
Service News
In order to expedite customs clearance and delivery of shipments, FedEx delivers inbound shipments to South Korea before the payment of duties and taxes (D&T). This is applicable if D&T are within a pre-determined threshold and shipments are destined to importers in South Korea with a valid FedEx account number, who declared the shipment using their business customs clearance code. Customers must pay the D&T to Customs directly within 15 days of declaration approval. If payment is not made by the due date, FedEx will pay on behalf of customers and a surcharge based on a flat rate or percentage of the total payment made will be imposed.
Starting from June 1, 2018, the maximum D&T threshold amount for an inbound shipment will increase from KRW 1,500,000 to KRW 4,000,000 per air waybill. This enhancement is part of our efforts to provide customers with expedited delivery of shipments.
For the new threshold to apply, the FedEx account number of the recipient must be included in the "Payment - Bill duties and taxes to Recipient" section on the air waybill of the shipment. If the FedEx account of the recipient is not stated on the air waybill, the current threshold of KRW 1,500,000 will apply.
If you have any inquiries, please contact our customer service team.
From June 22, 2017, FedEx customers can make credit card payments for their shipping charges easily, quickly and securely with just one phone call.
There is no paperwork required. The transaction will be completed using the secure Electronic Payment Application. Customers simply need to call our Customer Service team to get started.
For more information, please contact your local Customer Service team.
Shipping Regulatory Update
The 2018 Pyeongchang Winter Olympic and Paralympic games will take place in South Korea from February 9 to February 25 and March 9 to March 18, 2018 respectively.
Shipments brought into South Korea for Pyeongchang Olympic/Paralympic purposes are subject to Special Exemption Procedures (SEP), which gives exemptions on duties and taxes. There is no need to apply for SEP for goods for personal use that are valued under USD150 as these are tax exempt.
According to the official guideline by the Pyeongchang Organizing Committee for the 2018 Olympic and Paralympic Winter Games (POCOG), only the official logistic supplier, Hanjin Transportation (Hanjin), offers SEP on duties and taxes at an additional charge.
Customers who ship Olympic and Paralympic-related materials to South Korea should indicate "POCOG SEP APPLY" on the consignee section of the air waybill and commercial invoice of their shipments. This is a requirement by POCOG to apply for SEP and helps us identify applicable shipments.
Upon arrival of applicable shipments, FedEx will contact recipients for confirmation and forward applicable shipments to Hanjin for SEP customs clearance and domestic delivery. The SEP-related costs will be charged directly by Hanjin, and FedEx will not be able to refund any portion of shipping charges for those shipments
From February 1 till March 18, 2018, FedEx Express is unable to transport any shipments to the Olympics/Paralympics restricted areas in South Korea as the only the official transportation supplier is permitted access. FedEx provides consignees with the option to receive their shipments outside the restricted areas without an additional charge. FedEx will directly contact the consignee in Korea before a shipment's delivery and provide detailed information about how to receive the shipment outside the restricted areas.
The Customs Administration, Ministry of Finance of Taiwan amended the "Regulations Governing Customs Clearance Procedures for Air Express Consignments". Effective 1 January 2018, the de minimis amount for import low-value duty-free consignment will be NTD$ 2,000, down from NTD$ 3,000.
If you have any questions about the regulatory changes, please contact your Sales Representative or our Customer Service Hotline.
Effective 1 July 2017, the Customs Administration, Ministry of Finance of Taiwan will exclude frequent importers who enjoyed the duty and tax exemption for shipments with a dutiable value of less than NTD$ 3,000. A frequent shipper is defined as one who imports six shipments or above within six months into Taiwan. The observation periods are fixed for every six months, January-June and July-December. Shipment counts will be reset to zero every January 1 and July 1.
The MINISTRY OF FINANCE Order is hereby given for the promulgation of the definition of the term "frequently imported" stipulated under Paragraph 2, Article 49 of "Customs Act" (promulgation shall be effective from 1 July 2017).
If you have any questions about the regulatory changes, please contact your Sales Representative or our Customer Service Hotline.
Online Fraud Alert
We have received reports of fraudulent emails claiming to come from BillingOnline@fedex.com. These messages have a vague subject referencing an invoice (e.g. "Your FedEx invoice is ready to be paid now," "Please pay your outstanding FedEx invoice," "New FedEx Invoice," "Your FedEx invoice is ready," "Pay your FedEx invoice online").
If you receive a message matching this description do not open the email or enter any personal information. Delete the email immediately.
FedEx does not send unsolicited emails to customers requesting information regarding packages, invoices, account numbers, passwords or personal information.
For more information on other fraudulent emails, you can visit our U.S. website by clicking here.
It has come to our attention that a fraudulent e-mail with unauthorized use of the FedEx name has been circulating to our customers. The e-mail claims that a FedEx shipment could not be delivered and asks the customers to open an attachment, print it out and take it to a FedEx facility to pick up the package.

Customers need to be aware that this is a fraudulent request and that this e-mail attachment contains a virus. If you have received one of these fraudulent e-mails, do not open the attachment, but delete the email immediately.
FedEx does not request payment or personal information in return for goods in transit or in FedEx custody via unsolicited mail or e-mail.

If you have received a fraudulent e-mail that claims to be from FedEx and have experienced resulting financial loss, contact your banking institution immediately through the appropriate channels.

*FedEx is not responsible for any charges or costs incurred as a result of unauthorized or fraudulent activity that abuses the FedEx name, service marks and logos.

Sign up for FedEx eNews
Email is a great way to be alerted about the latest news that may impact your shipments and stay updated with special offers.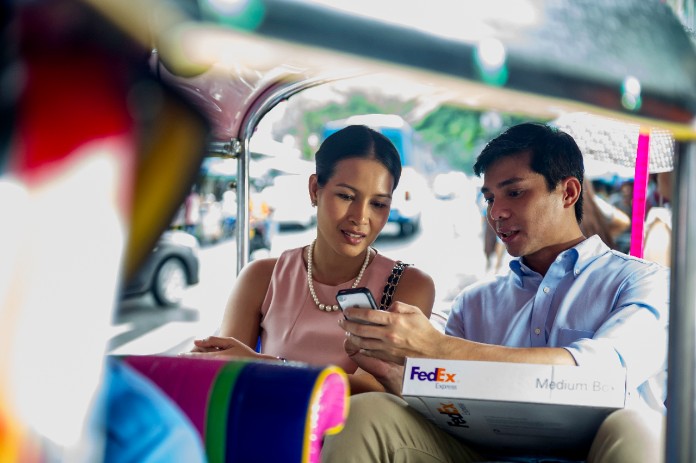 Already Subscribe?
You can change your email preference anytime. Add, remove something no longer needed or unsubscribe.