INNOVATION & GROWTH

     CLICKIFY
SevenSeventeen: 5 tips for managing your finances
The co-founders of candle e-commerce business SevenSeventeen talk hidden costs and the value of keeping an accounting calendar.share the key financial lessons they've learnt while building a thriving e-commerce business.
Executive summary
Most businesses go through highs and lows in revenue and expenditure.
Using an accounting calendar to track and plan for the peaks and troughs works for SevenSeventeen.
The product pricing strategy is key.
Think about differences for wholesale and retail, and make sure to factor in all costs. For SevenSeventeen, fair value for the customer is also a primary consideration.
Not all costs are obvious at the outset.
Some are hidden and can catch you out. It's worth bearing this in mind when structuring your finances.
Investing in your business and charitable giving are both positive.
But it is important they are done in a sustainable way. Start slowly, then develop as you grow.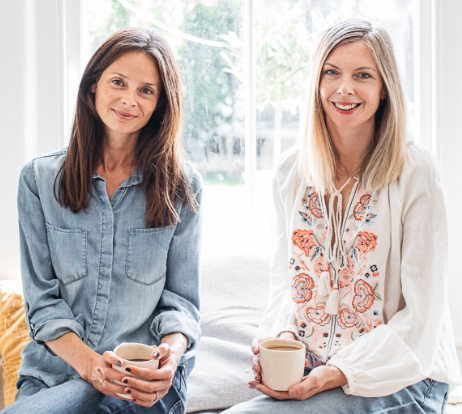 When running an e-commerce business, it's vital to stay on top of your finances. Doing so doesn't just give your business the solid foundations it needs to thrive. It also helps to keep it flexible and adaptable – and able to react quickly when the unexpected happens.
These are important factors that entrepreneurs Naomi Reilly and Sarah Slade have benefitted from since launching SevenSeventeen, their candle and home fragrance e-commerce business, in 2016. Having decided against external funding in favour of growing more slowly, the business is now on track to have turned over £1 million by January 2022.
Here they share five lessons they've learned about managing their finances while developing their business.
Keep an accounting calendar
Like many businesses, SevenSeventeen experiences revenue peaks and troughs throughout the year, which can present cash flow issues. "We know now that we have higher outlays for new stock in July ahead of the peak Christmas selling period, and we won't see that return until well into autumn," explains Reilly.
To stay on top of it, Reilly and Slade meet regularly with their accountant and keep an accounting calendar, which details when various expenses such as VAT bills and large orders are due to be paid. "It's about being organised, and just keeping on top of things," says Slade.
The business also donates 10% of profits to charity, which is paid annually each May. "We put money aside for this and also our VAT bills, which we pay quarterly, every month so they're not such huge outlays when it comes to paying them," says Reilly. "We have different accounts for this which seems to work well."
Get your pricing strategy right
Choosing the right price point for products can be complex – especially in a crowded category like candles. For Reilly and Slade, there was an added complication because they wanted to sell wholesale as well directly to consumers, so they needed two price points.
To set the prices, they calculated the cost price of their products, factoring in expenses such as credit card fees, packaging and fulfilment. They also knew that they wanted to keep their prices competitive.
"We very much see ourselves as the SevenSeventeen customer [and] we wanted something that didn't cost a bomb. We wanted it to feel fair," explains Slade.
"Someone once said to us, 'as well as the cost to you, you've also got to work out the value to the customer; that's where you should be starting to think about your pricing.' That's something that comes into it," adds Reilly.

"As well as the cost to you, you've also got to work out the value to the customer – that's where you should be starting when thinking about your pricing"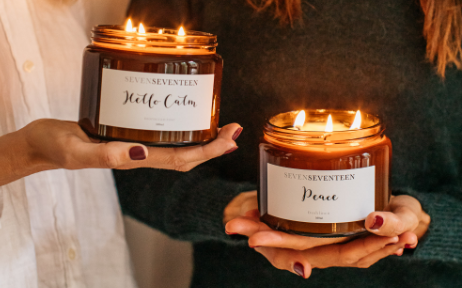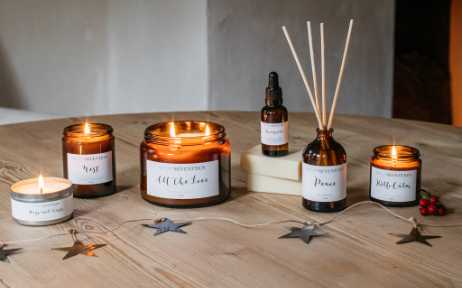 Look for the hidden costs
Like many small business owners, Reilly and Slade quickly found there were several essential expenses that they hadn't previously thought of, such as business insurance and waste disposal. Essentials like that create expenses, however the cost of not having them is often far greater.
"In the first year, one of us put a small amount of packaging from the candles in our home recycling, and we received a penalty from the [waste] company the council was working with," explains Reilly. "I think it was almost £2,000 – it was in the very early days when we hadn't even turned over £2,000."
Other unexpected costs included the trade shows they exhibited at in order to market SevenSeventeen to retailers. Although they had anticipated the cost of the stand space, they hadn't accounted for the many extras they would have to pay for, such as electricity to their stand. "We found those to be a lot more expensive than we were expecting," says Slade.
"Everything added up and I remember being quite shocked at how expensive it was to get yourself there in front of people. To see that return on investment was quite hard going but we did persevere with that for the first three years, and we picked up some amazing stockists."
Start with small investments and scale up
For many e-commerce companies, marketing and advertising can represent and significant cost. Some estimates recommend spending 7-12% of revenue on marketing.1 One way Reilly and Slade make sure costs for sponsored social media posts stay affordable is to spend a small amount initially and then increase it if the product is proving popular.
"For example, when we've done some of our celebrity partnerships, we'll have dedicated a certain amount for advertising," explains Reilly, "and if we see that it's doing really well then we can add more to that and scale it accordingly."
They've been able to take a similar approach with their tech, too, by using an e-commerce provider that offers different plans. "We started on a very basic plan, and then [were able to] grow and upgrade as we grew," Reilly says.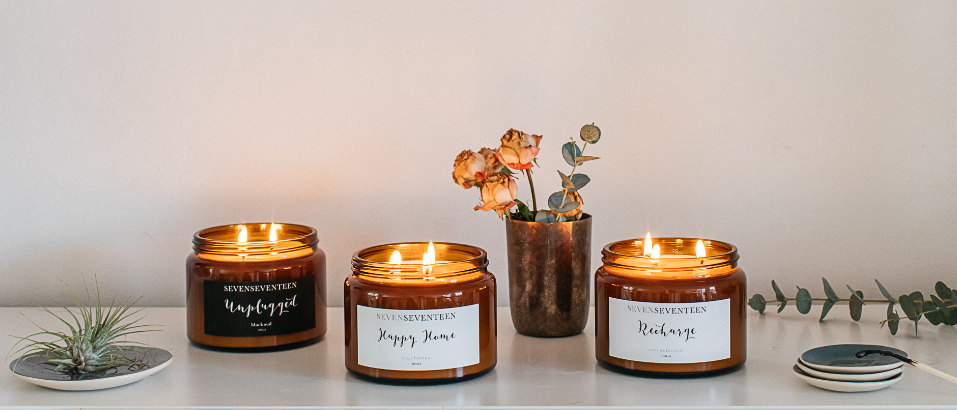 Tie charitable giving to profits, not revenue
Reilly and Slade wanted their products to do good as well as smell good, so a key part of the SevenSeventeen brand has been about supporting mental health charities.
"Giving is a really fantastic side to our business and something we really wanted to do from the out-set, but it's important that you are making a profit as well," Reilly says.
They decided to pledge 10% of profits, rather than committing a fixed sum, so if there's a slow month or an increase in costs, the donation is still affordable for the business.
Looking to get started in e-commerce? Get insight and expert tips in reaching your next e-commerce goal with The E-commerce Playbook from FedEx. 
Disclaimer: The information provided on this page does not constitute legal, tax, finance, accounting, or trade advice, but is designed to provide general information relating to business and commerce. The FedEx Small Business Hub content, information, and services are not a substitute for obtaining the advice of a competent professional, for example a licensed attorney, law firm, accountant, or financial adviser.
---
---
You might be interested in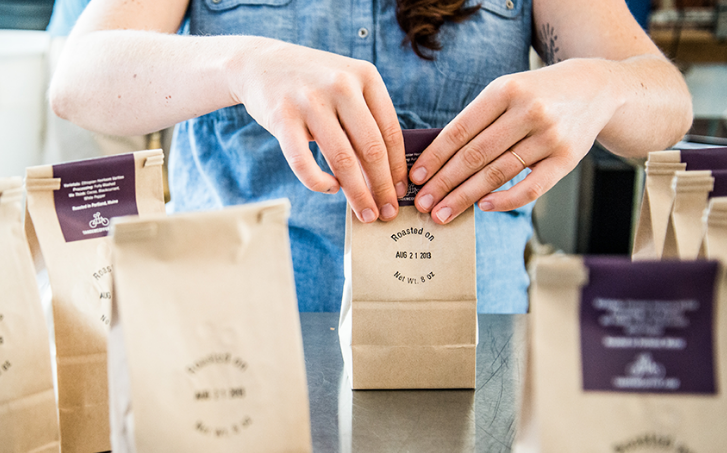 VIEWS & VOICES
Finding the most sustainable packaging for your product
Packaging is a major source of waste for e-commerce businesses, but its environmental impact can be reduced.
Why Indonesia could be your next e-commerce market
Indonesia's e-commerce market is booming, thanks to its young and digitally savvy population.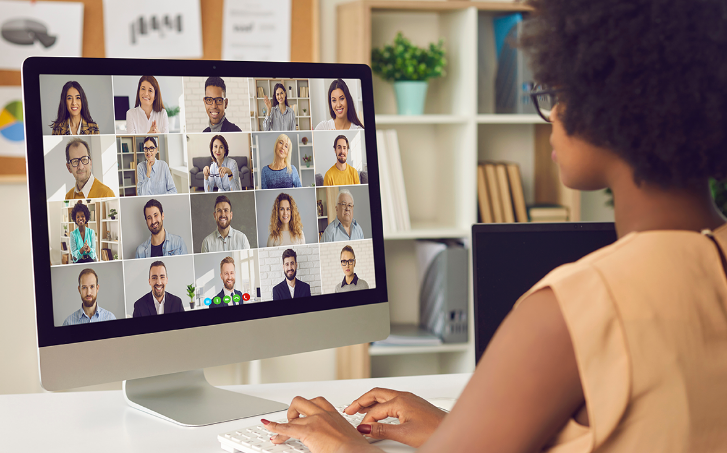 GUIDES & TOOLS
Hybrid working: how to maintain your company culture
Check out these simple tips to help keep your company culture thriving.