Service, Regulatory Updates and Important Notifications
Service, Regulatory Updates and Important Notifications
Service News
In order to expedite customs clearance and delivery of shipments, FedEx delivers inbound shipments to South Korea before the payment of duties and taxes (D&T). This is applicable if D&T are within a pre-determined threshold and shipments are destined to importers in South Korea with a valid FedEx account number, who declared the shipment using their business customs clearance code. Customers must pay the D&T to Customs directly within 15 days of declaration approval. If payment is not made by the due date, FedEx will pay on behalf of customers and a surcharge based on a flat rate or percentage of the total payment made will be imposed.
Starting from June 1, 2018, the maximum D&T threshold amount for an inbound shipment will increase from KRW 1,500,000 to KRW 4,000,000 per air waybill. This enhancement is part of our efforts to provide customers with expedited delivery of shipments.
For the new threshold to apply, the FedEx account number of the recipient must be included in the "Payment - Bill duties and taxes to Recipient" section on the air waybill of the shipment. If the FedEx account of the recipient is not stated on the air waybill, the current threshold of KRW 1,500,000 will apply.
If you have any inquiries, please contact our customer service team.
Effective January 1, 2017, shipments containing Power Banks must be classified as batteries, assigned as UN 3480 lithium ion batteries or UN 3090 lithium metal batteries, where applicable, and prepared in accordance with the "2017 IATA Lithium Battery Guidance Document" published by the International Air Transport Association (IATA).
"Power Banks" are portable devices containing a lithium battery or batteries with a circuit to control the power flow. They are designed to be able to charge consumer devices such as mobile phones and tablets.
Power Banks must therefore be tendered as fully regulated Section IA or IB UN 3480 lithium ion batteries or UN 3090 lithium metal batteries, whichever is applicable, for transport in the FedEx system. All UN 3090 Power Banks are subject to the FedEx pre-approval process.
For your reference, the following are examples of common types of Power Banks:
Universal Power Bank. This comes in many sizes and configurations, which can be tailored to the needs of the user and device. This item typically has a Mini or Micro-USB socket for charging and full-sized USB sockets for discharging.

Solar-Charged Power Bank. This has photovoltaic panels, which can trickle-charge the internal battery when placed in sunlight.

Battery Phone Case. While this older style can be handy, it has very narrow device compatibility.
Please refer to the 2017 IATA Lithium Battery Guidance Document for further information as to how these devices must be classified and prepared for air transport.
Should you have any questions, please contact your local FedEx Customer Service team and ask to speak with a Dangerous Goods specialist.
Shipping Regulatory Update
In September 2018, the Indonesian Ministry of Treasury introduced and passed a new regulation, No. 110/PMK.10/2018. The new regulation amends the commodities list and implements tariff adjustments to commodities that are subject to Income Tax Article 22.

Soekarno Hatta International Airport Customs and Excise Office implemented the new regulation on September 13, 2018. To check the updated commodity list, please visit http://jdih.kemenkeu.go.id/fullText/2018/110~PMK.010~2018Per.pdf We encourage you to comply with the regulation so that your importation process is as seamless as possible. If you have questions, please contact your FedEx sales representative or call our Customer Service Hotline at 0 800 1 888 800.
In September 2018, the Indonesian Ministry of Treasury has introduced and passed a new regulation no. PMK 112/PMK.04/2018. The regulation has revised the threshold of de minimis value from USD 100 to USD 75 per consignee per day for Importation of Consigned Goods. The new regulation is effective from October 10th, 2018 for all Importation of Consigned Goods by air except Batam Airport. If you have any questions, please contact your FedEx sales representative or call our Customer Service at 0 800 1 888 800.
From 1 July 2018, the Australian Government will introduce a 10% goods and services tax (GST) on the sale of goods valued at AUD1,000 or less, which have been imported into Australia by consumers.
This new legislation also requires merchants to provide relevant tax information to the transporter of low value goods. FedEx will collect this information electronically via its FedEx shipping software programs. Please click here for the shipping guide on low value goods to Australia.
To obtain clearance status of import shipments, customers can visit http://beacukai.go.id/barangkiriman.
To check non-document shipments, customer can directly enter FedEx air waybill number into the provided field. To check document shipments, please reach out to FedEx Customer Service to obtain the consolidated document submission number that will be used as tracking number. Please be advised that this tracker is valid only for non-formal (non-PIB) clearance type.
Customer can also find the link on fedex.com/id home page under "Useful Link".
The Customs Administration, Ministry of Finance of Taiwan amended the "Regulations Governing Customs Clearance Procedures for Air Express Consignments". Effective 1 January 2018, the de minimis amount for import low-value duty-free consignment will be NTD$ 2,000, down from NTD$ 3,000.

If you have any questions about the regulatory changes, please contact your Sales Representative or our Customer Service Hotline.

Effective July 1, 2017, Korea Customs Service (KCS) will apply the formal entry process on any import express shipments to South Korea that have an incomplete consignee address or incomplete telephone number on customs documents, regardless of the declared value. The formal entry process will take at least one day longer for customs clearance than the informal entry process, which is normally applied to express shipments valued less than USD 150 (or USD 200 from the U.S.).
In order to avoid delays for your shipments to South Korea, please include an accurate and complete consignee address and telephone number on your air waybill and/or commercial invoice.
Online Fraud Alert
We have received reports of fraudulent emails claiming to come from BillingOnline@fedex.com. These messages have a vague subject referencing an invoice (e.g. "Your FedEx invoice is ready to be paid now," "Please pay your outstanding FedEx invoice," "New FedEx Invoice," "Your FedEx invoice is ready," "Pay your FedEx invoice online").
If you receive a message matching this description do not open the email or enter any personal information. Delete the email immediately.
FedEx does not send unsolicited emails to customers requesting information regarding packages, invoices, account numbers, passwords or personal information.
For more information on other fraudulent emails, you can visit our U.S. website by clicking here.
It has come to our attention that a fraudulent e-mail with unauthorized use of the FedEx name has been circulating to our customers. The e-mail claims that a FedEx shipment could not be delivered and asks the customers to open an attachment, print it out and take it to a FedEx facility to pick up the package.

Customers need to be aware that this is a fraudulent request and that this e-mail attachment contains a virus. If you have received one of these fraudulent e-mails, do not open the attachment, but delete the email immediately.
FedEx does not request payment or personal information in return for goods in transit or in FedEx custody via unsolicited mail or e-mail.

If you have received a fraudulent e-mail that claims to be from FedEx and have experienced resulting financial loss, contact your banking institution immediately through the appropriate channels.

*FedEx is not responsible for any charges or costs incurred as a result of unauthorized or fraudulent activity that abuses the FedEx name, service marks and logos.

Sign up for FedEx eNews
Email is a great way to be alerted about the latest news that may impact your shipments and stay updated with special offers.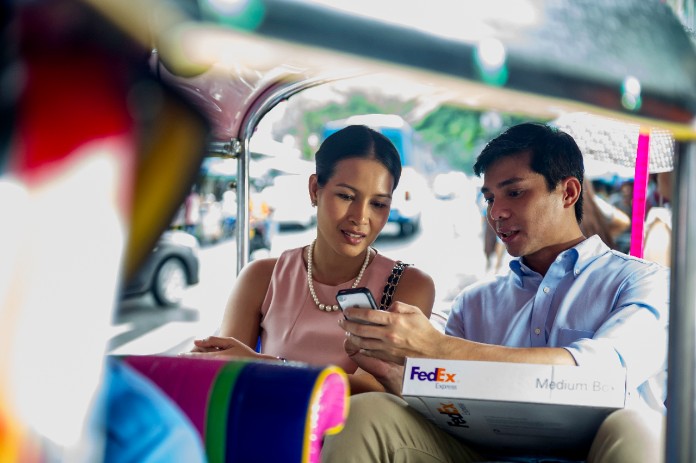 Already Subscribe?
You can change your email preference anytime. Add, remove something no longer needed or unsubscribe.