Service, Regulatory Updates and Important Notifications
Service, Regulatory Updates and Important Notifications
COVID-19 News
---
Due to the impact of the global epidemic, extra resources are required to process manual air waybill.   Starting from April 6, 2020, we will impose a surcharge for the provision of manual air waybills. Customers who opt for manual air waybills will be charged NTD 100 per piece with a minimum order quantity of 10 pieces.  The launch of the manual air waybill surcharge will also be a part of our digital initiative going forward.
You may continue to use manual air waybills already on hand, however if you order additional manual air waybills from April 6, you will be charged a fee of NTD 1,000 for an order 10 pieces of manual air waybills.
The surcharge will be billed on a separate invoice to you.
We encourage you to ship with our digital tools so that you can enjoy the ease, speed and convenience of processing shipments digitally.
Just go to fedex.com and click "Ship"! 
The impact of COVID-19 is causing local, state, and national governments around the world to issue work and travel restrictions on a daily basis, which are impacting our ability to meet our high standards of service. 
As a result, we have made the decision to suspend our money-back guarantee (MBG) for all FedEx Express services, effective immediately until further notice.
Because FedEx is an essential transport service provider, we will continue operating as government restrictions and regulations allow, and we continue to execute contingency plans in an effort to provide outstanding service to our customers.
We recognize and appreciate the crucial role we play in the global supply chain and connecting the world during this critical time, and we remain focused on serving our customers and providing relief supplies to areas that need it most. 
Service News
New FedEx paks you can reseal and reuse
Your favorite FedEx Paks now feature an innovative second seal, keeping your shipping equally1 secure when you reseal and reuse the paks a second time.
Shipping made greener
The reusability of these paks aligns with our sustainability efforts to reduce our environmental footprint, find innovative solutions and improve quality of life. All FedEx packaging is 100% recyclable, so, after its first use, our paks can be used again and then recycled – just another way we connect the world in responsible and resourceful ways.
Available from June
Starting Jun 2021, your new and improved FedEx Paks will start arriving as usual through your regular order channels. Simply look out for the new resealable FedEx Paks that will connect you with the world in a more convenient and sustainable way.
1. if the pak is in like-new condition and is not damaged.
The EZ WAY app adds the functions of query and online payment of import duty and tax. You only need to register the real-name authentication in the EZ Way app to receive the push and pay the import duty and tax directly in the app when there is tax on imported shipments. For related news, please refer to the customs news and the guide.
(Now it is only open for informal entry with declaration value under NTD$50,000.)
FedEx Taiwan will adjust operating hours on Dragon Boat Festival in 2021 as below:
Date

Pick up /
Delivery Cut-Off Time

World Service
Center (WSC)
Drop-Off Time

Customer
Service Team
Operating Hours

Gateway
Drop-Off Time

June 14 (Mon)
Dragon Boat Festival

No service

No service

No service

No service
Please use Get Transit Time to learn more about the delivery time of your shipments during the holidays.
The above information is subject to change without prior notice.
Due to the impact of COVID-19 outbreak, the drop off service is suspended at the service counter of Taipei Headquarter (9th Floor, No. 61, Section 2, Zhongshan North Road, Zhongshan District, Taipei City) from now till further notice. 
From April 29, 2021, the credit card payment link and QR code on FedEx invoices, account statements, reminder letters and the fedex.com offline payment page will be updated to the FedEx Online Payment Portal. 
Beginning May 1, 2021, there are two additional billing options that you can choose for the ancillary clearance service fees incurred in Latin America and the Caribbean ("LAC"):
a) Bill to your own shipper account (i.e. Bill duties & taxes to shipper), or 
b) Bill to a third-party account based in the Asia-Pacific region2 (i.e. Bill duties & taxes to third party3).   
This is on top of the existing option of billing ancillary clearance service fees to the shipment's recipient ("Consignee"). 

By selecting "Bill duties & taxes to shipper" on the FedEx air waybill, applicable duties and taxes4 and/or all ancillary clearance service fees incurred in the following LAC countries and territories will be invoiced to your shipper account:

Anguilla, Antigua & Barbuda, Argentina4, Aruba4, Bahamas4, Barbados4, Belize, Bermuda, Bolivia, Brazil, Cayman Islands, Chile, Colombia4, Costa Rica4, Curacao4, Dominica, Dominican Republic4, Ecuador, El Salvador, French Guiana, Grenada, Guadeloupe4, Guatemala, Guyana, Haiti, Honduras, Jamaica, Martinique4, Mexico4, Montserrat, Nicaragua, Panama, Paraguay, Peru, Saba, Saint-Barthelemy, St. Kitts & Nevis, St. Lucia, St. Maarten, St. Eustatius, St. Vincent, Suriname, Trinidad & Tobago4, Turks & Caicos, Uruguay, British Virgin Islands, and US Virgin Islands.
For the latest details on Ancillary Clearance Service Fees and any applicable destination value-added tax/ goods & services tax (VAT/GST4) assessed in the LAC region, please click here.

1 For security reasons, we have only displayed the last 6 digits of your 9-digit FedEx Account Number. 
2 Asia-Pacific countries and territories with Global Payer option: Australia, Guam, Hong Kong SAR China, Indonesia, Japan, Mainland China, Macau SAR China, Malaysia, New Zealand, Philippines, Singapore, South Korea, Taiwan, Thailand, Vietnam, Brunei, Cambodia, Laos, Mongolia, American Samoa, Cook Islands, East Timor, Fiji, French Polynesia, Kiribati, Marshall Islands, Micronesia, Nauru, New Caledonia, Niue, Northern Mariana, Palau, Papua New Guinea, Solomon Islands, Tonga, Tuvalu, Vanuatu, Wallis & Futuna, Western Samoa.
3 Mainland China accounts can only be billed to shipper.
4 As of May 1, 2021, shipments imported into the following LAC countries and territories will be subject to a destination value-added tax/ goods & services tax (VAT/GST) assessed on all fees incurred in the destination (including but not limited to ancillary fee): Argentina, Aruba, Bahamas, Barbados, Colombia, Costa Rica, Curacao, Dominican Republic, Guadeloupe, Martinique, Mexico, Trinidad & Tobago.
FedEx Taiwan will adjust operating hours during Labor holidays in 2021 as below:
Date

Pick up / Delivery Cut-Off Time

World Service

Center (WSC)

Drop-Off Time

Customer

Service Team

Operating Hours

Gateway

Drop-Off Time

Apr 30th (Fri)

Deferred Holiday

As Normal Saturday Operation

09:00 - 17:001

08:00 - 14:00

09:00 - 21:00

May 1st (Sat)

Labor Day

No service

No service

No service

No service
1Service available during 09:00~12:00 at the service counter of Taipei Headquarter (9th Floor, No. 61, Section 2, Zhongshan North Road, Zhongshan District, Taipei City).
Please use Get Transit Time to learn more about the delivery time of your shipments during the holidays.
The above information is subject to change without prior notice.
Effective May 3, 2021, FedEx will start handling Dangerous Goods (DG) shipments on FedEx International Priority (IP) and FedEx International Priority Freight (IPF) services to and from Auckland, New Zealand.


DG via IP and IPF services can be shipped worldwide to and from Auckland, New Zealand; excluding Europe. 
Please also note that DG shipments on IP and IPF services will have a weight restriction of 32kg per package.

The following Dangerous Goods (DG) shipments are prohibited and cannot be handled by FedEx in New Zealand:
All radioactive items
All explosives
Standalone lithium-metal cells or batteries (UN3090)
Standalone lithium-ion cells or batteries (UN3480)
To learn the basics of DG shipping, please refer to the Dangerous Goods Shipping brochure on fedex.com.

Note: All services are subject to the customer's agreement with FedEx, which may include FedEx Standard Conditions of Carriage, FedEx Services Guide, FedEx Air Waybill or other transit documents.
FedEx professional Quote Desk Team - Combining the advantages of FedEx and TNT products, Whether it's speed-oriented international priority freight service, or cost-effective international economy freight service, We can provide you with a heavy shipment solution that meets your needs and costs.
For quotation for shipments over 70 kg, please inquire now or email to quotes.tw@fedex.com
Effective March 1, 2021, FedEx and TNT will be prohibiting, in all of its domestic and international networks, shipments of all electronic cigarettes and their component parts, any other similar device that relies on vaporization or aerosolization, and any noncombustible liquid or gel, regardless of the presence of nicotine, that can be used with any such device.
If an unauthorized electronic cigarettes or vaping products shipment is identified in any FedEx/TNT network during the handling process, it will be treated as a prohibited item in accordance with the applicable terms and conditions of carriage.
We regret any inconvenience this may cause for your business.
As part of FedEx and TNT safety and security requirements, effective January 11, 2021, shippers with no registered shipping accounts tendering shipments to us over the counter must present a valid government-issued photo identity card1. Information will be collected for safety and security purposes and will only be used as required or permitted by law2.
Prior to acceptance at the counter, please open the package for inspection by FedEx, TNT or our authorized representatives3. In addition, all shipments may be subject to security inspection, including X-rays.
1 Examples: National ID Card, Passport, Social Security Card, Driver's license, etc.
2 For more information, refer to FedEx Global Privacy Policy and Notice: fedex.com/en-us/trust-center.html , and any applicable supplemental local FedEx privacy notice/statement.
3 FedEx and TNT reserve the right to reject any shipment that contains prohibited items or does not meet our safety and security requirements.
To account for additional processing time, effective November 23, 2020, an additional business day for transit will be required for shipments to Mainland China when using manual air waybill*.
That's why you need FedEx Ship Manager™ at fedex.com (FSM) – a convenient, one-stop online tool that allows you to prepare your air waybill and shipment paperwork more efficiently. There's no additional surcharge** or processing time when you ship online. Watch this video to learn more about the benefits of digital shipping.
* This refers to the multi-ply paper manual air waybills.
** A surcharge was imposed to manual air waybills since April 2020, click here for details.
FedEx now offers services through its LINE official account. Using this most popular mobile messenger application in Taiwan, customers can easily be connected to and navigate our online shipping tools for FedEx services such as rate & transit-time quote, tracking shipment and more.
Main features of FedEx LINE official account are:
Easy and instant access to the online tools on fedex.com
Latest News and Service Update
To find out more or to get started, please add FedEx as your LINE friend by scanning the embedded QR code below and start exploring the various menus immediately.
Shipping Regulatory Update
Effective October 1, 2020, there will be an increase to the Merchandise Processing Fee (MPF) limitations imposed by U.S. Customs and Border Protection (CBP):
• New minimum MPF - US$27.23 (increased from US$26.79)
• New maximum MPF - US$528.23 (increased from US$519.76)
From April 16, 2020, the Ministry of Finance's Customs Administration encourages the individual importers to install and utilize the related APP service to facilitate the clearance of their express imports. For earlier delivery, it is strongly suggested for individual importers to complete the real-name authentication and POAs (Powers of Attorney) application. This way, when shipments arrive, recipients will receive alerts from Customs Administration so they can complete related POA process at their fingertips via the APP. On the other hand, recipients who fail to do so may encounter customs delays. For more information, please visit Customs Administration website or refer to related instructions to complete the settings.
As of 1 December 2019, new low-value goods rules will commence. Overseas businesses that sell low-value goods to consumers in New Zealand may need to register for, collect and return a Goods and Services Tax (GST) of 15% on goods where money is paid or an invoice is issued on or after 1 December 2019.
The new regulations apply to goods with a customs value of NZ$1,000 or less and will require overseas businesses, including online marketplaces and merchants that sell direct and re-deliverers, to register an account for GST on sales to New Zealand customers. The customs value of NZ$1,000 excludes transport and insurance costs when determining if GST needs to be charged.

All consignments valued at NZ$1,000 or less can be cleared on an Inward Cargo Report (ICR), a Simplified Import Declaration (SID) or a standard Import Declaration. There is no change to the current processing of goods valued at more than NZ$1,000 – the standard GST and duty calculation will be applied.

The new low-value goods rules are similar to the low-value goods regulations already in place in Australia.
For further information on new GST rules in New Zealand, please visit Customs Service.
Online Fraud Alert
We have received reports of fraudulent emails claiming to come from BillingOnline@fedex.com. These messages have a vague subject referencing an invoice (e.g. "Your FedEx invoice is ready to be paid now," "Please pay your outstanding FedEx invoice," "New FedEx Invoice," "Your FedEx invoice is ready," "Pay your FedEx invoice online").
If you receive a message matching this description do not open the email or enter any personal information. Delete the email immediately.
FedEx does not send unsolicited emails to customers requesting information regarding packages, invoices, account numbers, passwords or personal information.
Go to our FedEx Customer Protection Center to learn more about protecting yourself online. By following a few simple tips, you can make your online experience safer and more secure.
For information on other fraudulent emails, you can visit our U.S. website by clicking here.
Service Disruption
A major winter storm moved through North America from Feb. 12 – 16, 2021 and had caused hazardous conditions across the U.S.
While we implemented numerous contingencies to mitigate the impact to our customers during this time, there may be on-going service delays anticipated for inbound and outbound shipments across the U.S. until recovery efforts conclude across the country.
As always, FedEx appreciates your business and your patience during weather-related disruptions.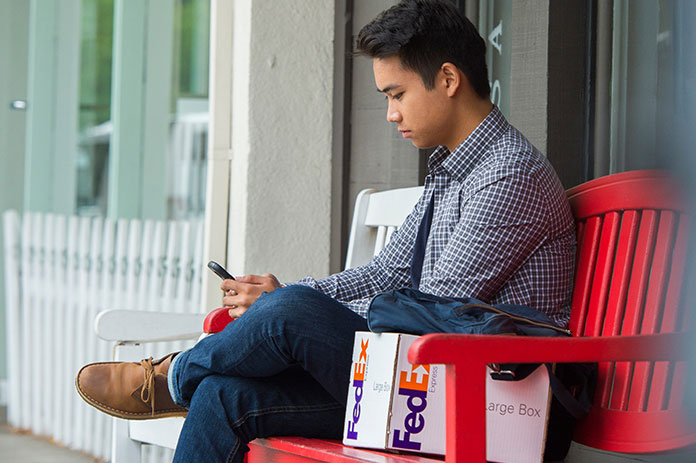 Sign up for FedEx eNews
Email is a great way to be alerted about the latest news that may impact your shipments and stay updated with special offers.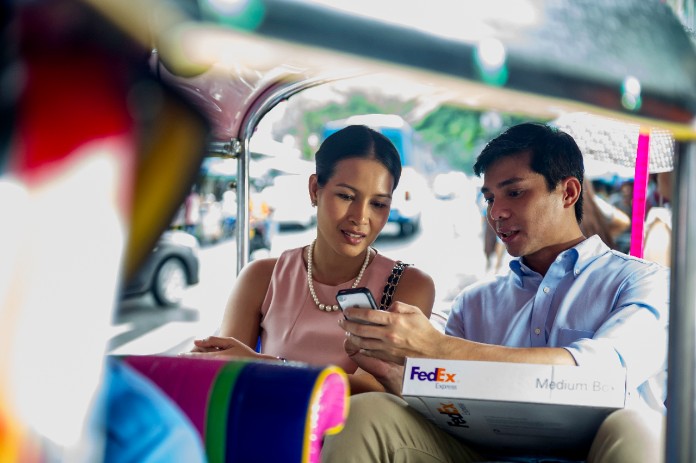 Already Subscribe?
You can change your email preference anytime. Add, remove something no longer needed or unsubscribe.