Service, Regulatory Updates and Important Notifications
Service, Regulatory Updates and Important Notifications
COVID-19 News
---
Due to the impact of the global epidemic, extra resources are required to process manual air waybill.   Starting from April 6, 2020, we will impose a surcharge for the provision of manual air waybills. Customers who opt for manual air waybills will be charged SGD 6 per piece with a minimum order quantity of 10 pieces.  The launch of the manual air waybill surcharge will also be a part of our digital initiative going forward.
You may continue to use manual air waybills already on hand, however if you order additional manual air waybills from April 6, you will be charged a fee of SGD 60 for an order of 10 pieces of manual air waybills.
The surcharge will be billed on a separate invoice to you.
We encourage you to ship with our digital tools so that you can enjoy the ease, speed and convenience of processing shipments digitally.
Just go to fedex.com and click "Ship"! 
The impact of COVID-19 is causing local, state, and national governments around the world to issue work and travel restrictions on a daily basis, which are impacting our ability to meet our high standards of service. 
As a result, we have made the decision to suspend our money-back guarantee (MBG) for all FedEx Express services, effective immediately until further notice.
Because FedEx is an essential transport service provider, we will continue operating as government restrictions and regulations allow, and we continue to execute contingency plans in an effort to provide outstanding service to our customers.
We recognize and appreciate the crucial role we play in the global supply chain and connecting the world during this critical time, and we remain focused on serving our customers and providing relief supplies to areas that need it most. 
Service News
Starting September 15, 2021, FedEx account holders residing in condominiums with Parcel Santa lockers have the additional option of dropping off their outbound shipments at the parcel locker located within their condominium. Parcel Santa has locker stations in over 300 condominium locations island wide. This new drop off option is self-service in nature. Customers can prepare their packages and shipping documents and deposit their parcels at their convenience.
Call our Customer Service team at 1800.743.2626 for more information.
Indonesia will enact a new regulation on August 1, 2021, that could impact how international shipments imported into the country are cleared by the local customs authority.  Failure to comply with this new regulation could result in shipment delays.
Beginning August 1, 2021, the regulation requires shippers located outside Indonesia to:
(1) Obtain the Tax ID ("NPWP") of their consignee/recipient in Indonesia for each imported shipment; and 
(2) Input the Tax ID ("NPWP") into the "Consignee" or "Recipient" section of the Air Waybill and Commercial Invoice.
What you need to do when shipping to Indonesia beginning August 1, 2021:
● Contact your consignee in Indonesia to obtain their local Tax Identity Number / Tax ID (known locally as "NPWP").
● Input the Tax ID into the "Consignee" or "Recipient" section of your shipment's Air Waybill and Commercial Invoice.
● If your consignee/recipient does not have a Tax ID, other forms of identification may be used instead:
- For Indonesian citizens, input their Indonesian Citizenship Identity Number in place of Tax ID.
- For those without Indonesian citizenship, input their Passport Number in place of Tax ID. 
● If you use a shipping tool to electronically prepare shipping documents, please input the Tax ID (or its equivalent as listed above) into the text box provided in the tool:
- FedEx Ship ManagerTM at fedex.com (Modernized Version):  [RECIPIENT TAX ID] text box located in the "Billing" section. The consignee's Tax ID will be visible on the air waybill.
- FedEx Ship ManagerTM at fedex.com (Basic Version):  [RECIPIENT TAX ID] text box located in the "To" section.
- FedEx Ship ManagerTM Software:  [VAT/Customs ID/EIN#] text box located in the "Recipient Information" section.
- Global Ship ManagerTM Software:  [VAT/Customs ID/EIN#] text box located in the "Recipient Information" section.
- MyTNT2:  [VAT Number] text box located in the "Receiver" section.
This new regulation is pursuant to Indonesia Ministry of Finance Regulation No. 158/PMK.04/2017 and Indonesia Directorate General of Customs & Excise Regulation No PER 11/BC/2020.
Effective October 1, 2021, we are retiring the older versions of FedEx Ship Manager Software (ver. 12 or below) and FedEx Web Services (below ver. 3600).  At the same time, corresponding technical support services will stop.
From October 1, 2021, customers will no longer be able to access any technical support for the expired software and risk a shipment delay due to incorrect shipment label information.
Impacted customers will receive email notification by July, 2021, and will be provided with instructions to upgrade or switch to online shipping.
From April 29, 2021, the credit card payment link and QR code on FedEx invoices, account statements, reminder letters and the fedex.com offline payment page will be updated to the FedEx Online Payment Portal. 
Beginning May 1, 2021, there are two additional billing options that you can choose for the ancillary clearance service fees incurred in Latin America and the Caribbean ("LAC"):
a) Bill to your own shipper account (i.e. Bill duties & taxes to shipper), or 
b) Bill to a third-party account based in the Asia-Pacific region2 (i.e. Bill duties & taxes to third party3).   
This is on top of the existing option of billing ancillary clearance service fees to the shipment's recipient ("Consignee"). 

By selecting "Bill duties & taxes to shipper" on the FedEx air waybill, applicable duties and taxes4 and/or all ancillary clearance service fees incurred in the following LAC countries and territories will be invoiced to your shipper account:

Anguilla, Antigua & Barbuda, Argentina4, Aruba4, Bahamas4, Barbados4, Belize, Bermuda, Bolivia, Brazil, Cayman Islands, Chile, Colombia4, Costa Rica4, Curacao4, Dominica, Dominican Republic4, Ecuador, El Salvador, French Guiana, Grenada, Guadeloupe4, Guatemala, Guyana, Haiti, Honduras, Jamaica, Martinique4, Mexico4, Montserrat, Nicaragua, Panama, Paraguay, Peru, Saba, Saint-Barthelemy, St. Kitts & Nevis, St. Lucia, St. Maarten, St. Eustatius, St. Vincent, Suriname, Trinidad & Tobago4, Turks & Caicos, Uruguay, British Virgin Islands, and US Virgin Islands.
For the latest details on Ancillary Clearance Service Fees and any applicable destination value-added tax/ goods & services tax (VAT/GST4) assessed in the LAC region, please click here.

1 For security reasons, we have only displayed the last 6 digits of your 9-digit FedEx Account Number. 
2 Asia-Pacific countries and territories with Global Payer option: Australia, Guam, Hong Kong SAR China, Indonesia, Japan, Mainland China, Macau SAR China, Malaysia, New Zealand, Philippines, Singapore, South Korea, Taiwan China, Thailand, Vietnam, Brunei, Cambodia, Laos, Mongolia, American Samoa, Cook Islands, East Timor, Fiji, French Polynesia, Kiribati, Marshall Islands, Micronesia, Nauru, New Caledonia, Niue, Northern Mariana, Palau, Papua New Guinea, Solomon Islands, Tonga, Tuvalu, Vanuatu, Wallis & Futuna, Western Samoa.
3 Mainland China accounts can only be billed to shipper.
4 As of May 1, 2021, shipments imported into the following LAC countries and territories will be subject to a destination value-added tax/ goods & services tax (VAT/GST) assessed on all fees incurred in the destination (including but not limited to ancillary fee): Argentina, Aruba, Bahamas, Barbados, Colombia, Costa Rica, Curacao, Dominican Republic, Guadeloupe, Martinique, Mexico, Trinidad & Tobago.
We are currently experiencing high shipping volume flowing through our FedEx Paris-Charles de Gaulle (CDG) hub and there was a work stoppage at our TNT air hub in Liege on March 3. Customer may experience delays in their FedEx and TNT shipments inbound and outbound of Europe. Transshipments transiting through these hubs may also experience delays as well.
We apologize for the inconvenience that this has caused. To check the status of your shipments, please visit fedex.com or tnt.com. 
Effective March 1, 2021, FedEx and TNT will be prohibiting, in all of its domestic and international networks, shipments of all electronic cigarettes and their component parts, any other similar device that relies on vaporization or aerosolization, and any noncombustible liquid or gel, regardless of the presence of nicotine, that can be used with any such device.
If an unauthorized electronic cigarettes or vaping products shipment is identified in any FedEx/TNT network during the handling process, it will be treated as a prohibited item in accordance with the applicable terms and conditions of carriage.
We regret any inconvenience this may cause for your business.
As of January 22, 2021, cargo drivers entering Singapore from Malaysia via the Tuas and Woodlands checkpoints will be required to be tested for COVID-19.
The Singapore Ministry of Trade and Industry (MTI) has announced that starting 9:00 am on January 22, 2021, COVID-19 antigen rapid testing will be progressively rolled out at the two checkpoints for cargo drivers and accompanying personnel entering Singapore to identify potential cases and mitigate the risk of spread. Drivers will be selected at random to be tested in the initial stage, but testing will eventually be implemented to all in the coming weeks. Entry in Singapore will be granted if their results are negative.
The testing is causing traffic congestion and customers should expect the following services to be impacted:
Service
Origin
Destination
FedEx
International Economy (IE)
Malaysia, Thailand
Singapore
International Economy Freight (IEF)
Malaysia, Thailand
International Priority Freight (IPF)
Malaysia
TNT
Cross Border Economy
China, Vietnam
Special Services
China, Vietnam, Thailand, Malaysia
Economy Express (EE)
Malaysia, Thailand
Integrated Direct Express (IDE Break Bulk)
Malaysia, Thailand
We are closely monitoring the situation and currently implementing our contingency plans designed to help us continue to operate and limit any impact to your business– all while keeping safety at the forefront.
Effective January 1, 2021, FedEx International Economy and International Economy Freight services from Thailand to Singapore will resume to offer more shipping solutions for your business needs.
There will be some changes due to network adjustments.
Shipments from Thailand to Singapore valued at less than SGD 400 are subject to 7% GST. (This was previously exempted when transport was by air.)
Export regulations for this service will now require formal clearance process. The FedEx Thailand Broker can assist your shipper in Thailand to ensure a smooth export clearance process at the beginning. Your shipper also has an option to use their own broker as well.
With this network adjustment, shipments will take an additional 2 days to arrive to Singapore. If you foresee that the timeline does not meet your needs, your shipper may choose International Priority service for faster delivery, Sales Representatives and our Thailand Customer Service hotline at 1782 or 662.491.2000 are ready to assist them in this transition.
Thank you for putting your trust in us. We continue to remain focused on serving you.
As part of FedEx and TNT safety and security requirements, effective January 11, 2021, shippers with no registered shipping accounts tendering shipments to us over the counter must present a valid government-issued photo identity card1. Information will be collected for safety and security purposes and will only be used as required or permitted by law2.
Prior to acceptance at the counter, please open the package for inspection by FedEx, TNT or our authorized representatives3. In addition, all shipments may be subject to security inspection, including X-rays.
1 Examples: National ID Card, Passport, Social Security Card, Driver's license, etc.
2 For more information, refer to FedEx Global Privacy Policy and Notice: fedex.com/en-us/trust-center.html , and any applicable supplemental local FedEx privacy notice/statement.
3 FedEx and TNT reserve the right to reject any shipment that contains prohibited items or does not meet our safety and security requirements.
To account for additional processing time, effective November 23, 2020, an additional business day for transit will be required for shipments to Mainland China when using manual air waybill*.
That's why you need FedEx Ship Manager™ at fedex.com (FSM) – a convenient, one-stop online tool that allows you to prepare your air waybill and shipment paperwork more efficiently. There's no additional surcharge** or processing time when you ship online. Watch this video to learn more about the benefits of digital shipping.
* This refers to the multi-ply paper manual air waybills.
** A surcharge was imposed to manual air waybills since April 2020, click here for details.
Shipping Regulatory Update
As of July 1, 2021, the Singapore Government will be implementing the Known Consignor Regime (KCR), a security measure to further enhance air cargo security on commercial aircraft required by the International Civil Aviation Organization.
There will be no action required from all FedEx customers as all outbound shipments are already subject to x-ray screening through our network.  The current FedEx system already fulfills the 100% screening requirement whether you are a Known Consignor registered with the Singapore Police Force (SPF) or not.
For more information on Known Consignor Regime (KCR), visit the Singapore Police Force website: https://www.police.gov.sg/Advisories/Airport-Security/Known-Consignor-Regime
For the most up-to-date status on your shipments, visit fedex.com/sg or call our Customer Service Hotline at 1800.743.2626.
Online Fraud Alert
We have received reports of fraudulent emails claiming to come from BillingOnline@fedex.com. These messages have a vague subject referencing an invoice (e.g. "Your FedEx invoice is ready to be paid now," "Please pay your outstanding FedEx invoice," "New FedEx Invoice," "Your FedEx invoice is ready," "Pay your FedEx invoice online").
If you receive a message matching this description do not open the email or enter any personal information. Delete the email immediately.
FedEx does not send unsolicited emails to customers requesting information regarding packages, invoices, account numbers, passwords or personal information.
For more information on other fraudulent emails, you can visit our U.S. website by clicking here.
It has come to our attention that a fraudulent e-mail with unauthorized use of the FedEx name has been circulating to our customers. The e-mail claims that a FedEx shipment could not be delivered and asks the customers to open an attachment, print it out and take it to a FedEx facility to pick up the package.

Customers need to be aware that this is a fraudulent request and that this e-mail attachment contains a virus. If you have received one of these fraudulent e-mails, do not open the attachment, but delete the email immediately.
FedEx does not request payment or personal information in return for goods in transit or in FedEx custody via unsolicited mail or e-mail.

If you have received a fraudulent e-mail that claims to be from FedEx and have experienced resulting financial loss, contact your banking institution immediately through the appropriate channels.

*FedEx is not responsible for any charges or costs incurred as a result of unauthorized or fraudulent activity that abuses the FedEx name, service marks and logos.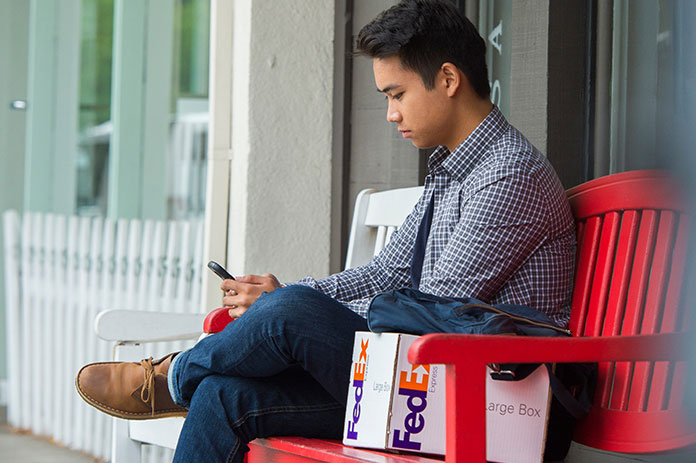 Sign up for FedEx eNews
Email is a great way to be alerted about the latest news that may impact your shipments and stay updated with special offers.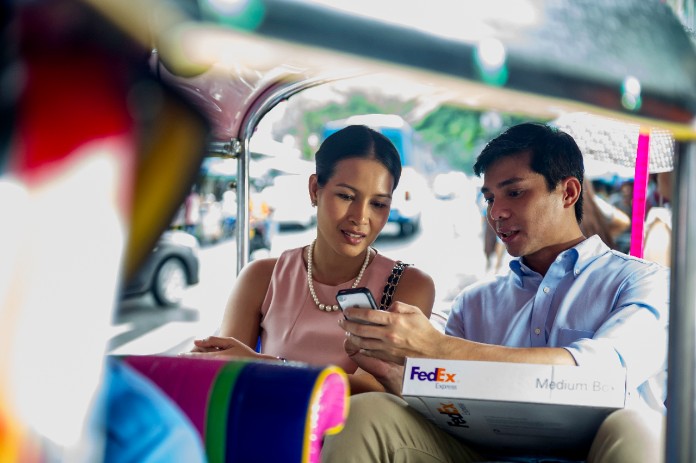 Already Subscribe?
You can change your email preference anytime. Add, remove something no longer needed or unsubscribe.