Online Return Tips for a Smooth Return Process (and Fast Refund)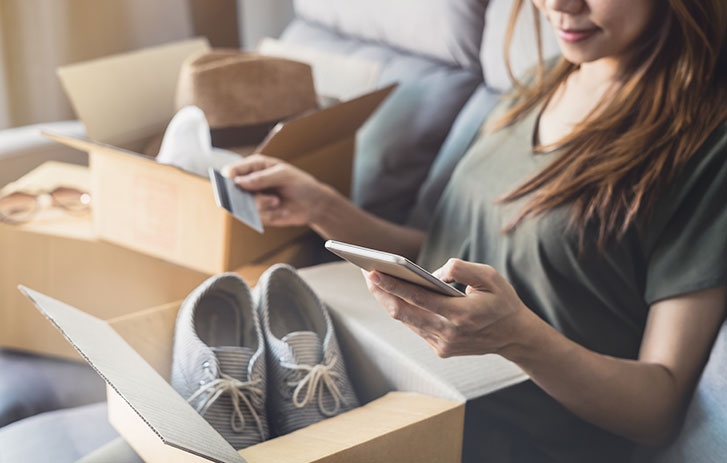 Online shopping is a quick and convenient way to purchase what you need, but returning items bought online can seem like a hassle. Knowing how to return clothes online, or any item from an online store, will make your shopping experience easier.
Most businesses with an online store have a return policy in place. As a consumer, it's important to understand how to return online orders before you buy. When reviewing a store's policy, check to see:
If the return costs are prepaid
How much time you have to return the item
How long it will take to receive your refund
If your item arrives damaged, take pictures of any defects, and keep the packaging, receipt and prepaid shipping label. Read on for four tips to follow when sending back an online return.
Bryce found it's important to differentiate between socializing and networking. "For a peer network to work well, it needs to be focused. For example, there should be a limited number of people on a call, as well as a limit on the number of topics — really no more than three topics. And each person needs to be given an opportunity to talk." 
Whether you catch up with old contacts or even if you're connecting for the first time, this can be an opportune moment to reach out to 
1. Read the store's return policy
Before you purchase anything, carefully read through the store's policy about how to return something you ordered online. A company's return policy should answer these questions:
Are any items excluded from the online return policy – e.g. bathing suits or undergarments?
How long do you have to return an item after receiving it in the mail?
Does the store offer online returns, or just exchanges?
Will you get store credit or a full refund when you return an item? Are there restocking fees or any other expected deductions from your refund?
Can you return something you bought online in-store?
How long does it take to get your money back?
 Do you need to send the receipt or invoice back with the item?
Can you ship it back from your home, or do you need to drop it off?
Are only unused items returnable?
Is it a "no questions asked" policy, or do you need to provide a reason or send photos?
If you can't answer these questions from reading the policy online, call or message the business to ask. Don't purchase anything until you're sure about the return process—you don't want to end up with an unwanted item with no way to send it back.
2. Keep the original packaging
When you remove the item from the package, leave everything else in the box and store it somewhere out of the way until you're sure you're keeping the item. You may need to return the item in its original packaging, so all the materials and packaging will be there waiting for you if you decide to send it back. Be sure to keep:
The shipping envelope or box
Tissue paper, cardboard inserts and any other packaging
Paper receipts or invoices
Don't toss or lose the prepaid return shipping label, or you'll end up paying for the return shipping yourself. Keep the paper receipt or invoice, too. Online shopping usually means the transaction is tracked through your online customer account, but the physical receipt or invoice lets the store quickly identify the returned item. The faster they know who the item came from, the quicker you'll get your money back.

If you need additional packaging materials, FedEx offers all the supplies needed to easily and securely package your return.
3. Take photos of any damage or defects
The vendor may require proof before issuing a refund. Whether it's a defect or a broken part, snap photos the moment you notice any damage.
Some companies also use their social media accounts as a platform to respond to customer issues. If that's the case, post your photos on social media and tag the business to alert them of your damaged item—they'll likely reach out with next steps on how to return it for a refund. 
4. Start the return process ASAP
Regardless of the reason (not what you expected, doesn't fit or has a defect or missing part), initiate the return as soon as possible. Since most online retailers accept unused items, make sure you've only tried items like clothing or shoes briefly and indoors so there is no sign of wear.
Revisit the store's return policy—some businesses offer a step-by-step guide and specific instructions on how to ship the item back. Follow each step carefully to ensure a smooth return process and swift refund. If you aren't sure what the store needs to process your return, call or message to ask.
Make sure you ship the item promptly as well. Don't let the package sit at your front entry or in your car waiting to be mailed. Even if you're already printed your return label, you may still miss the return deadline. Once you've shipped your item, keep an eye on your email for any alerts or updates on the status of your refund.
Returning an item you bought online doesn't need to be a hassle. These four tips help make online returns quick and easy, so you can feel confident in any order you place.