A step-by-step guide for how to send a package
Take a look at our how-to video to prepare your next shipment.
Follow these steps to learn how to ship a package. You can also visit the pros at any FedEx Office location to get friendly in-person help picking the right shipping box, as well as shipping options based on delivery time and shipping cost.
Do you need to ship a package in the US (domestic) or mail something to another country (international)? FedEx follows different guidelines for domestic and international shipments. If you're shipping domestically, proceed to Step 2 of this guide. If you want to ship a package internationally, please review our International Shipping Guide for instructions that meet international shipping regulations.
Shipping to another country?
Some items need special care to ship safely, and others can't be shipped at all. View the Service Guide to learn more about restricted and prohibited items, dangerous goods and more.
Do you need to ship a box, envelope, tube, or mailer? Choosing the right kind of packaging can help protect your shipment and create a better delivery experience. View our packing and shipping supplies to find the best options for your shipment, learn about packing services and get tips on packing items yourself.
The only time you have to use FedEx packaging is when you use FedEx One Rate®. Otherwise, you can use any sturdy, undamaged packaging for your shipments.  If you're reusing a box, just make sure any old addresses and barcodes are completely covered. You can also get more packaging tips and order free FedEx supplies.
You don't have to buy FedEx boxes; they're free! You can pick up free FedEx boxes and other packaging supplies at your local FedEx location, or order them online at fedex.com.
Yes! When you choose to send shipments via FedEx, you can choose from a range of free, ready-to-use self-sealing packaging in your choice of shapes and sizes. It's available in store or online at fedex.com.
Yes, our experts are ready to help! Stop by your nearest FedEx Office location's Pack Plus counter for expert assistance from our team, backed by the FedEx Office Packing Pledge. With a range of free packing materials, standard boxes and specialty boxes, we're prepared to package most items, including oversized, bulky and fragile ones. 
FedEx offers a range of options to accommodate different timelines and budgets. With our rating tool, you can calculate rates based on your preferred delivery speed and destination and then compare which FedEx® shipping service is the best option for you.
You can use FedEx Ship Manager® at fedex.com to create a printable shipping label from home. Domestic shipping labels require the sender's and recipient's names, addresses, and phone numbers, along with the weight and type of package.
If you'd like to create a prepaid label, you can do so by opening FedEx Ship Manager® at fedex.com and using the Returns feature. Prepaid labels created via Returns do not have to be used as return labels.
FedEx offers many additional services to give shippers and recipients a more convenient shipping experiences. These services range from specialty shipping services such as shipping with dry ice, to delivery services such as obtaining a signature as proof of delivery, holding a package at a FedEx location, etc. 
Slide your completed label into a clear, plastic pouch and remove the adhesive backing. Then, firmly apply it to the largest flat side of the shipping container. Take care to avoid taping over the label, and don't cover it up in any way. If the label is too large to fit entirely on one side of the package, make sure the barcode is on one side of the seam and the recipient's information is on the other.
You can drop off your package at a FedEx location or drop box, or you can schedule FedEx to pick up your package from your home or office. You can find your nearest FedEx location or drop box by using the Find a FedEx Location tool.
If you'd rather arrange a pickup, you can schedule one online with your customer account, or call 1.800.GoFedEx.
Looking for more information on how to ship a package? Find answers and additional information to help with your shipping needs here.
Ready to ship?
Get started now with FedEx Ship Manager at fedex.com. Its advanced features can help ensure that all of your shipment's important details are covered.

Get in-person assistance
You can also stop by your local FedEx Office location for in-person assistance with shipping.
---
How to ship a package guides
Curious how to ship a specific item, like a bike, food, computer, or flowers? Select from the options below for step-by-step instructions on how to pack and ship your item.

---
Explore other FedEx resources
International shipping guide
Learn about documentation, customs regulations and more.
International shipping guide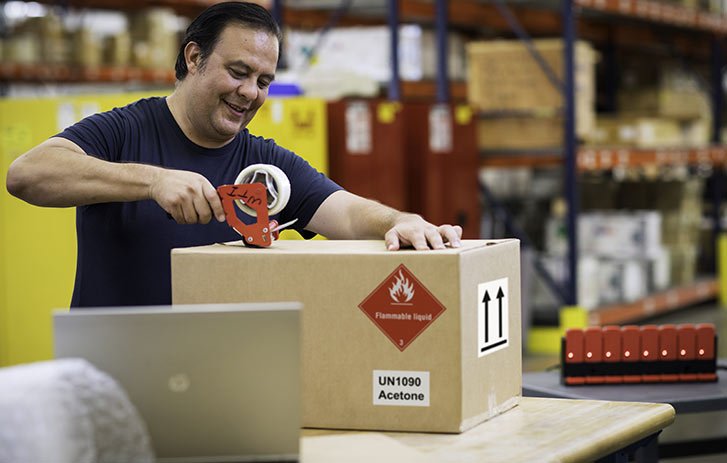 Service guide
Get detailed information about shipping services, rates, dangerous goods and more.
Service Guide
We're here to help
Find additional resources and ways to connect with the FedEx team for assistance.
Customer Support
---
Stay informed with FedEx emails 
Keep up with the latest FedEx offers and learn how to make shipping and printing easier with timely email updates.