Follow these instructions to efficiently ship clothes placed on hangers direclty from one closet to another.
Steps for how to ship in a FedEx Wardrobe Box
When shipping clothes or other fragile or unique items, we can handle all the packing for you to ensure protection and peace of mind.  Follow these steps to get your shipment ready to take to a FedEx Office location. 
---

1. Place clothes on hangers
Ensure clothes are placed on hangers. Button up shirts and zip up jackets to reduce clothes moving or coming off hangers during transit. You can also fold clothes for packing in the appropiate sized box. The max weight for the wardrobe box is 50lbs.  
---
2. Pack and ship at a FedEx Office location
Create a shipment at your local FedEx Office with your shipping information and a payment method. Pricing includes the right FedEx box solution, cushioning materials, and expert packing service backed by the FedEx Office Packing Pledge. We'll take it from there.
*Customers are responsible for hanging clothes on the metal rod or packing clothes in the wardrobe box before shipping.
---
3. Or pack and ship without visiting a FedEx Office location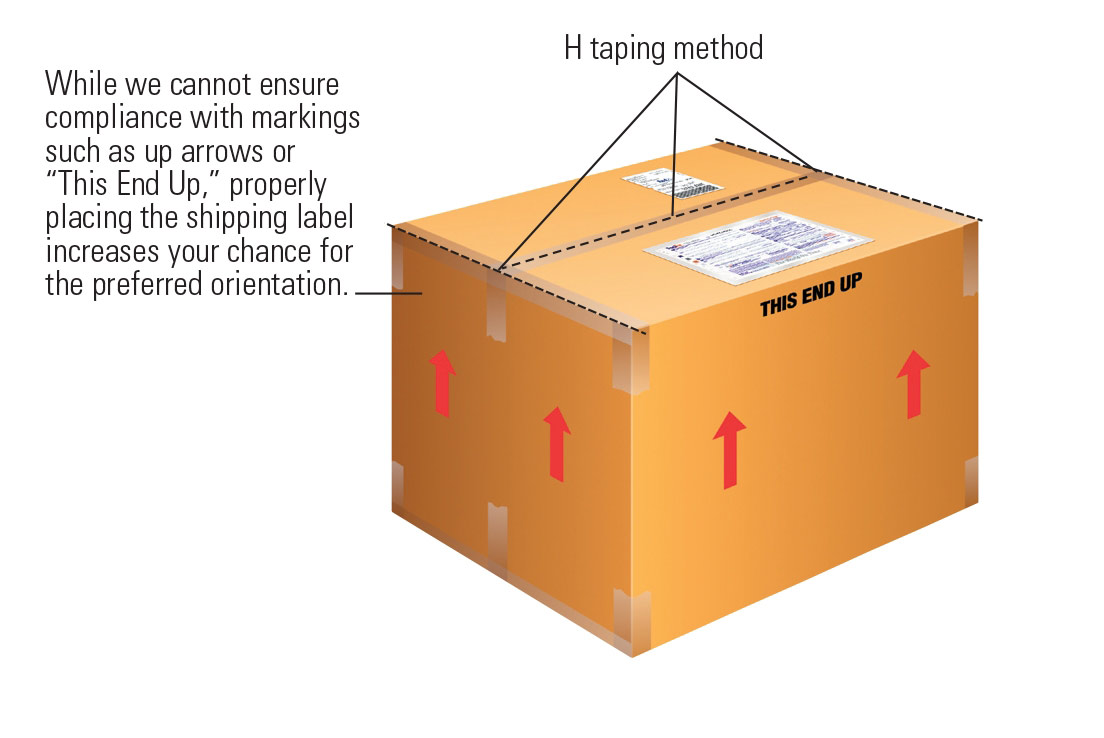 *Image is not a representation of the box size that should be used to package this item. 
Obtain a box for your shipment. Fill the bottom of the box with packing material such as loosefill peanuts or air-cellular cushion. Center the shipment inside the box and fill any empty spaces on all sides.
Using the H taping method, apply pressure-sensitive adhesive plastic tape to both the top and bottom of the carton to protect the package and its contents. Tape all seams or flaps.
---
Ready to ship?
Create a shipment online even if you don't have a FedEx account. All you need is the shipping information and a credit card.
Get your package to a FedEx location
Option 1 - Drop off at a FedEx location
Drop your shipment off at a FedEx Drop Box, FedEx Office, Walgreens, Office Depot/Office Max, select Dollar General and grocery stores, or other retail partner locations.
*FedEx custom and clinical boxes are only available at FedEx Office Locations.
Option 2 - Schedule a pickup online
Save time and effort by scheduling a convenient one-time pickup online for a small fee. One of our couriers will pick up your shipment from your home, office or other preferred location.
---
Get instructions for how to pack, ship, market and manage a business.
---
NOTICE: This packaging brochure is provided to FedEx customers to help reduce loss or damage due to improper packaging. It is NOT intended to be a comprehensive guide for packaging items we accept for transit. We make no warranties, expressed or implied, regarding this information. Proper packaging is the sole responsibility of the shipper. For more information and comprehensive guidelines, contact the FedEx Dangerous Goods/Hazardous Materials Hotline at 1.800.GoFedEx 1.800.463.3339; press "81" or say "dangerous goods," then press "4" for the next available dangerous goods agent. (Outside the U.S., request to speak to a dangerous goods representative.) Refer to the current FedEx Service Guide for terms, conditions, and limitations applicable to FedEx® delivery services.