Do more on the go with the FedEx® Mobile app
Do more on the go with the FedEx® Mobile app
Get the flexibility you need to create shipments and request to customize your deliveries through the app. Plus, you can receive real-time text alerts on your deliveries and more.
What options are available in the FedEx app?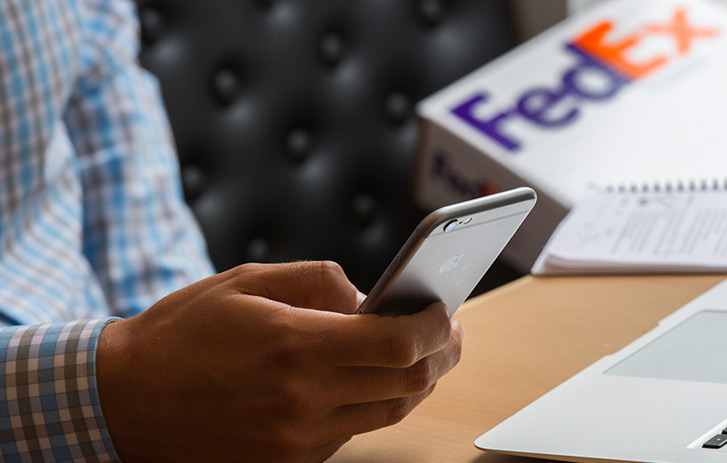 New! Create A Shipment
Create a shipping label with your FedEx shipping account


Receive your label via email or PDF to print


Drop off your package at a nearby location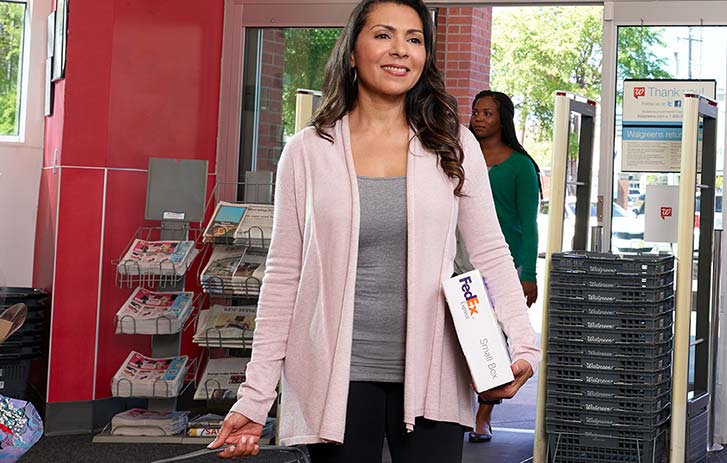 Take More Control Over Your Deliveries
Request to hold packages for pickup at a FedEx location, Walgreens and more


Sign for a FedEx Express® package


Request a vacation hold
Get Alerts, Locations, Rates and Rewards
Receive text alerts for tracking your packages as well as delivery status. See below to get instructions.


Choose from a location near you


Get rates and view your My FedEx Rewards
Receive Delivery Notifications
When you opt in to receive alerts via FedEx Delivery Manager you will get package status notifications.
You will be notified when:
Your package is ready for pickup if you have chosen to hold at a location
A shipment requires a signature to complete the delivery
There is a delay that would prevent on-time delivery
These text alerts are sent from 46339 to the phone number you provided in the FedEx Delivery Manager request.
If you prefer not to receive these updates, text STOP to 46339.
Get Package Tracking Status
Ongoing Shipment Updates


To get ongoing shipment status updates:
1. Text.
Text FOLLOW and your tracking number (e.g., "FOLLOW 123456789012") to 48773.
2. Confirm.
Reply YES when you receive the welcome message. (Repeat Step 1 to follow another shipment.)
3. Receive.
Receive ongoing updates to your shipment's status automatically via text.
Text STOP to 48773 to cancel tracking updates, or HELP to 48773 for assistance. FedEx® SMS Tracking is supported by AT&T, Verizon Wireless, T-Mobile, Sprint Boost Mobile, Metro PCS, U.S. Cellular, NTelos, Cricket, and Virgin Mobile. Message and data rates may apply. Message frequency varies per user. View our privacy policy.
One-time Shipment Updates


For a one-time shipment status:
1. Text.
Text TRACK and your tracking number (e.g., "TRACK 123456789012") to 48773.
2. Receive.
Receive your shipment's current status automatically via SMS.
3. Repeat.
To track another shipment or receive another update, repeat these steps.
Text STOP to 48773 to cancel tracking updates, or HELP to 48773 for assistance. FedEx® SMS Tracking is supported by AT&T, Verizon Wireless, T-Mobile, Sprint Boost Mobile, Metro PCS, U.S. Cellular, NTelos, Cricket, and Virgin Mobile. Message and data rates may apply. Message frequency varies per user. View our privacy policy.
Frequently Asked Questions
You can ship via FedEx Express®, FedEx Ground® and FedEx Home Delivery® services. Some restrictions apply. Eligible packages can measure up to 15" w x 22" d x 17" h and weigh up to 70 lbs.

Yes, with the FedEx® Mobile app on both iOS (iOS9 or newer) and Android (OS 4.0 or newer) devices, you can create an email shipping label or a PDF. Shipping on a mobile device requires you to have a FedEx shipping account and ship within the U.S.

FedEx considers the security of your shipment information a top priority, making registration a requirement to provide visibility to certain account-specific information. After you register, you can ship U.S. FedEx Express®and FedEx Ground® packages. You'll also be able to enroll in FedEx Delivery Manager®, receive account-specific rate quotes, determine transit times and schedule a pickup.
No, you can create a label for basic one-time shipments from any device — including your phone — with FedEx Ship Manager® Lite. This online solution is the fastest way to create a shipping label, with or without a FedEx account. All we need is your credit card information.
We understand the importance of protecting the privacy of customer information. Your shipment information is password-protected, and FedEx does not sell customer information or give it to outside parties unless required by law. Please refer to our Privacy Policy for more details.

Please call for questions regarding your shipment.

Please call our technical support hotline if you need technical assistance.