Meet FedEx Authorized ShipCenter® (FASC) Store Owners
Meet FedEx Authorized ShipCenter® (FASC) Store Owners
Get to Know FASC Store Owners
Pack-and-ship store owners share what they love most about being a part of the shipping industry and how working with FedEx has benefited their business. 

Fahim and Seema Mojawalla: Island Ship Center
When Fahim and Seema Mojawalla moved to Grand Island, New York, from New York City in 2006, they noticed something missing — there were no FedEx facilities within 15 miles of their new city and neighborhood. Seeing a golden opportunity for a small business, they contacted FedEx and opened Island Ship Center soon after.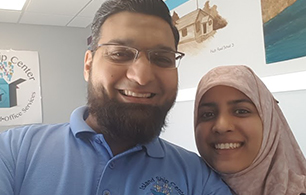 "Being able to connect with a brand as strong as FedEx provides instant credibility to our business."
— Fahim Mojawalla 

Since then, the Mojawallas have been running what they refer to as the "Spa of Shipping" — a place community residents and tourists visiting Niagara Falls can depend on to get their packages safely to their destinations. As Fahim puts it: "We try and make the mundane extraordinary for our clients, so we've focused on building a business that's based on collaboration, empathy and trust."  
Kelli and Ted Tamez: Pak Mail #841 and Pak Mail #267
It was 1997, and Kelli and Ted Tamez decided they needed to pursue a new business opportunity. Both were working long hours, weekends and holidays. "We felt like we were missing out on our kids growing up," Kelli says. That's when they came across the Pak Mail franchise: They found an existing Pak Mail for sale a few blocks from their house in Phoenix, Arizona, and took the leap — Ted quit his job, bought the Pak Mail store and immediately fell in love with running his own small business. Soon after, Kelli followed suit.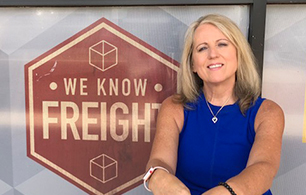 "Being part of the FASC network is an invaluable resource — we have access to shipping news, marketing materials and new ideas on how to grow our business."
— Kelli Tamez 
Since then, the Tamezes have bought an additional location and their two sons have become managers of the stores. "It's now truly a family business," Kelli says. The four of them work together to offer customers in the Phoenix metro area a variety of services, including custom packing, freight shipping, mail receiving and print services. "We love helping our customers — many have become like family to us," Kelli says.  
Rajan and Martha Dorasami: Box & Ship
"People need to make shipping simple, and I'm a people person, so it felt like the perfect fit," Rajan Dorasami says of starting his Box & Ship store in 2002. Since then, Rajan; his wife, Martha; and their team of shipping experts have been providing the Fort Worth, Texas, community with high-quality shipping, packing and mailing services. At the core of all of these services is what the Dorasamis call "Super-Star Customer Care" — "We make certain every guest leaves feeling cared for with professionalism and warmth," Rajan says.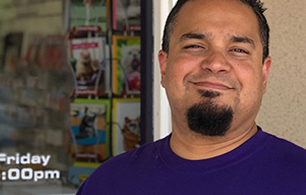 "FedEx has the reputation of being fast, reliable and professional, and the FASC program has the potential to make sure its partners deliver the same attributes to our mutual customers."
— Rajan Dorasami  

When it comes to what makes their store unique, Rajan says it's their ability to continuously grow and change, not only in the services they offer but in their store's appearance, too. They have remodeled their Box & Ship store six times in 16 years to keep it looking fresh and modern. For their next big update? They're going to embark on their most radical storefront redesign yet — giving guests yet another great reason to come back for more business.