Made Possible by FedEx team members
Made Possible by FedEx team members
We're honoring team members across FedEx for going above and beyond to enable possibilities for customers and communities.
We're honoring team members across FedEx for going above and beyond to enable possibilities for customers and communities.
Special deliveries
Shane Morris – Tractor trailer driver – Irvine, California 
NASCAR engines delivered coast-to-coast for race day 
NASCAR racing fans are all connected by one thing…speed. For Denny Hamlin and the FedEx Racing Team, that speed starts at Toyota Racing Development in Costa Mesa, California. 
That's where a separate engine is prepared for every race. The engines are then shipped overnight across the country to Joe Gibbs Racing in North Carolina.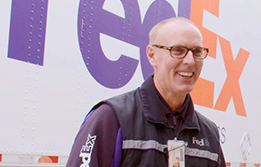 That speed of delivery gives the team as much time as possible to fine tune the car before race day. 
FedEx Express tractor trailer driver, Shane Morris, picks up the engines just like shipments from his many other customers. It's all part of the job – every shipment is important, but some of them just happen to have a few million eyes waiting for them! 
Justin Ottinger – FedEx Ground senior manager – Jonesboro, Arkansas 
Adam Anderson – FedEx Ground service provider driver for DiamondHogz Logistics Inc. – Jonesboro, Arkansas
Le Bonheur patient delights in special delivery 
An eight-year-old boy named Shawn suffers from a severe medical condition that requires frequent trips to Le Bonheur Children's Hospital in Memphis, where he and his family often stay at FedExFamilyHouse. As part of his treatment, Shawn receives medically prescribed food, delivered by FedEx Ground service provider driver Adam Anderson every month. Shawn has grown to love all things FedEx, so much so that his mother called the FedEx customer service department to ask if he could see inside a service provider's delivery vehicle.
"We were happy to oblige," said FedEx Ground senior manager Justin Ottinger. Justin and his staff put together a special package for Shawn containing FedEx-branded items, and, with the service provider's employee, delivered it to his house.
Shawn's mother contacted a local news station to cover the moment. Cameras were rolling when a grinning Shawn answered the door. Adam invited Shawn into the van to look around and let him sign for his own package. "He immediately put on the FedEx Ground baseball cap," said Justin. Shawn delighted in this special delivery.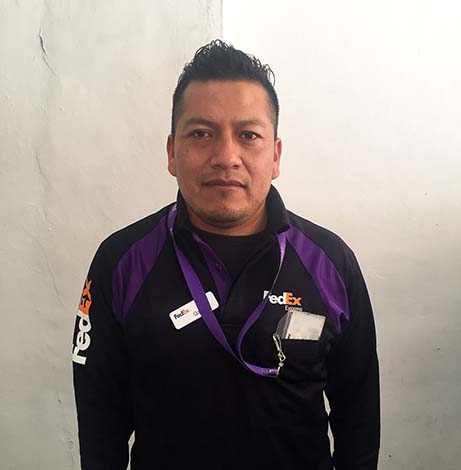 Gabriel Cruz – FedEx Express retail service agent – Huajuapan De Leon, Oaxaca, Mexico
Delivering independence 
The FedEx retail operations team in Mexico encountered an obstacle when a non-profit organization reached out regarding the delivery of a wheelchair for a child with physical challenges. The child and his family lived three hours away from the closest FedEx retail location in Oaxaca and did not have the necessary resources to pick it up and transport it home. The child's parents feared their son would never have the opportunity to gain his independence.
That's when FedEx Express service agent Gabriel Cruz stepped in to save the day. He volunteered his personal time and money to secure a truck to move the wheelchair to the boy's home. Gabriel arrived at the boy's home with the wheelchair after a long day of his regular duties at the FedEx Ship Center. Through the efforts of the Retail Operations team, and Gabriel's willingness to spend his own time and money, a young boy received new freedom and independence.
Todd Sobol – FedEx Freight city driver – Arcata, California
Delivering birthday joy 
Just like he does with other residential deliveries in unfamiliar neighborhoods, FedEx Freight City Driver Todd Sobol called the customer in advance of a California delivery that turned out to be an important birthday gift for a young boy. Todd needed to ensure he would have the necessary room to maneuver his 40-foot trailer at the drop-off point. The customer mentioned that her house sat atop a steep hill only accessible by a gravel driveway.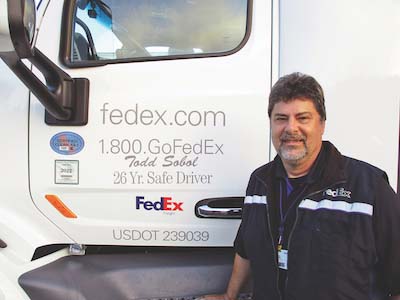 Todd made it to the top of the driveway without issue but encountered another challenge: he needed to turn the trailer around in a tight space to unload the special delivery, a Power Wheels Chevy Silverado. Todd didn't flinch. He relied on his 27 years of experience as a FedEx driver to complete the job. The customer thanked him, and she later posted Instagram photos of the special delivery and her son proudly smiling from his Power Wheels truck. 
"Residential deliveries can be hard, but they are worth it when you are able to meet the customer and see first-hand how excited they are for you to be there and to receive their package," Todd said.
---
Extraordinary service
Kelly Martenson – FedEx Ground linehaul manager – St. Paul, Minnesota 
Operation wedding dress
Moments after she arrived at work, Kelly Martenson received an alert for a rush delivery request originating from a bridal store in Ohio. Tracking information revealed a delivery scheduled for Monday in Minnesota. Kelly learned that the customer needed the dress for a wedding on Saturday…in Montana. "I thought, 'What if this was my dress?'" said Kelly. "I'd want someone to do everything they could to get it to me before the ceremony."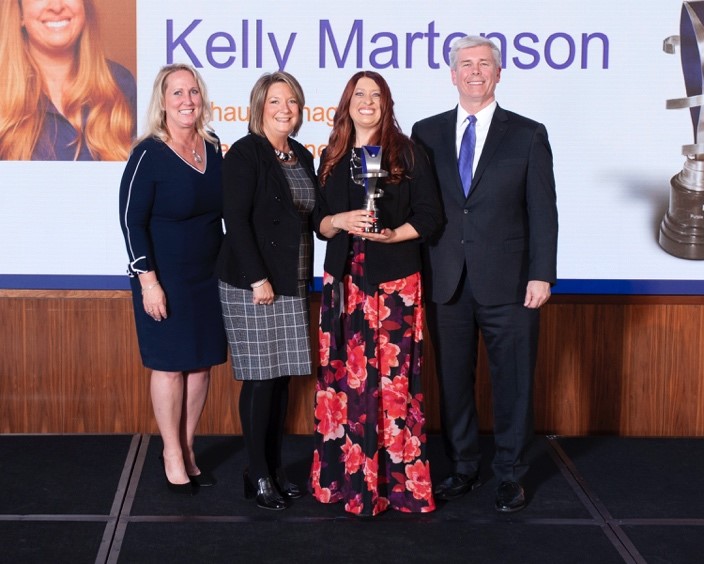 Over the next 30 hours, Kelly worked tirelessly and creatively to rally other FedEx Ground and FedEx Express team members in multiple states to help her achieve what seemed impossible. As the logistics challenge unfolded, it became known as "operation wedding dress". Kelly found a way to get the gown on a commercial flight that landed in Montana around noon and then had it delivered to the anxious bride later that afternoon. "It really was fun figuring it all out," said Kelly. "Of course, I couldn't have done any of it without every single person's help and enthusiasm along the way. Truly, I felt as if I was part of an amazing team — all of us focused on getting this package to the recipient."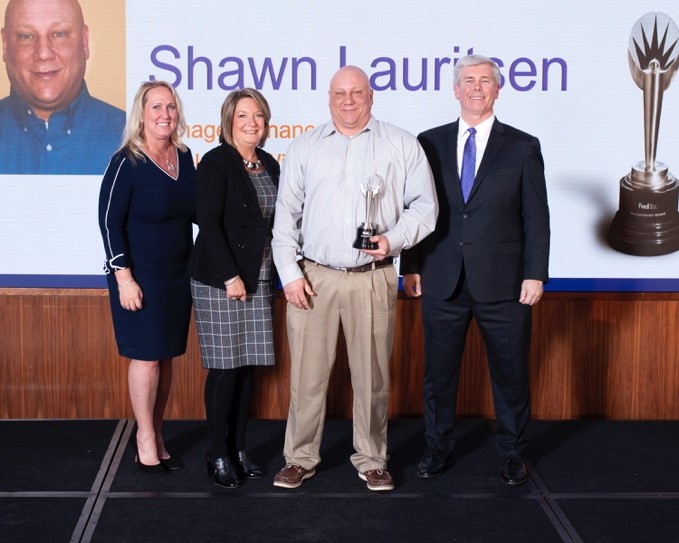 Shawn Lauritsen – FedEx Ground finance manager – Brookfield, Wisconsin
Miracle moving crew
Shawn Lauritsen and a group of his co-workers spent hours building nature observation decks, clearing brush and pulling invasive weeds as part of a FedEx community service project. When the project wrapped up for the day, Shawn noticed two residents from a nearby apartment 
complex struggling to unload a moving truck. "It was a father-daughter team," Shawn explained. "The father was 77 years old and was helping his daughter Mary who had moved to Milwaukee after undergoing 14 surgeries, most recently at the Mayo Clinic in Minnesota."
Shawn mobilized more than a dozen FedEx team members, all wearing purple FedEx Cares t-shirts. Within 90 minutes, the team had unloaded the entire contents of the 26-foot moving truck and carried every item into the woman's new apartment. Ten days later, a thank-you note from Mary along with a plate of brownies and cookies arrived at the local FedEx facility. The note read: "Your help unloading my moving truck helped my father and me in so many ways. It boosted us morally, spiritually and physically. With all of the things going on in the world currently, you all gave me the best homecoming to Milwaukee there is possible." The note also referred to Shawn's group as the "purple team" and the "miracle crew."
---
Outstanding citizenship
Rod Plemons – FedEx Ground senior manager – Burlington, Vermont
One man's vacation is under construction
While at church, Rod Plemons heard a presentation about a non-profit organization called 8 Days of Hope (8DOH). He learned that the organization assists victims of natural disasters, including rebuilding their homes at no charge. "I was compelled to learn more and eventually to volunteer," Rod said. "I love construction and have helped build houses, so it seemed like a natural fit." Rod's first volunteered with 8DOH in 2011 after floods devastated Nashville, Tenn.. Since then, he's volunteered in Alabama, Mississippi, New Jersey, New York, Virginia and South Carolina.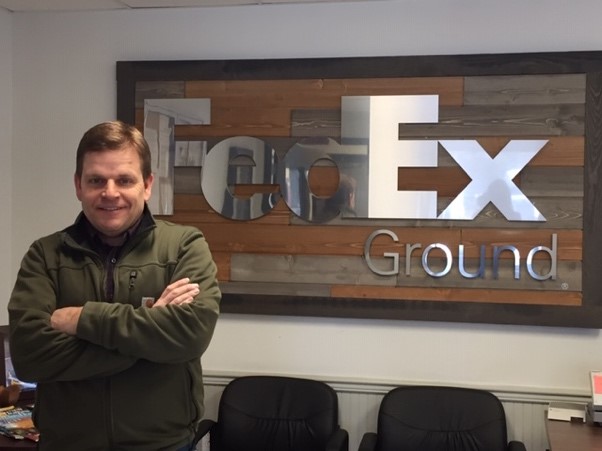 Most recently, he spent two weeks of his vacation time leading a team of volunteers in Houston who rebuilt homes damaged by Hurricane Harvey.
Rod loves the 8DOH team and is proud of their work. "We support each other like family and build everything to meet local codes," he said. "The houses must pass inspection and are often in better shape than they were originally." Rod also noted the work is humbling and transformative. "Volunteering changes you as a person," he explained. "You're moved by people's life stories and come to realize that we're more alike than different." Rod's volunteerism has also made him a better servant leader. "In the past seven years with 8DOH, I've become a better listener and more empathetic, qualities I've carried over into my relationships with co-workers." What Rod enjoys most, and what continues to compel him to spend vacation days in service to others, is the impact the work has on the people he helps.
Norton Downy - FedEx Express operations manager - Kingston, Jamaica
Orbis delivers sight to a child in Jamaica
When Trevorn was 8 years old, he found himself in the midst of an absolute living nightmare.
At his primary school in Jamaica, one of his classmates made a catapult that fired a pencil which struck Trevorn without warning, squarely in the eye. After two emergency surgeries the pencil was removed and the lens was replaced, but his vision was severely damaged. When he eventually returned, he was restricted from participating in many school activities. His grades suffered terribly.
Trevorn's mother sells fruits and vegetables at the market in Kingston, which is about an hour and a half drive from their home. To keep costs down, occasionally Trevorn's mom catches rides from friends and family, and one day this ride changed everything for Trevorn and his entire family.
Norton Downy gave her that life-changing ride. Norton is a FedEx Operations Manager in Kingston, and he's the kind of person who deeply cares for his friends and neighbors. She told Norton about Trevorn's worsening condition, and about how he needed glasses, but she couldn't afford to purchase them. She was feeling the desperation of a mother who would do anything to help her ailing child.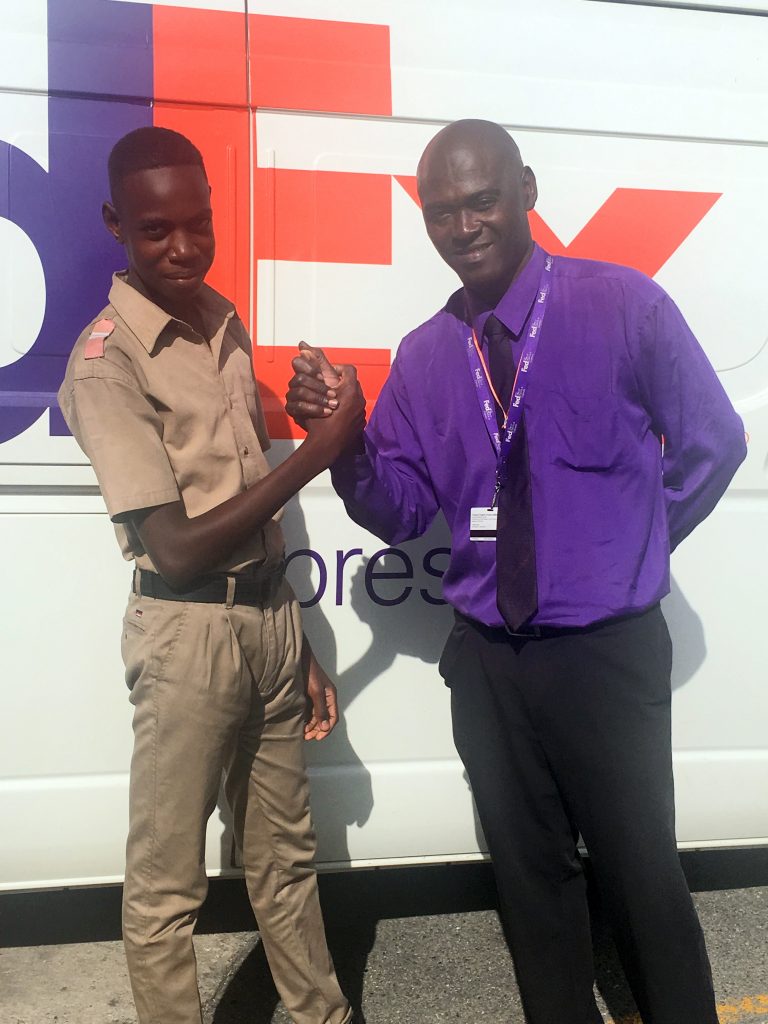 That's when the light bulb went off in Norton's head. He recalled seeing work emails about an upcoming visit to Jamaica by the Orbis Flying Eye Hospital. This was the perfect solution.
The Orbis Flying Eye Hospital is a mobile teaching hospital that travels the world providing vision-saving eye surgeries and training to local doctors. The procedures are done free of charge by voluntary surgeons, staffed by volunteer nurses, and the plane is even flown by volunteer pilots. FedEx not only donated the plane, but also provides pilots, maintenance, and support through donations and volunteers.
The only problem with Trevorn's case was that local doctors in Kingston had already pre-selected all the patients for the 3-week visit, and Trevorn hadn't been present for those preselection screenings.
Trevorn needed a miracle. And thanks to Norton, he got it. Norton became a relentless advocate, navigating through the full patient docket to contact Orbis personnel, driving Trevorn to be evaluated, and waiting patiently while he was treated.
Due to his severe condition, a laser surgery was scheduled on the very same day as his evaluation, and the operation was a complete success. He is now seeing clearly through his eye and was able to return to school just three days after his surgery.
Now, a few weeks later, Trevorn speaks in the highest regard of how comfortable the Orbis staff made him feel and talks constantly about his desire to work for FedEx when he is older.
Orbis staff and volunteers treated over 71 people during their stop in Jamaica. Every single one of them has their own story, and each case is a life completely changed through the kindness of strangers.