Small business stories
Small business stories
Featured small business stories
Written by: Jason Baker
The beverage world has come a long way since the days of a certain bandit making illegal beer runs across the country for a truckload of Coors beer. Believe it or not, back in the '70s, Coors was considered a specialty beer, and it was difficult to find outside of certain areas of the West. 

In fact, in the late 1970s, there were fewer than 50 different independent brewing companies in the U.S. The entire craft beer industry simply didn't exist. 
A revolution began when President Jimmy Carter signed a law changing the home brewing rules in 1978, ushering in the freedom for a generation of beer enthusiasts to become the first wave of American microbrewers. 
Like most American entrepreneurs, the people who built the craft beer world love to experiment. As West Coast IPAs, Double IPAs, fresh-hopped beers, and a slew of other sudsy innovations have come about, they have one thing in common: hops, hops, and more hops.
Hops are the key ingredient for IPAs, pale ales, and many of the other top-selling craft beers in the U.S. Flowers from a hop plant are used as a bittering, flavoring, and stability agent in beer. Hops give beer its sharpness and much of its flavor.
Fueling Your Neighborhood Brewery 
Matt Malloy of Dorchester Brewing walked us around his brewery on the south side of Boston. His business is based on the idea that old-world neighborhood breweries were places that brought communities and families together. 
Dorchester Brewing allows local beer makers to "partner brew" – making their products here in smaller batches without the burden of the large costs associated with buying expensive high-end equipment. 
For this to work, a steady supply of almost infinite varieties of hops is needed. Matt shows us rack after rack of hops. Citra®, Mosaic®, Cascade, Centennial, and many more varieties line the shelves. 
Almost 150 different kinds of beer were made at Dorchester Brewing last year alone. Adaptability is also key – it's critical in this industry to be able to change styles frequently. "More and more people are coming to this market, and the market has to listen," said Malloy. "Experimentation is king."
For the brewers at Dorchester Brewing to be successful, a dependable supply of hops from every variety must be available. While we were talking, a FedEx Freight truck arrived with a pallet filled with freshly harvested hops.
"Can you believe that timing?" Malloy asked. Sometimes the hops are inserted in the brewing process the moment that they arrive. He gestures around at the supply room, the brew kettles, and the friendly patrons in the tap room. "All of this is part of the romance of beer."
Where in the world do those hops come from? And how do they get to the more than 7,000 craft breweries in the United States?
Hop to the Source 
To find the epicenter of hop farms in America, you'll need to travel 3,000 miles west of Dorchester Brewing to the Hops Capital of the World: Yakima, Washington. The Yakima Valley area grows 75% of the nation's hops.
Those hops are cultivated, processed, and shipped to craft and large breweries in both the U.S. and around the world.

Yakima, with a population less than 100,000, sits in a beautiful valley that is about a 2-hour drive from Seattle. It's far enough away from the city that the climate is entirely different, but on a good day you can still catch glimpses of Mt. Rainier in the distance, looming over Seattle like a silent watchman. Yakima has abundant sunshine, crisp air, and fertile soil. The climate, latitude, and growing conditions make it perfect for hops.  
And business is booming here.   
Acreage in the Yakima Valley planted with hops has grown almost 80% in the last three years. 

All those hops aren't just going to the U.S. craft industry. Brewers from countries all over the world get their hops from the Yakima region.
Yakima Chief Hops is a 100% grower-owned network of family hop farms. The company works with 52 hop-growing farms in the region, with a strong focus on quality, high standards, and sustainability. 
Steve Carpenter, Chief Supply Chain Officer at Yakima Chief Hops, is the fifth generation of his family to work in the hop industry. Back in 1869, his great-great-grandfather became the first hop farmer in the Yakima Valley. (Washington didn't even become a state until 20 years later.)
Steve tells us that, in the '60s and '70s, the entire valley was planted with the same kind of hops. But with the rise of microbreweries, demand for variety has surged. This is how brewers are differentiating themselves in a booming market. 
In those old days, farmers had no way of working directly with brewers. They had to go through middlemen, driving up prices and stifling creativity. But Yakima Chief Hops came along and changed that model – allowing hop farmers to work directly with brewers. This access has revolutionized the industry. 
Now it is very common, almost standard, for brewers to come to the Yakima Valley to sample and select their hops themselves. They provide direct feedback from their customers, and as a result the market becomes more robust and transparent.
Yakima Chief Hops takes it a step further, hiring an in-house brewer to better understand customers' needs. It also hosts a yearly week-long Hop and Brew School for brewers, which draws a global audience with participants from as far away as Asia and Europe.
It's harvest season, and Yakima Chief Hops has sampling rooms set up throughout its headquarters for visiting brewers. 
Clusters of people wearing brewery logo shirts hurry back and forth across the landscape and town. Most of them are wearing an ever-present smile because, well, beer makes people happy!
Beer for the People: Democratizing the Industry 
Watching a hop harvest in action is fascinating. Hops grow on bines (which are similar to vines, with a few differences in climbing behavior and plant structure.) 
The harvest is labor intensive, as bines are hand-cut from a vast network of trellises and separated from supporting ropes. The hop cones must be removed from the bine very quickly, then taken to a massive kiln to dry. An exception is made for fresh hops, which are transported directly to brewers and absolutely must be inserted in the brewing process within 48 hours of being harvested.
All of this supply chain has to move efficiently, in a carefully orchestrated operation largely supported by FedEx Express, FedEx Ground, and FedEx Freight services. Hop growers in Yakima supply pelletized hops, hop extract, and fresh hops to breweries from Australia to Andorra, and every second counts. 
Yakima has the distinctive feel of an agricultural town, and on any given day you're likely to see farm equipment sharing the city streets with big rigs taking the finished product to markets near and far. Just down the road from Yakima Chief Hops, Yakima Valley Hops is a broker that has an entirely different approach. 
Yakima Valley Hops has the feel of a Silicon Valley tech start-up. Heavy metal music blasts in the warehouse area, which leads directly to offices, conference rooms, and of course, a sharply designed tap room. It's an essential for every company in the hop industry. 
John Snyder and Jeff Perkins started Yakima Valley Hops in Jeff's father's garage in 2010, selling high-quality hops to home brewers and small craft breweries.
They saw that home and small craft brewers couldn't get access to the same varieties of hops that larger breweries had because they simply didn't have the same mass-market buying power.  
"We were seeing the industry go the wrong way," Snyder says. "Craft brewers were being forced to either buy all their hops for the entire year at once, or to take a risk of waiting for funds to become available at a later date – when the hops they need had all been sold. It was becoming the haves and have-nots."
He set about connecting with the hop growers of Yakima to build the first e-commerce option for purchasing small batches of hops without sacrificing selection or reliability. The company's growth has rocketed to serve 6,000 different breweries and 50,000 home brewery customers in 42 countries. 
Yakima Valley Hops displays the harvest year prominently with each batch, further promoting transparency in the industry.
Products are shipped out to customers all over the U.S. using FedEx One Rate, and international packages can reach their markets in a flash thanks to the power of the FedEx global network. Yakima Valley Hops has recently started shipping hop pellets in a revolutionary packaging: rather than mylar bags, they are using beer cans. They are durable, light, and, best of all, fully recyclable.
Snyder enthusiastically guides us to a warehouse area, showing off a smartly packaged and well-designed subscription box called a "Hop Box" for home brewers. It gives people access to the best products of each growing season while not requiring them to commit to a massive order size. 
Still spilling over with excitement about the next edition of his Hop Box, he tells us, "We've sold out of these every year that we've offered them. The simplicity and reliability of FedEx One Rate has really been a game changer for home brewers."
Families and the Science of Suds 
We made our final stop in Yakima at Hollingbery and Son Hops. Another family-owned business, hops have been a part of the Hollingbery family since 1942. 
Matt Hollingbery has a very comfortable presence and seems slightly amused when I ask his title. "I guess you can say Vice President?" But it's plainly obvious that he knows every inch of his facility and every detail of how the hop world functions. 
In an echo of something mentioned back at Dorchester Brewing, Hollingbery says, "There's no doubt about it, hops are the romantic side of the industry." 
Hollingbery puts a lot of attention on relationships with brewers. He says it can be difficult to evaluate a brewery, but you can learn a lot if you look closely at quality, funding, and cleanliness. He's clearly connected to the products of his customers, saying "I want to like the beer from the people that I work with."
The transport of Hollingbery hops is crucial, knowing that it can be the only touch point the company has with some customers. Light, temperature, and oxygen exposure impact hop quality, and they all must be regulated in both storage and in transportation. Hollingbery often works with FedEx Logistics on containers filled with hops traveling all the way across the Pacific Ocean.
Like many in the business, Hollingbery is also serious about the science of hops. Core samples are taken from each crop, evaluated, and documented. Oils and flavor profiles are measured and tracked. A whole bevy of other tests are performed by lab crews dressed in sharp white coats in rooms filled with beakers, computers, and lots of other things the functions of which I couldn't begin to guess.
It all boils down to one thing: top-quality beer. 
And that quality begins in Yakima, Washington. Now, who's thirsty?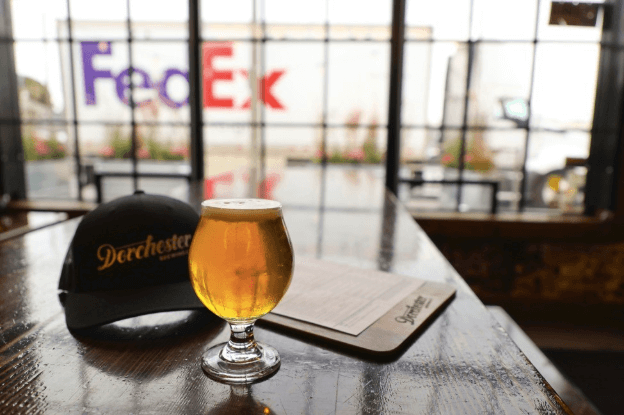 Other resources
Look to our Small Business Center for practical advice to help small business owners. Get insights on everything from efficient packaging and shipping practices to money management and marketing.
explore small business center