Pick up. Drop off. Relax. Now at Kent Building Supplies.
Pick up. Drop off. Relax. Now at Kent Building Supplies.
FedEx and Kent Building Supplies are a
great package deal.
Flexibility
Pick up or drop off your FedEx packages when it best fits your needs and schedule.

Security
Get extra peace of mind by picking up your packages from a secure FedEx retail location.

Convenience

---
Pick up in-store while you shop.
The more you shop online, the more deliveries you can expect. If you don't want your packages left on your porch, you can redirect them to a participating Kent Building Supplies location in your neighbourhood for pickup. It's not only safe, secure and convenient — it's free.
How do I redirect my packages?*

Locate and click Manage Delivery and then Hold at Location on the tracking results page.†

Enter the original delivery address for authentication.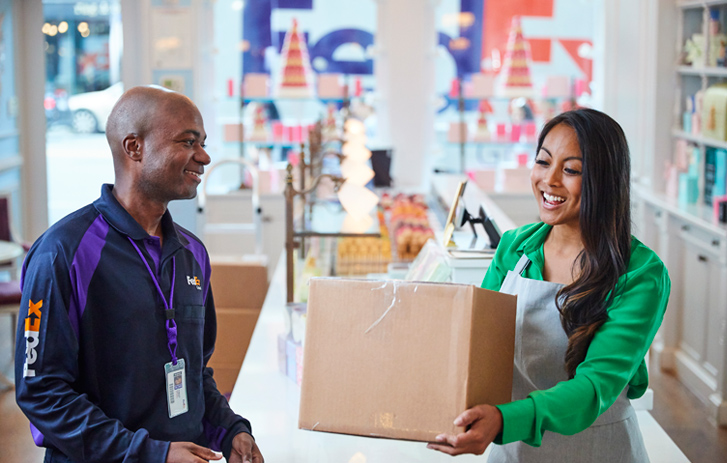 *This option may not be available for all shipments.
†This option will appear, if available, once the shipment is on its way.
Take control of your future home deliveries.
Request to have your incoming packages delivered to a secure Kent location for pickup using FedEx® Delivery Manager — and get that extra peace of mind.
LEARN MORE OR SIGN UP
Drop off on your way.
Do you need to return an online purchase or drop off your pre-packaged, pre-labelled FedEx
packages? You can conveniently drop off your packages inside participating Kent Building Supplies
locations near where you live, work or shop.
How do I prepare my packages?

Step 1
Pack and seal your packages prior to arriving at the location.
Step 2
Use a FedEx return label, if you already have one. Or create, print and affix a shipping label to your packages. Learn how.
---
Frequently Asked Questions
General Information
To find a location near you including store hours, directions, and latest drop-off times, please click here. Once you are inside one of these locations, please look for any FedEx signage or visit the main counter/register for assistance.
 
There is no premium fee or surcharge for dropping off or redirecting your packages for pickup.
 
Picking Up / Redirecting
You will need to bring a government-issued photo identification that includes the recipient's address along with your FedEx® tracking number. For details, please visit fedex.ca/ID.
 
Dropping Off
Kent Building Supplies locations are only authorized to accept packages that are securely sealed and properly labelled with a FedEx Express or FedEx Ground shipping label. Dangerous goods are not accepted. For specific weight and dimension guidelines, please click here.