Black History Month: We salute our pioneering aviators
Three stories, one vision for equality.
In celebration of Black History Month, we're saluting FedEx aviators through the stories of the first African-American FedEx pilot, the first female African-American FedEx pilot, and an inspiring father-son flying duo.
FedEx Captain Carroll Waters stood tall and blazed a trail for minority pilots who followed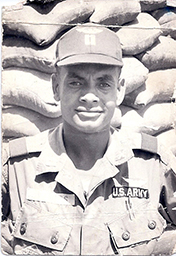 For those who were fortunate enough to know Captain Carroll Waters, the first African-American pilot for FedEx, they'll quickly describe a larger than life individual who truly led by example. Raised in eastern Virginia during the tail end of the Great Depression, Captain Waters' meager beginnings hardly foreshadowed the incredible impact he was going to have on the advancement of minority aviators.
Following college, the young Virginian joined the U.S. Army in 1958 and displayed a clear love and propensity for all things aviation; so much so, he earned a spot at the Aviation Center of Excellence at Fort Rucker (Alabama) where he thrived under the tutelage of Walter Crenshaw, an original member of the famed Tuskegee Airmen, the renowned group of African-American military pilots who flew during War II.
Following the stint at Fort Rucker, Waters continued training for a number of years prior to seeing combat duty in Vietnam. Flying the CV2B, a two-engine, short take-off and landing plane, during the conflict, he was honorably discharged in 1966 and ultimately earned a Bronze Star, an Air Medal, and a National Defense Service Medal among other distinctions.
However, following his military service, Waters immediately realized the prospects of finding a job as a pilot back home were limited, particularly given the volatile state of race relations during the time. As a result, the 30-year-old committed himself to making a difference by forming an agency that helped develop anti-poverty programs. But as he strove to give a voice to those who needed one, he couldn't help but feel there was something missing in his life. Yes, he missed the cockpit more than words could explain.
His fortune took a huge step in the right direction when a friend who worked at an employment agency informed him that a young businessman, who also had served in Vietnam, had started an airline delivery company in Little Rock, AR. The business model was quite novel, and given Captain Waters was certain no one was ready to hire a black pilot, the war veteran turned consultant could not, at first, bring himself to call this little known company, Federal Express.
But thanks to considerable coaxing by his friend, Captain Waters did pick up the phone, and as is often said about remarkable stories such as this one, the rest is history. Anecdotally, the phone call exchange played out as follows after Waters heard the "hello" on the other end:
Waters: "I'm a black pilot and I'm looking for a job." 
Fred Smith: "When can you get here?"
And on New Year's Day 1973 following a meeting with Fred Smith, Carroll Waters became employee #373, representing just the third pilot for the start-up. According to Smith, the primary objective at the time was to secure qualified people to get FedEx off the ground and help it grow, and Waters definitely fit the bill.
Waters initially Captained a Falcon aircraft, and shortly thereafter, the company moved to Memphis. Through the years, the Captain remembered fondly the fact that there were only about 20 packages on that initial flight compared to the millions that currently work their way through the FedEx system each night. As many will attest, he was extremely proud of playing a part in building such an amazing business.
But while others may have been content to focus on the job, Waters reflected on his journey to that point, and was called to inspire others to chase their dreams. And in 1976, the trailblazer did it again as one of the founders of OBAP (the Organization of Black Aerospace Professionals). Forty years later, the group is still going strong, encouraging minority youth to explore and actively pursue aviation careers. The recently retired Captain Albert Glenn recalls meeting Waters during the mid-70s and was impressed by his presence and focus on mentoring. 
"He was the first black airline pilot I had seen, and he had the quintessential pilot "look" – very professional, and strictly business. At the time, I didn't realize that first impression would set the tone for my own career. He became my mentor, and until the day he passed, he always treated me like a son."
When it was all said and done, Captain Waters flew for the Purple & Orange for 23 years until his retirement in 1996 at age 60. By that milestone, he had flown a variety of airplanes, including the 727, the 737, the DC10 and DC10-30. Waters eventually passed in March 2015, and at the request of his family, his ashes were flown back to his birthplace – Wicomico, VA. Fittingly, Albert Glenn was the Captain on that flight.
While Captain Waters is not with us anymore, his legacy flourishes, markedly defined by a true sense of humility that is so perfectly captured in the following attribution.
"Some days, it hardly felt like work. It felt like a privilege. Without the opportunity that Fred Smith gave me, who knows if I would have flown professionally again or, if I had, if I would have been treated so genuinely." 
During this Black History Month and beyond, we shall look to honor Carroll Waters' life by treating one another genuinely, with the respect and dignity he extended others throughout his career. FedEx is forever indebted to this pioneer for the positive influence he had during his 23 years with the company, and is committed to keeping his story alive so that it may inspire younger generations of aviators to realize (like Waters often said), "the sky is not the limit."
---
For FedEx Captain Albert Glenn, inspiring our youth is his life's mission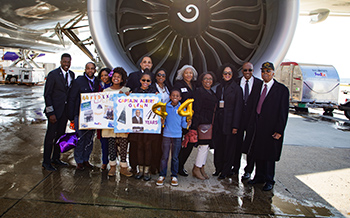 In honor of Black History Month, FedEx recognizes current and past professionals who made a positive difference. FedEx Captain Carroll Waters certainly opened the door for other minority crewmembers, and Captain Albert Glenn gladly took the mantle through his more than four decades flying for the Purple & Orange. While the B777 pilot landed his FedEx aircraft for the very last time this past November, he still remains dedicated to teaching our youth about all of the wonderful opportunities an aviation career presents.
Interestingly, Albert Glenn began his career in '74 with FedEx as a data processor, while completing his political science degree at the University of Memphis. However, he began logging flight hours toward the end of college, while holding a number of additional positions with the company in both customer service and in Flight Operations.
Utilizing his bachelor's degree, in 1976, he went to work in former U.S. Rep. Harold Ford Sr.'s office as an intern and administrative assistant. Captain Glenn maintains it was during this time when he realized the importance of getting involved – encouraging African Americans to pursue careers in aviation.
By summer 1983, Captain Glenn qualified to be hired by FedEx as a B727 Flight Engineer/Second Officer, and during the next decade moved into 727 F/O, Captain and Check Airman positions. He then spent 10 years in a variety of managerial roles before going back into the cockpit in 2003 as an MD-11 Captain, a move that gave him the opportunity to fly with his son, Anthony, and more flexibility to mentor youths who wish to get into the field. By 2010, Captain Glenn was flying the B777. 
Having earned a stellar reputation across the fleets for always paying it forward, Captain Glenn leaves a legacy characterized by mentorship, community service and unparalleled professionalism. Following in Carroll Waters' footsteps, he definitely represented FedEx well within OBAP (the Organization of Black Aerospace Professionals), having served twice as the organization's national board chairman. Now, he fully expects to remain active as a teacher and advocate with OBAP national.
Additionally, Glenn will remain as director of the Luke Weathers Flight Academy for the foreseeable future. The Academy, located at the Olive Branch (MS) Airport, is named for a member of the famed Tuskegee Airmen who flew during WWII. Its mission is to give Memphis East High School students a low-cost opportunity to earn their wings.
Thank you Captain for all you've done to make FedEx the best in the business. Your incomparable class and selflessness is something we will always remember you by, and though you may not be flying the Purple Tail anymore, we can rest assured you're still out there inspiring future generations of aviation professionals!
---
Determined and extremely capable: FedEx Captain Tahirah Lamont Brown is poised to set an example every day
While Captains Carroll Waters and Albert Glenn certainly set the stage for other minority aviators at FedEx, Airbus Captain Tahirah Lamont Brown truly set the aviation world alight back in 2002 as the first female African-American pilot for the express delivery giant. And when she's not delivering the World on Time, she's guiding other pilots as a Line Check Airman for the company, quick to acknowledge the importance of giving back to the industry she credits for opening up so many opportunities.
Additionally, the Captain reminds us that it's imperative to never forget where you came from so you can better navigate the skies ahead.
Growing up in Brooklyn, via Flatbush, the FedEx pilot of nearly 16 years will be the first to tell you that while she and her five siblings grew up in an extremely disciplined household, it paid dividends in a variety of ways.
"My father started out as a correctional officer and worked his way through the ranks to become warden at Rikers Island," Brown said. "Then he became chief – he was one of the people in the white shirts."
Suffice it to say, Wayne Lamont's management style carried over into the home, and as Tahirah will assert, he was not looking to win any popularity contest. Instead, he was intent on raising successful children, who looked out for one another. As the second eldest of the Lamont children, Tahirah readily admits she's definitely her father's daughter – driven to succeed, with a heavy dose of "rebel spirit" inside of her. 
"When I originally began researching careers in secondary school, I really thought I'd like to be a judge, because I enjoy listening to people and trying to help solve problems," added Brown. "But neither my family nor I were politically connected, so I started checking out other professions that matched my personality as well."
Luckily for the Purple and Orange, Tahirah ultimately focused on a career that fit her to a tee.
"I knew I wasn't an office person, so I knew if I pursued that, it would be solely for a paycheck," Brown said. "After more research, I came across aviation, and the more intrigued I became about the possibilities in the field. I actually went to college not knowing that I wanted to be a pilot. In fact, I started studying aerospace technology and then it just came to me. It was like an epiphany when God said, 'This is what you're going to do.'"
And, so, the journey began. 
Tahirah fondly recalls her father in the rear seat during her first time in the cockpit in 1992—taking off out of Long Island, New York, and flying to Greenwich, Connecticut.  She was on top the world—literally. The maiden flight would be a momentous occasion for any pilot, but especially for an African American woman entering an industry dominated by men. And it was this realization that drove her to help minority youths who are also interested in flying careers, but may not know where to begin.
Flash forward to the present, and those who know Tahirah will readily inform you when she's not flying, she's most likely wearing her "mentoring hat." Whether she's speaking to a group at the annual OBAP (Organization of Black Aerospace Professionals) conference or leading a discussion during the Women in Aviation International conference, Tahirah wants anyone aspiring to become a pilot to realize that it comes down to connections, and more importantly, the willingness to seek out those relationships that help take you where you wish to be.
"Forming bonds has been key to my journey. As a result, mentoring is so important to me," Brown added. "Speaking with men and women who are coming up in the field and letting them know some of the pitfalls, giving them guidance from what I learned and connecting them with people who can help them along provide me as much joy as I get from flying."
Thank you, Captain Brown, for helping make FedEx the best airline in the business and for forging a brighter future for the aviators of tomorrow. Your story is truly a testament to the power of hard work, following your dream, and paying it forward.