Packing Resources and Supplies for LTL Freight: Packaging Tips
Packing Resources and Supplies for LTL Freight: Packaging Tips
Here's where you can find some common examples and tips to get you started shipping with FedEx Freight.
Quick Tips
Proper packaging of your freight is the best way to ensure your goods arrive safely at their destination. Follow these quick tips for shipping bags, cartons, crates and more. For more tips on how to protect and secure your shipments, see FedEx Freight Packaging Recommendations.
Bags

Use the interlocking stack method. Add a solid bottom cushion or load protector. Cardboard the outside of bags when possible.


Keep bags within the pallet perimeter. Tightly secure bags to the pallet.

Cartons


Use the column or interlocking stack method. Avoid overhang to reduce the risk of damage.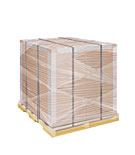 Add stretch wrap for additional protection.

Shelf-Ready Cartons

Use the column stack method. Add corner edge-boards and top and bottom corrugated pads.


Add stretch wrap for additional protection.

Crates

Use quality lumber (plywood). Use diagonal braces and appropriate fastener on the side grain for corners.

Drums

If palletized, band and protect. Support with a solid bottom.


Use banding, edge protection and stretch wrapping. Do not exceed three pails in height.

Spools and Reels

Securely anchor to pallets that may be forklifted.

Engines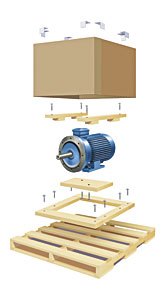 Drain all engine fluids. Block or brace engine in a wood crate or corrugated box.


Band it securely to a pallet. Add stretch wrap for additional protection.

Pipes and Other Long Freight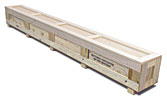 Bundle, secure and crate.
---
Get other freight packaging resources: