If You Share It, They Will Come
If You Share It, They Will Come
Fahim and Seema Mojawalla of Island Ship Center know what it takes to capture people's attention: "Make the mundane extraordinary and provide an unforgettable experience."
It's their motto, and it drives nearly everything they do at their FedEx Authorized ShipCenter® (FASC) location in Grand Island, New York. Delivering the extraordinary is their passion, from how they build relationships with their guests (they're never called customers) to how they treat their team members (they're never referred to as employees).
This nurturing doesn't happen only inside their shop. The power boost in their marketing strategy is using social media to create awareness, reach current and prospective guests, and reward their team members. And their strategy works. Fahim says most of their guests — including those from Canada — learn about Island Ship Center from their Facebook, Twitter and Instagram posts.
Creating a Network
Fahim opened Island Ship Center in 2006, started with Facebook in 2008 and began experimenting with social media marketing in 2014. He quickly recognized its value as a complementary — not substitutional — piece of the business's marketing strategy. While it's important to collaborate with networking groups and the local chamber of commerce, for instance, he also understands no business can afford to avoid using social media platforms.
Besides the channels he currently uses — Facebook, Twitter, Instagram and LinkedIn — Fahim will be adding YouTube and Pinterest to the mix in 2019. "I would suggest that to everyone," he says. And he's in a position to do just that. Fahim is the vice chairman and social media director of the Association of Mail & Business Centers (AMBC), and he often mentors and consults with other FASC participants.
Grand Island is in the Buffalo Niagara region, which is home to several colleges, and because teenagers and college students use YouTube a lot, Fahim plans to post how-to videos with tips on packing and printing, for instance
Is he fearful of revealing trade secrets and losing customers? On the contrary: "They will come to you because they view you as the expert," he says.
While Pinterest is popular and has more longevity among women, 40 percent of its new users are men. Fahim hopes to attract a range of pin collectors by opening an account on Pinterest and connecting it to the blogs on his store's website.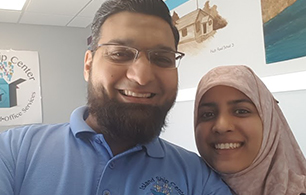 "Social media is all about networking and gaining followers. It's social media, not solicitation media."
— Fahim Mojawalla 
Content Is King
Credibility, transparency and relevancy are the backbone of the store's social media strategy, Fahim says, and the reason the number of his followers continues to grow. The content, he says, needs to resonate with his followers.
"Content is king, and consistent content is queen — and together they make the kingdom," Fahim says.
If you take a look at the Island Ship Center site, you'll see blog posts on printing and shipping. Even with those, he turns the mundane into extraordinary by telling an emotional story. It's not just about shipping but what the shipped item meant to the recipient. It's not about a stack of printed notepads but what went into the print job and how the end product benefited the business owner.
"People follow me because they like the content I'm sharing. It's almost counterintuitive — it seems like I'm giving away information," he says. "Information is currency, that's true, but when I'm the source of that information, people gravitate to me for the right information because it's credible and relevant. So when I sell them something they know that I'm not going to deceive them."
Plus, every week from January through October, Fahim posts an inspirational quote under #FahimFix on his lnstagram, Facebook and Twitter accounts.
"Social media is all about networking and gaining followers," he says. "It's social media, not solicitation media."
Socially Contagious
The store benefits from followers' posts, too. Fahim encourages guests to take selfies and photos of the store and post those to their own social media channels. This is how he engages with Snapchat, for instance. While he's not an active user — he dabbled with it a bit — the younger guests are. So when Island Ship Center is tagged in guests' networks, news of the store quickly spreads through the social communities.
Team members at Island Ship Center have an important role in the store's social media strategy, too. If a team member's name is mentioned as providing excellent service in a guest's review, Fahim and Seema acknowledge it with a $20 bonus.
Fahim says transparency is key to receiving accolades. "When we empower our team with information about day-to-day activities, what we're doing and our store services, we find that we get much more positive reviews on social media and a great working environment."
Reasons to Follow
Best practice is to post new, interesting and valuable content on a regular basis. Doing so provides the audience a reason to keep following you. But be careful not to get overzealous — posting too often can be a big turnoff for followers, and you risk losing part of your audience. Fahim posts two or three times a week on his channels.
"The content that I provide is full of value, full of respect, full of relevance and full of passion. It's full of me and my wife — who we are. And so it's connecting my business with our personal brand — the people that we are," he says. This is what Fahim considers his magnet for attracting and maintaining followers — and store guests.
"Providing packaging and shipping information in a correct and honest way is something we pride ourselves on and something people rely on us for," he says. "I'm not going to give them information if it's just profitable for me. I'm going to give them information if it helps them. And that's paradoxical because in the end, they actually give me more business because they refer others, telling them 'Go see Fahim because he's going to give you his opinion and the right answer to this.' "