FedEx SmartPost®
FedEx SmartPost®
A cost-effective solution for businesses with more than 20 returns a day.
Provide your customers with a convenient return method for low-weight residential packages. With FedEx SmartPost Returns, you'll get a cost-effective, reliable solution that utilizes the strength of the FedEx network and all public access points of the U.S. Postal Service® (USPS). In addition, FedEx SmartPost Returns provides visibility to your customer service and operations departments, as well as to the return shipper, throughout the return process.
Make it easy for your customers.
Returns can sometimes be complicated and time-consuming. That's why, when developing FedEx SmartPost Returns, we took customers' major concerns into account and included solutions to meet those concerns. Service features of FedEx SmartPost Returns include:
A prepaid USPS-integrated return shipping label included in the outgoing package. This means your customers don't have to stand in line at a shipping location to obtain the proper documentation and they don't incur any out-of-pocket expenses.
USPS daily pickup options Monday through Saturday. Whether your customers choose to drop off their packages at a local post office, postal collection box, their own mailbox or at a FedEx location — or choose to go to http://www.usps.gov/pickup/ to request a free USPS package pickup at their home or business address — they have all public access points of the USPS at their disposal.
The strength of the FedEx network ensures reliable returns, giving your customer a faster refund or rebate. The transit time for FedEx SmartPost Returns shipments is 2−7 business days.
Return shipment visibility via FedEx InSight® provides your customers with an up-to-the-minute view of their returns so they're not spending time calling your customer service department for shipment-status updates.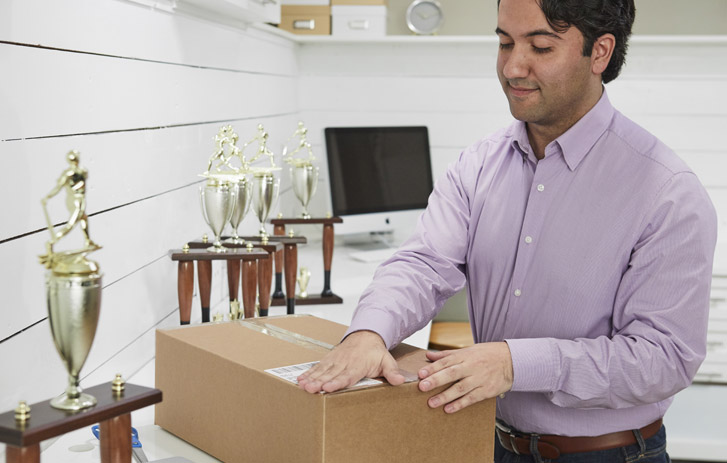 The Benefits of Offering Convenient Returns
Managing the return process in a timely, customer-oriented fashion can increase customer retention, minimize the impact of returns on profits, and maximize and extend the value of goods sold.
Make it easy for yourself.
By offering convenience, accessibility and visibility at a reasonable cost, FedEx SmartPost Returns addresses many challenges of the return process for you, too.
A prepaid return label with clearly stated instructions can reduce return-related call center costs by as much as 25 percent.1

A system that quickly and efficiently cycles returned products back into inventory means faster redeployment into the market, generating revenue and reducing the effects of product depreciation.

The up-to-the-minute view of your inbound return shipments provided by FedEx InSight can help you schedule deliveries or plan labor accordingly. FedEx InSight email notifications provide timely and automatic status information about your incoming FedEx SmartPost Returns packages and include an estimated delivery date — enabling you to plan accordingly.
The FedEx SmartPost Returns Process
The FedEx SmartPost Returns process is completely integrated, which means you benefit from a streamlined process; less handling of your packages; and fast, reliable deliveries.
Your customer drops off the package at any USPS access point or FedEx location.2
Your package arrives at the USPS location.3

Your package arrives at the FedEx SmartPost origin hub.

Your package arrives at the FedEx SmartPost destination hub.

Your return location receives the package.
Residential Returns With FedEx SmartPost
Efficient return shipping translates to repeat customers. See how FedEx SmartPost Returns makes return shipping easy.
Getting Started
FedEx SmartPost and FedEx SmartPost® Returns are contract-only services. For more information or to get started using either service, contact your FedEx account executive or call 1.800.463.3339. We'll work directly with you to:
Review and sign a contract for service.

Review your operation and develop a rollout plan.

Establish a USPS Mailer ID.

Work with you and the USPS to obtain USPS Label Certification.
---
---
1MultiChannel Merchant, Jan. 21, 2009.
2Access points include local post offices, postal collection boxes, mailboxes, mail carriers and free USPS package pickup. FedEx locations include FedEx Office, FedEx Authorized ShipCenter® and FedEx World Service Center® locations. Must be prelabeled as a FedEx SmartPost package.
3USPS locations include Return Delivery Unit and Return Bulk Mail Center.
USPS is a registered trademark of the United States Postal Service. © 2011