FedEx International Broker Select®
Overview
While FedEx international shipping services include customs brokerage, also known as FedEx Broker-Inclusive, we also give you the option to use your own broker with our FedEx International Broker Select service. If you have a special relationship, unique need, or if the products you're shipping require brokerage handling outside the parameters of FedEx's broker-inclusive service, the importer can designate a broker, and FedEx will hand the shipment over to the importer's broker at the destination country's border.
With FedEx International Broker Select, your broker can handle the customs process while still enjoying the certainty and assurance of FedEx shipping after the shipment clears customs. The following services allow FedEx International Broker Select:
Tips for Using FedEx International Broker Select
When using the FedEx International Broker Select option, please note:

All brokers must be issued a signed Power of Attorney form to facilitate shipments through Customs and Border Protection (CBP) on behalf of the importer. To get started, download a copy of the Power of Attorney form.

Brokers have pre-arranged bonds with CBP that have a dollar cap. Work with your designated broker to determine which bond you'd like to use (your broker's or your company's) and your anticipated frequency (single use or continual).

FedEx® Trade Networks can help you arrange a CBP bond for your company if needed. Email FTN_Bond@ftn.fedex.com, or call 1.716.879.1613, Monday through Friday, between 8 a.m. and 9:30 p.m. Eastern time.

Include the selected broker's full name, address, and contact details on all shipping documents and labels to ensure your shipment is routed correctly for brokerage processing.
How to Choose FedEx International Broker Select in FedEx Ship Manager® at fedex.com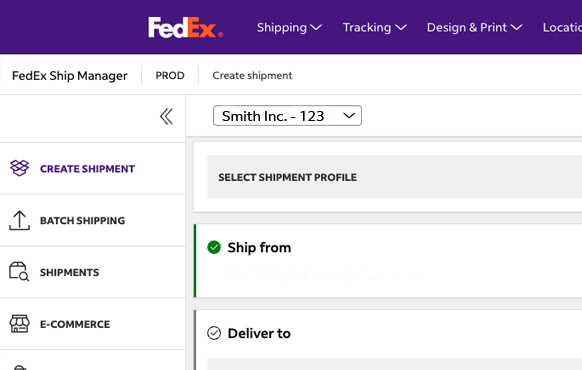 Using your FedEx account, go to FedEx Ship Manager at fedex.com to create a new shipping label. If you don't currently have a FedEx account, you can sign up online in minutes.
Go to the Special Services section and simply check Broker Select.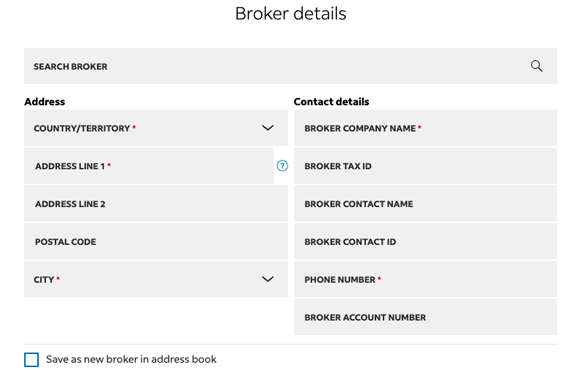 Fill in your own broker's information.

Note: When you choose FedEx International Broker Select, your shipment will be sent to the customs-approved in-bond location nearest to the broker you are working with. FedEx may assess a small fee if your delivery needs to go to a different  location, typically in a different metropolitan area. If your broker and your shipment's' first point of entry are not in the same area, remote entry filing for U.S. imports may be necessary. Saturday delivery is not available with this service.

Broker-Inclusive FedEx Services
Overview
FedEx international shipping services automatically default to broker-inclusive, meaning that FedEx serves as the shipment's customs broker. When you use a broker-inclusive service for international shipments with a declared customs value of USD $500,000 or less, FedEx defaults as the designated broker and will facilitate clearance using its U.S. Customs and Border Protection (CBP) bond.
When using the broker-inclusive option for shipments with a declared customs value that exceeds USD $500,000, FedEx may continue to serve as the broker under the broker-inclusive option, and the shipments will be cleared under the importer's CBP bond.

Important Steps for Using Broker-Inclusive Services
Ahead of shipping, you should take the following steps to keep your shipment on track when it reaches customs:
Provide power of attorney.
When taking advantage of a FedEx broker-inclusive service, you must issue a Power of Attorney to FedEx in order for us to provide service as your customs broker. To get started, download and fill out this Power of Attorney form.
Establish a bond with Customs and Border Patrol (CBP).
Bonds can be arranged for single or continual use, based on your anticipated shipping frequency. For assistance with arranging a CBP bond, email  FTN_Bond@ftn.fedex.com, or call 1.716.879.1613 Monday through Friday, between 8 a.m. and 9:30 p.m. Eastern time
Understand Ancillary Fees
FedEx provides import clearance processing for international express package and international express freight shipments, and international ground shipments. FedEx may charge an ancillary clearance service fee, where applicable, on international shipments for clearance processing; for services requested by the shipper, recipient or importer of record; or to recover the costs passed to FedEx by the regulatory agency for regulatory filing. Ancillary clearance service fees that are invoiced are described on a separate line item on the duty-and-tax invoice.
We may apply these service fees, which are subject to change, to either a U.S.- or non-U.S.-based shipper, recipient or designated third party. When possible, we will honor the shipper's request to bill these service fees to the payer as designated on the Bill Duties and Taxes section of the air waybill or shipping label. When we are unable to honor that request, the recipient may be invoiced for applicable ancillary clearance services.
When the Bill Shipper or Bill Third Party option is selected to pay duty-and-tax charges, the payor will be invoiced for all applicable ancillary service fees that are assessed for clearance in the destination country, including all fees resulting from ancillary services that may have been requested by the recipient.
For more information about the ancillary clearance service fees that may apply to your shipment, select your destination country from the list provided at Ancillary Clearance Service Fees Assessed on Import Shipments.