Use dim weight to your advantage
Use dim weight to your advantage
Why is dimensional weight (dim weight) important?
The short answer:
It's used to calculate the price of shipping, called dim weight pricing

It rewards customers who pack more efficiently

It can help to reduce fuel emissions 

It's used by major shipping companies, including FedEx
How does dim weight do these things? Imagine how often people ship using packaging that's too big. To stabilize the contents, these oversized boxes have to be packed with extra cushioning. These boxes fill up shipping trucks with cubic feet of unneeded cardboard, packing peanuts, and bubble wrap. In some cases, people are literally paying to ship air.

Dim weight pricing rewards customers who eliminate extra, oversized packaging. It increases the shipment density. And by increasing package density, we can pack more products on our trucks and planes, reducing fuel emissions. It also makes it cost less to ship each package.
What is dim weight?
Dimensional weight is the amount of space a package occupies in relation to its actual weight. For each shipment, you are charged based on the dimensional weight or actual weight of the package — whichever is greater. Use our dimensional weight calculator to find the dim weight of your package.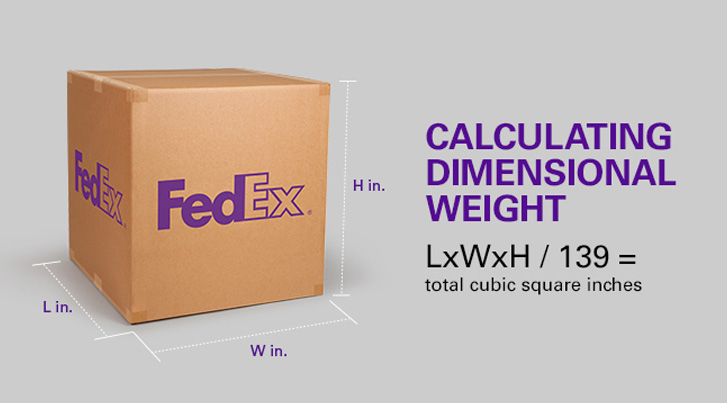 How does it impact your shipping costs?
Dimensional weight pricing can benefit your business. By right-sizing your packaging, you can protect your items and potentially save money on shipping supplies and materials.
How can you right-size your packaging and save?
Here are some tips:
Choose packaging to match the size and fragility of your item.

Explore other options like padded or poly mailers.

Bring your items to a FedEx Office location where a team member will professionally select the right-size packaging for your item. They can also help you determine how much cushioning is needed for delicate items.

Request a free packaging design consultation with a FedEx packaging engineer. The packaging engineers will offer options that can help:    

Improve packaging efficiency.

Prevent damage to your product.

Potentially reduce shipping supplies costs.

Get started optimizing your packaging today.