FedEx® HealthCare Solutions
FedEx® HealthCare Solutions
Biologics Are Booming
by Dr. Christelle Laot
Did you know that the number of U.S. Food and Drug Administration (FDA) import lines for biologics — which includes substances such as vaccines, blood and blood products, gene therapy, human tissues, and embryos — increased over 80 percent in a single year?
When analyzing budget documents issued by the FDA  to the U.S. Congress, FY15 shows approximately 150,000 import line decisions for biologics occurred, clearly outpacing import line growth for the other five FDA import categories. So, what are the drivers of such a remarkable increase in foreign biologics year over year? Possibilities include new foreign biotechnology products, location of manufacturing sites, R&D investments, global clinical trials, average shipment sizes and regulatory changes.
Sales revenues show that eight biologics products were in the top 10 of the best-selling drugs worldwide in 2014. Those biological products are used to treat autoimmune diseases and chronic diseases such as cancer and diabetes. A decade earlier, only one biologic compound made it in the international top 10. Overall, biologics are estimated to make up about 20 percent of branded prescription global pharmaceutical sales today, and that figure should keep on increasing in the long term. It is not surprising, therefore, to find a high number of biologics candidates in R&D pipelines.
Biologics and Regulatory Compliance
But as biologics become more common, researchers are seeking more advice on import requirements because research units do not have specialized import compliance groups. Import paperwork for finished biologics products is complicated by the fact that those products are typically sold in injectable forms, implying biologic/device or drug/device/biologic combinations on import declarations. The FedEx Regulatory Affairs and Trade Compliance team has been assisting exporters and importers with those matters.
Biosimilars produced overseas are beginning to reach the U.S. market, and they certainly contributed to the drastic increase in FDA import lines between October 2013 and September 2015. The first generic version of an expensive complex biological product was approved by the FDA in March 2015, while a second one followed in April 2016.
In addition, data suggests that foreign biologics are most likely to reach the U.S. by air, rather than ocean, as the mode shift is limited for high-value biopharma freight. In the air express business, FedEx Express handles more FDA import shipments per year than the sum of its two main competitors, and it has, indeed, experienced an increased number of biologics shipments lately.
Biologics and Temperature Sensitivity
Commercial biologics are mostly kept between 2°C and 8°C during transit, while clinical research shipments may require cryogenic temperatures. FedEx provides several shipping solutions , such as the FedEx® Cold Shipping Solution and FedEx® Deep Frozen Shipping Solution, to maintain the integrity of temperature-sensitive products.
Many packaging providers are developing new systems to keep pace with the increase in biologics. FedEx offers packaging overwraps to transport biological substances within its network through the FedEx® Clinical Pak, FedEx® UN 3373 Pak and FedEx® Clinical Box.
With its cold chain and trade regulatory compliance expertise, trained workforce, technology, network and infrastructure, FedEx Express is well-positioned to transport biologics safely.
---
Christelle Laot
Technical Fellow
Dr. Christelle Laot joined FedEx Express in 2007 and is currently technical fellow in the FedEx healthcare industry vertical. In this role, she provides thought leadership, strategic direction and subject matter expertise for healthcare transportation. Prior to her work with FedEx, Dr. Laot held managerial positions in R&D, innovation and strategy at Bayer in Germany for about six years.
Dr. Laot obtained a PhD and MS in chemical engineering from Virginia Tech (USA), a Diplôme d'Ingénieur from UTC Compiègne (France), as well as an MBA from HEC Montreal (Canada).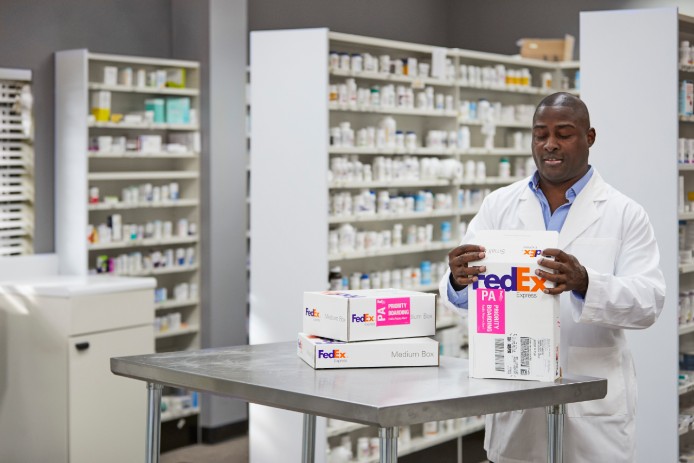 FedEx HealthCare Solutions Knowledge Center
Check out our library of articles, videos and webinars that discuss the healthcare supply chain as it looks today and where it's headed in the future. Plus, learn from experts how innovative technology, strong connectivity and data-driven solutions will help improve the healthcare industry.