FedEx® HealthCare Solutions
FedEx® HealthCare Solutions
Puzzled About Import Lines?
by Dr. Christelle Laot

January 26, 2018
The U.S. Food and Drug Administration (FDA) discloses the number of import line decisions in its annual reports to Congress. Each FDA-regulated shipment arriving at the U.S. border contains at least one import line, the number of line items per shipment being determined by the nature and origin of commodities. By analyzing changes in FDA import lines over the years, FedEx is able to confirm impact of regulatory changes, and identify commodity trends and trade patterns.
Public trade import databases typically never report import lines, choosing to release market values by large international Harmonized System (HS) tariff codes instead, and occasionally tonnages and modes of transportation in fee-contracted databases.
In the air express environment, import operations within U.S. governmental agencies make clearance decisions at different levels. Customs and Border Protection (CBP) releases at the entry level (i.e., per shipment) while the FDA releases at the line item level. The declared intended use of a commodity can determine if a shipment is regulated by a specific agency. For instance, imports of sea salt to be used on winter roads are not to be declared to the FDA, while salt imports intended for human consumption are.
CBP used to report insightful information in import trade trends publications:
CBP historical data indicate that there are on average about three CBP entry lines per entry while considering all imported goods and all transportation modes (air, ocean, rail, road, Free-Trade Zone).

The CBP Center of Excellence and Expertise (CEE) for Pharmaceuticals, Health and Chemicals received on average 14 lines per shipment in 2012, each shipment being worth on average $0.4 million.
The FDA does not disclose the relationship between import lines and shipments publicly:
For a given shipment, the FDA number of lines can be equal or superior to that of CBP. For example, if you have different antibiotics coming from the same foreign manufacturing plant, each packaged penicillanic type would be a unique FDA line, but CBP would group FDA line items under the same antibiotics code for taxes and duties purposes (HTS code 3004.10.10 in this case), reducing CBP overall line count compared with that of FDA.

FedEx analysis of FDA data obtained through the Freedom of Information Act (FOIA) shows that there are about six FDA line items per FDA-regulated shipment on average, considering all transportation modes, commodities and FDA districts.

The above information leads to the estimate that roughly 10 percent of all U.S. import shipments seen by CBP are regulated by the FDA.

FDA-regulated express shipments contain roughly three FDA import lines per shipment.

Any missing or incorrect information on a single FDA line item within a large complex shipment can lead to a delay of at least one day in the FedEx Express environment. The entire shipment is delayed until all the required additional information is obtained, often resulting in a missed connecting flight.
The FedEx Regulatory Affairs and Trade Compliance team offers complimentary import regulatory knowledge and expertise to shippers to mitigate the risk of clearance delays at the U.S. border. Learn more about the FedEx Regulatory Consulting Group or call the group's hotline Monday–Friday, 8 a.m.–5 p.m. CST at 1.800.851.3336, option 4.
---
Christelle Laot
Technical Fellow
Dr. Christelle Laot joined FedEx Express in 2007 and is currently technical fellow in the FedEx healthcare industry vertical. In this role, she provides thought leadership, strategic direction and subject matter expertise for healthcare transportation. Prior to her work with FedEx, Dr. Laot held managerial positions in R&D, innovation and strategy at Bayer in Germany for about six years.
Dr. Laot obtained a PhD and MS in chemical engineering from Virginia Tech (USA), a Diplôme d'Ingénieur from UTC Compiègne (France), as well as an MBA from HEC Montreal (Canada).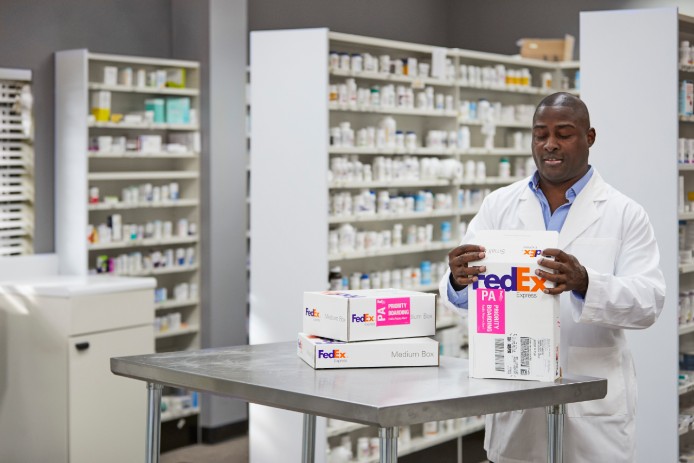 FedEx HealthCare Solutions Knowledge Center
Check out our library of articles, videos and webinars that discuss the healthcare supply chain as it looks today and where it's headed in the future. Plus, learn from experts how innovative technology, strong connectivity and data-driven solutions will help improve the healthcare industry.