Flexfrost
Flexfrost
2017 FedEx Small Business Grant Contest Silver Prize Winner
2017 FedEx Small Business Grant Contest Silver Prize Winner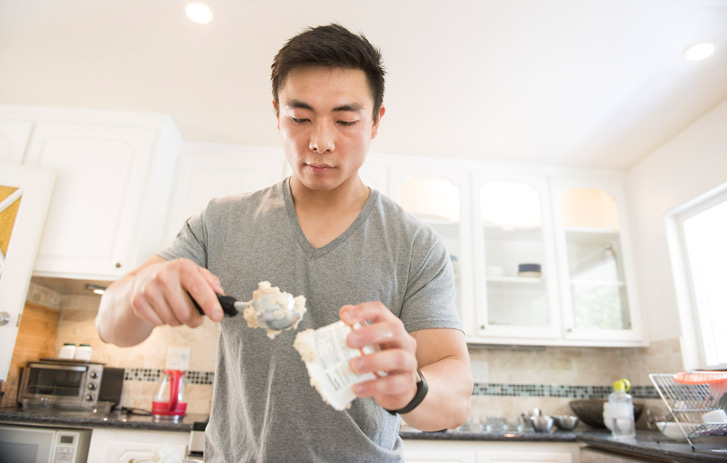 Flexfrost: Savvy financial planning helps launch a healthier ice cream
Yang Bai was an engineering and economics student at Johns Hopkins University who loved fitness but had an equal affinity for ice cream. In fact, he typically worked out both morning and night to counter his two-pint-a-day habit.

"I was just breaking even in my 'calories in' and 'calories out' and knew that eating a kilo of sugar a day probably wasn't the best thing for me," Bai said. "But, I couldn't say no."
When he heard about a campus competition for new ideas, he recruited some friends to find a way to make healthier ice cream that still tasted great. That quest was a lot harder than he originally thought.
They learned fast that combining and freezing ingredients you'd use in a healthy shake wasn't going to work. Yet, Bai couldn't let the idea go. He spent the next nine months in his mother's kitchen in New Jersey, reverse-engineering regular ice cream to understand the science behind it.
"When we first started, we went to local high schools, trying to sell Flexfrost at wrestling matches and other athletic events. Then we started doing gyms, targeting athletes and bodybuilders," Bai explained. "Although our ice cream was sold through the café of a really high-end national gym for a few months, we discovered that it wasn't the members, but the members' kids who really loved it. We also had good success at school sporting events." So, Bai refocused his market efforts to universities and schools.

---
"Someone is probably going to do it. It might as well be you."
---
Since the beginning, one of Bai's big challenges has been funding. He's known about the FedEx Small Business Grant Contest for a while. In fact, he planned to enter two years before.
"I was working out of our first commercial kitchen in the middle of the night, and my dad emailed me the link to enter the contest," Bai said. "I honestly planned on entering but missed the deadline. I decided when we had a more legitimate business going, with real customers, I was going to enter again and actually make the deadline. This was the year."
Bai said that the grant money will have a major impact on his business. Flexfrost is building production centers in Massachusetts and Ohio and looks forward to working with FedEx on e-commerce efforts to get products into the waiting hands of consumers.
---
"You sometimes have to do this thing called 'minimal viable product.' That means you build something that's good enough to find all the people willing to buy it."
---
Like most small business owners, Bai has highs and lows – days when he feels like quitting and days when he has had to muster up the energy to keep going. But for him, the journey is worth it.
"I remember reading this quote from Steve Jobs that said 'Everything around you in this thing called life was made up by people who were no smarter than you,' and that's kept me going," Bai said. "That convinced me that whatever you want to do in life, you ought to at least try it. Someone is probably going to do it. It might as well be you."
Learnings
Running a small business is a process with lessons learned along the way. Those lessons can come in the form of corrected mistakes or good decisions that end up becoming unexpected victories.
Here are Flexfrost's top three:
Financing: Overfund
In Bai's mind, giving up a little equity is worth having the cash to accelerate business growth. "Whenever you think you need $50,000, you probably need $100,000. It never hurts to have extra cash because that will help you grow faster," Bai said. "Even if you're a lean startup, you have to be able to fund your production, or you'll miss out on opportunities."

Business plan: Create a structure
Every company, no matter how small, needs a plan and a structure. According to Bai, small business owners have to map out a structure and a road map to meet their goals, including where they need help and what resources are available to provide that help.

Starting a business: Focus on sales first
It's easy for an entrepreneur to fall in love with his or her product and to spend so much time perfecting it that actually selling it never enters the equation. Bai's advice is to find that balance: "You sometimes have to do this thing called 'minimal viable product.' That means you build something that's good enough to find all the people willing to buy it," he said. "Once you have customers, you upgrade and innovate."
Find out more about our yearly contest and our past winners.