Cold Shipping Package Provided by FedEx
Cold Shipping Package Provided by FedEx
Keep your temperature-sensitive shipments between 2°C and 8°C without the weight and hassle of using gel packs or dry ice.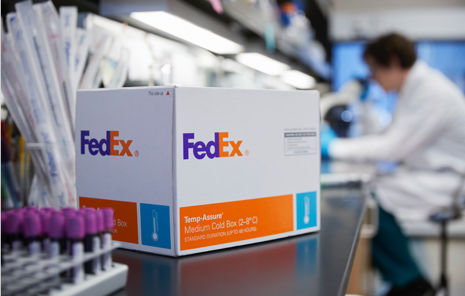 Safeguard Your Product's Integrity
You get reliable performance in a lightweight package that continuously evaporates small quantities of water at low pressure —with up to 96 hours of cooling for your products.*

Constant temperature: Keeps your shipment in a consistent 2°C to 8°C environment.
Three box sizes: small, medium and large.
Lightweight: Relative to dry ice or gel packs, you'll pay less to ship the unit itself.
Two cooling duration options: Keep shipments cool up to 48 hours* with our standard unit (available for all three sizes) or up to 96 hours* with our extended duration unit (available in small and medium).

Hassle-free preparation: Simply press a button to start the unit right before you pack it.

Infectious and non-infectious substance compliance**:  Infectious substances require inner packaging.
* Actual cooling duration varies, depending on external temperatures. Some restrictions and conditions apply. For more information and conditions of sale, go to orderboxesnow.com or call 1.888.817.9993.
** For infectious substances, customer must use inner packaging, which meets IATA Packing Instruction 650 for UN3373 only.
Place your order online through the customized, secure orderboxesnow.com web portal.

FedEx delivers the temperature-controlled packaging to your pickup point.

Simply load your materials into the container and follow the instructions to activate the packaging. FedEx then picks up the shipment and delivers it.

The recipient unpacks the materials from the container.
For more information
Contact your FedEx account executive or call the cold shipping hotline at 1.888.817.9993
Order Cold Shipping Packages
To place an order, click the button below or call the FedEx hotline at 1.888.817.9993.
Order Now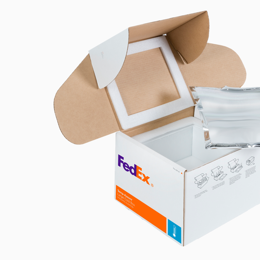 Request a Consultation
For more information on how FedEx HealthCare Solutions can help you package and ship your items with confidence, fill out this form and we'll connect with you to discuss your needs.

---
Other Services
International
Connect to the U.S. and more than 220 countries and territories to reach markets that represent 99 percent of the world's GDP.
Intra-Canada
No matter what your budget, we have flexible and reliable shipping solutions to help you increase operational efficiencies and grow your business.
Industry-specific
Select shipping solutions and tools or get tips and advice, and use tools specific to healthcare, e-commerce, aerospace, wine industries and more.