Sword & Plough
Sword & Plough
2017 FedEx Small Business Grant Contest Grand Prize Winner
2017 FedEx Small Business Grant Contest Grand Prize Winner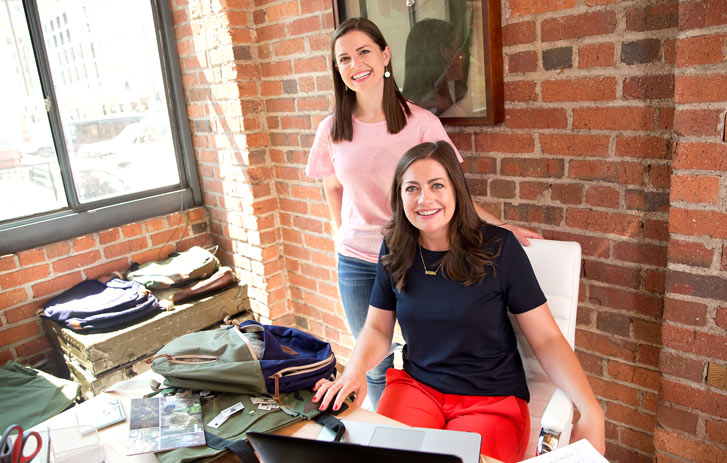 A company with a mission to serve veterans and create bags and accessories from military surplus
In the five years since its founding, Sword & Plough has made a remarkable impact. The company, which donates 10% of profits to veteran organizations, has helped support 65 part-time and full-time veteran jobs through its company and manufacturing partners, shipped more than 30,000 products globally, and recycled thousands of pounds of military surplus that might otherwise have been thrown away.

For sisters Emily Núñez Cavness and Betsy Núñez, growing up on Army posts, surrounded by soldiers, was perfectly normal because of their father's career in the military. Cavness decided to serve her country too, enrolling in the Army ROTC program at the University of Vermont while attending Middlebury College. It was there that she experienced a real civilian-military divide and became passionate about finding a way to strengthen understanding between the civilian and military communities.
She learned that many veterans had a difficult time finding meaningful employment after they left the military. "Then, I thought how incredible would it be to take military surplus material — fabric that is so durable and has such a unique history — and turn it into something beautiful with a purposeful mission."
---
"Our Kickstarter goal was $20,000 to fund our first production run, which we hit within the first two hours of pressing the 'launch' button."
---
She noticed that everyone carried some sort of bag and decided to make that her conceptual company's signature product. Veterans would be involved in every aspect of the business from design and manufacturing to fulfillment and sales, with 10% of profits going to support veteran organizations.
In just one week, Emily and Betsy wrote a business plan for Sword & Plough, entered it into a competition, and won first place. They worked with the professors at Middlebury College's Center for Social Entrepreneurship and set up a Board of Advisors for the company. Six months later, they went to the Dell Social Innovation Lab to further develop the idea.
The next step was generating enough funding for their first production run. "Living on military bases all over the country, our parents always emphasized the importance of finding a sense of community," Núñez said. So, they decided to focus on Kickstarter, since the idea of crowdfunding was inherently attractive to them. "Kickstarter gave us a way to unveil our company to a community that was focused on bringing an idea to reality and making things possible."
"Our Kickstarter goal was $20,000 to fund our first production run, which we hit within the first two hours of pressing the 'launch' button," Cavness said. We ended the 30-day campaign with over $312,000 raised and 1,500 supporters – 15 times our original goal!"
Shipping was never an afterthought for the sisters.
"Betsy went to a seminar given by FedEx on logistics, freight, and international shipping," Cavness explained. "That's when we started thinking more specifically about how shipping would affect our business going forward in terms of not only reaching our customers but delivering a great experience."
---
"As small business owners who sell through e-commerce, it's really important to have a strong logistics plan in place."
---
"As small business owners who sell through e-commerce, it's really important to have a strong logistics plan in place because there are so many steps in delivering a high-quality consumer product and positive customer experience," Núñez said.
"Logistics and shipping may be the last step for you, but it's the first interaction the customer has with your company. So, it's extremely important to get it right. That's why we use FedEx." They plan to use their grant money to hire a production manager and use the print services grant to create materials to support their brand ambassador/sales affiliate program.
"Having someone with logistics and production experience will add a lot to our team and help us with inventory counts and quality assurance to manufacturer coordination and inventory management," Núñez said. Of course, that new hire will be a veteran.
Learnings
Running a small business is a process with lessons learned along the way. Those lessons can come in the form of corrected mistakes or good decisions that ended up being great decisions or unexpected victories.
Here are Sword & Plough's top three:
Crowdsourcing: Create a community before crowdsourcing
One of the reasons for Sword & Plough's over-the-top Kickstarter success was the fact that Emily and Betsy started connecting with potential customers for many months before their launch. By inviting people to be part of the Sword & Plough brand and their transition from idea to company, these founders developed customer intimacy before they were even a "real" company.

Scaling: Build out a sustainable supply chain
When Emily and Betsy were creating prototypes, they sourced their materials from a variety of places. While this worked for prototypes, it created an issue when fulfilling their avalanche of Kickstarter orders.

Mentors and advisors: Ask for advice and help along the way
Emily and Betsy continuously sought advice from the experts around them. They surrounded themselves with people who had "been there, done that" and gave them guidance along the way. This approach prevented many missteps early on because the founders didn't try to figure out everything themselves.
Find out more about our yearly contest and our past winners.