Rumi Spice
Rumi Spice
2018 FedEx Small Business Grant Contest Grand Prize Winner
2018 FedEx Small Business Grant Contest Grand Prize Winner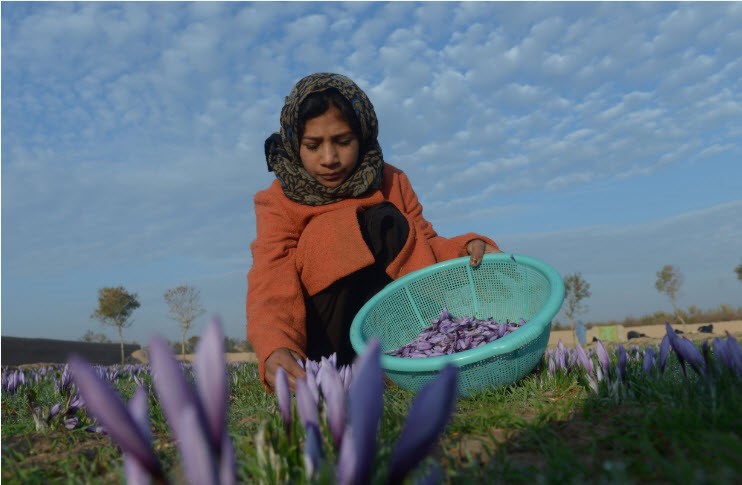 How a veteran-founded business delivering top-quality spices is changing lives
Rumi Spice started with a conversation, but it wasn't during a typical business meeting. While serving in the Army in Afghanistan, Keith Alaniz met Haji Yusef, a Herat farmer trying to sell saffron in his local market.
"He said he thought he could sell more if only he could expand to other buyers," Keith explained. Keith contacted his friend and veteran Kim Jung, who was studying at Harvard Business School, about the opportunity. "That's when the idea of the business emerged, opening up international markets to Afghanistan's world-class saffron product," Keith said.
It was a seed of an idea that connected saffron farmers in rural Afghanistan to the international market, created jobs for women and helped drive economic development in the region. "The introduction of Afghan saffron into the international market has opened new doors for farmers and provided [the community] a pathway to a higher quality of life," Kim said. 
Harvesting trustful relationships
Developing a business that helps bridge two nations and cultures came with a unique set of challenges for Rumi Spice. To get the business off the ground, the company had to develop relationships with local Afghan farmers, and building trust in the community was critical for success.
"Contract law doesn't exist in Afghanistan the way it does in the U.S.," Keith said. "Agreements are all based on trust, and, understandably, the farmers were probably skeptical the first time they sold to us."
Within three years of its founding, Rumi Spice opened three processing facilities in Afghanistan. By the most recent harvest (the fourth one), the team developed a network of more than 300 farmers and hired nearly 3,750 Afghan women.
Meanwhile, in the U.S., Rumi Spice was selling saffron directly to restaurants — and business took off for both the company and Afghan farmers. "Three years later, the farmers doubled and tripled production because they felt confident we're able to fulfill our side of the deal," Keith said.
And while the company went through some changes over the years — Kim moved on to pursue a master's degree in mechanical engineering at MIT, and Keith primarily sits on the company's board — its vision continues with Patti Doyle as CEO. 
Cultivating a higher quality of life
The business alliances Rumi Spice formed with farmers in Afghanistan also help the women, both economically and socially. In Herat, where much of the saffron for Rumi Spice is grown, women are "sorely underemployed," Patti said. Rumi Spice helps stimulate the local economy and give women greater freedom by providing them with job opportunities and a way to earn direct wages.
The women help harvest the crops and work in the facilities to dry and clean the saffron. Rumi Spice has also provided quality training to several agricultural students at Herat University. From this group of students, one woman has become the quality manager at a saffron processor that works closely with Rumi Spice. 
Supporting diversity in the workplace
On a larger scale, Patti talks of the global importance of women's presence in the workplace and how their unique perspectives and approaches can help advance business success. Gender diversity is known to help increase productivity and creativity, and augment a more positive reputation for companies. That's why "Rumi Spice is dedicated to providing quality training and leadership roles to its Afghan women processing staff," Patti said.
Every year, women and men around the world celebrate International Women's Day. It began as a small spark in the early 1900s as women in New York City demonstrated against oppression and inequality. In Afghanistan, a country where women have few rights and face discrimination and violence, International Women's Day is an official holiday.
"Afghanistan still has a long way to go to get to gender parity, but providing work for women that enables them to help provide for their families and giving them leadership roles whenever possible are critical steps toward future equal pay and opportunities for Afghan women," Patti said.
Get insight and tips from other FedEx Small Business Grant Contest winners.