DetraPel
DetraPel
2019 FedEx Small Business Grant Contest Bronze Prize Winner
2019 FedEx Small Business Grant Contest Bronze Prize Winner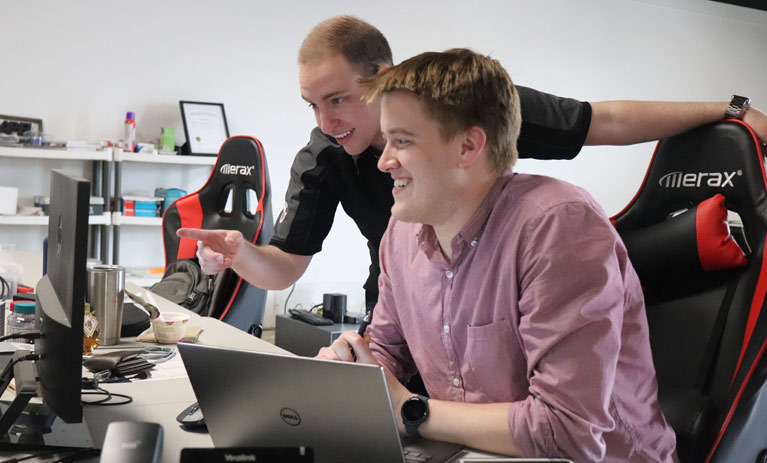 How a high school kid who loved sneakers is stopping stains before they happen
David Zamarin was what you might call a whiz kid. He launched his first business before he had a driver's license. By the time he was 15, he started DetraPel, a company selling a nontoxic protective coating for fabrics and leather that can repel any liquid. Now a college graduate, David is busier than ever. He has appeared on the hit television show Shark Tank and has a team of nine helping him run his growing business.

How did you get your start?
I got the idea when I was a sneaker-head freshman in high school and I wanted to keep my shoes clean. I come from a low-income background, so I really cherished my valuables, especially my sneakers. I had the idea to create a film to peel off whenever my sneakers got dirty, but I didn't know anything about chemistry. Mentors from my youth entrepreneurship program suggested that I stick to what I know and start a shoe-cleaning business instead, so that's what I did. That business became successful, and I sold it for six figures. I reinvested that money into the R&D for DetraPel and developed a formula over the next several years that wasn't expensive, didn't dry white, didn't ruin fabric, and more importantly, was nontoxic and free of fluorochemicals.

What was one lesson you learned since starting a business?
Always have a mentor. When I was in high school, a youth entrepreneurship program was the catalyst to everything that has happened in the last six or seven years, simply because that program introduced new mentors nearly every single class. I had a lot of mentors who were willing to help me, and I received good advice early on. That program changed things for me and was the biggest resource I had.

What was your experience on Shark Tank?
It was possibly the best experience I've had. It really changed the life of the company — enabling us to grow and do what we're doing today. We had an offer from four out of the five sharks and took a deal with Mark Cuban and Lori Greiner. After airing, we made about $300,000 in revenue in two weeks. That changed the game, because it gave us money to grow, bring things in-house, and, more importantly, hire staff.

What's your view of the risks versus rewards of being an entrepreneur?
It's extremely hard to drop a job with guaranteed pay, go all in on a business, and employ other people. That's probably the hardest part of it all — having other people with families and lives outside of work that rely on you. The risk for me, though, was always mitigated because I was young and, worst-case scenario, had a family to fall back on.

3 Small-Business Tips for Success
Navigating the path for your small business is a constant learning process. Here are David and DetraPel COO Tarek Tabbara's top tips.
Surround Yourself With Good People
David believes we are each the product of the five people we surround ourselves with. According to David, "People are a key part to the success of any small business; no matter how entrepreneurial you are as an individual, you can only get so far on your own. People are an essential part of your organization."

Dig Deep for Resilience
David's advice? "You really can't be afraid to fail. Patience sometimes is a word that none of us want to hear, but especially in business, it's extremely important. You can't expect to hit the grand slam right away."

Execution Is Everything
As an entrepreneur, David has learned to find low-cost solutions that move his business forward efficiently. "There's a big misconception that starting a business is very expensive and extremely difficult," David says. "Of course, there are costs and challenges involved, but you have to be creative in execution."
FedEx Small Business Grant winners like David and Tarek are doing creative and exciting things in their businesses. See more inspirational winner stories and get insights for business success from past grant winners, plus other entrepreneurs and small-business experts.