Enbois Originals
Enbois Originals
2019 FedEx Small Business Grant Contest Bronze Prize Winner
2019 FedEx Small Business Grant Contest Bronze Prize Winner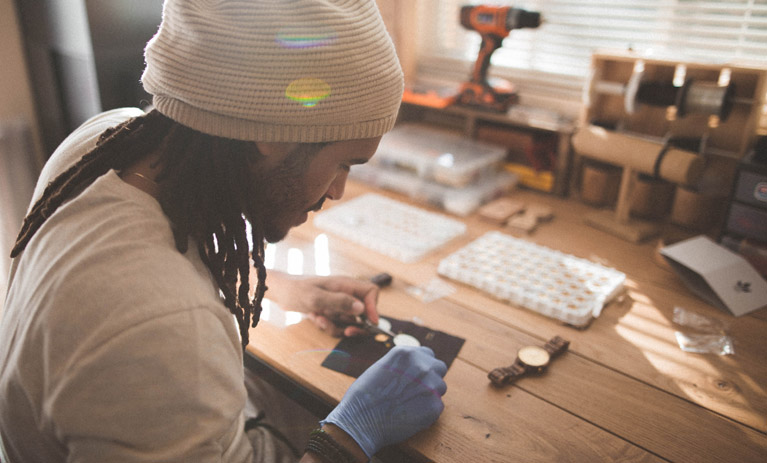 A lifestyle brand with environmental purpose and Caribbean roots
The idea for Enbois Originals began in Maxim Thuriere's dorm room. What started as a creative hobby for the University of South Florida student soon became something much more. Now he creates handmade quality accessories for thousands, with a focus on using sustainable materials and positively impacting the environment through a commitment to reforestation. One tree is planted in Haiti — where he has deep familial roots — with each purchase.

What inspired you to start Enbois Originals?
I started this company as a college junior studying biomedical science. I was making jewelry pieces in my dorm room — not really with the intention to sell them — just because it was a hobby of mine. The selling happened organically. At first, with every sale, we donated 10% of our profits to support a small school in the south of Haiti. After that project was complete, I took some time and thought about a social cause that might be a little bit more in line with our product. And that's when I was introduced to reforestation.
How is environmental sustainability important to your company?
With each purchase, we plant a tree in Haiti — where a lot of our materials come from. I'm of Haitian descent, so that played a role throughout the development of the company. I try to focus on educating our audience, particularly students, so that we can influence generational change. Being an entrepreneur has given me the chance to travel to different countries affected by deforestation and get a firsthand look at the individuals and projects involved to reforest their communities.

What challenges have you faced as a small-business owner?
One of the most challenging things is trying to compete with larger companies that often dominate online marketplaces with extremely competitive pricing and large-scale retail advantages like fast free shipping, free returns, and 24/7 customer service capabilities. As an emerging small business with limited resources and smaller budgets, we've had to establish a loyal niche market — which we do by putting the customer first every time. We've found this approach to be most rewarding.

3 Small-Business Tips for Success
Navigating the path for your small business is a constant learning process. Here's how Maxim navigates it.
Persistence and Flexibility
"Be persistent. You have to understand the business. Not everything is always going to go the way that you expect, but you have to be ready to think about the next step if something doesn't go as planned. You really have to be flexible and able to adapt," says Maxim.

Details Matter
Actively paying attention to the details has served Maxim well. Maxim's father taught him to frequently visit his platform — website, store, etc. — and look at it through the eyes of the customer. This practice has helped him stay on top of the details, which helps him constantly improve the customer experience.

Inspiration From Your Surroundings
Growing up, Maxim spent a lot of time in Haiti and in the Caribbean, and that influence shows up in Enbois. He says, "Haiti is a place that is very, very rich in its art, not only in its music, but also fashion and jewelry. I think that played a large part in developing the style of our company."
FedEx Small Business Grant winners like Maxim are doing creative and exciting things in their businesses. See more inspirational winner stories and get insights for business success from past grant winners, plus other entrepreneurs and small-business experts.