Lux Blox
Lux Blox
2019 FedEx Small Business Grant Contest Grand Prize Winner
2019 FedEx Small Business Grant Contest Grand Prize Winner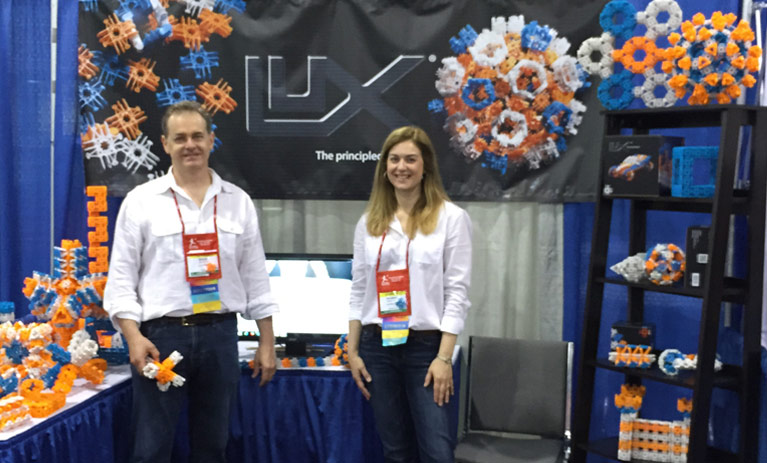 Building success one block at a time
Just one Lux Blox kit lets you build anything you want. Its ingenious design replicates what nature does at a molecular level, allowing simple to very complex structures to be built. When Mike and Heather Acerra started to develop Lux Blox, they were informed by their experience observing their sons play with construction toys. The couple was driven by their passion for heuristic learning (learning by playing) and their enthusiasm for great design. Mike, an artist by training, and Heather, a human resources executive, didn't have a background in toy making when they started out. Like many small-business owners, they just started exploring, learning, and developing.

What's something that has surprised you about running Lux Blox?
Mike: When you go into business with a product you're passionate about, those passion points help you discover your audience. You get to discover the people who love what you love. You don't have to get into the science aspect of your product when you're communicating with your audience, but you can connect on the things you both find fun about the product.

I was also surprised to find that kids are much smarter than I had realized. They often grasp ideas more quickly and discover new concepts more readily than adults.

Heather: As Lux Blox developed as a company, it unlocked unintentional applications in the autism market, which was the biggest surprise for us — a wonderful and rewarding surprise.
Your business has several peak seasons over the course of a year — back to school and Christmas, for starters. What are you doing to engage online shoppers for the upcoming holiday season? 
Heather: We're scouring our website, getting rid of stale products (products that didn't move as much) and trying to make the website as attractive as it can be. We're going through the whole website to make sure it's fresh, easy to navigate and appealing. We may do some changes to the layout and have different gateways or pages for educators, parents and kids. We want to make a focus that's appealing to the different consumers, because we do have different focuses. And we offer different specials now and then. 
We produce really fun videos that we publish on Facebook and on our website to help drive traffic. They're very unique and got a lot of shares. Some creatives we know helped us with those. They've been up for about a year. We haven't totally decided if we want to do something a little different this year. We're working with a videographer now — we definitely use all those resources.
What kind of possibilities has entrepreneurship opened up for you?
Mike: Being an entrepreneur expanded our friendships internationally — our circle now reaches around the world. This has really helped us create a social community and network we can turn to for support.

Is there a marker for success that is particularly important to you?
Mike: I'm Disruptor-In-Chief and want our product to stand out in the market. For me, making waves and being successful while providing something totally unique is important.

Heather: It's been wonderful to see how many people are really rooting for us. People will often tell us that they wish they had the nerve to start a business, but they're not comfortable with the risk. Still, they really want us to succeed. We are striving to get into as many STEM and STEAM educational programs as possible, because we know that Lux Blox is the best tool for exploring engineering and design principles on the market today. And the great thing about it is, it is really fun.
3 Small-Business Tips for Success
Navigating the path for your small business is a constant learning process. Here are Mike and Heather's biggest takeaways for success.
Don't Let Mistakes Get You Down
The best business advice Heather has ever received is to "not get despondent after mistakes. You make the best decisions that you can with the information you have available at the time. If it turns out not to be the best decision, learn from it and move on."

Networking Is Worth the Effort
Heather and Mike have found that the legwork networking requires is worth the effort. The time spent connecting has paid off for them with a global network of friends and colleagues who are always available to answer their questions.

Expect to Learn a Lot
When Heather and Mike started Lux Blox, they had no idea how much learning they'd need to do. They found that running a business is much more than having a great product or service — you have to learn how to package it, market it, sell it, etc. If you don't have what they call a "strong learning orientation," the road will be challenging.
FedEx Small Business Grant winners like Mike and Heather are doing creative and exciting things in their businesses. See more inspirational winner stories and get insights for business success from past grant winners, plus other entrepreneurs and small-business experts.