Qore Performance
Qore Performance
2019 FedEx Small Business Grant Contest Silver Prize Winner
2019 FedEx Small Business Grant Contest Silver Prize Winner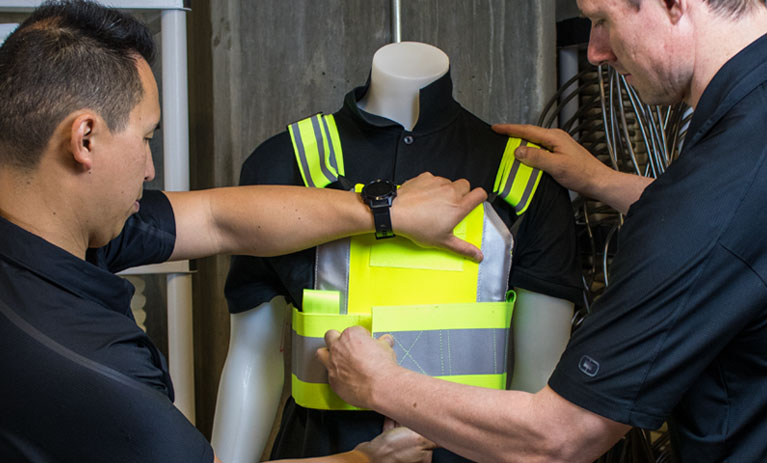 Innovation at its Qore
Best friends Justin Li and J.D. Willcox have proven that they can handle the heat when it comes to building a small business from the ground up. Their invention, the IcePlate, is wearable technology that uses frozen water to help its wearer stay cool in hot environments and aid in endurance. Now the company they co-founded, Qore Performance, is getting popular with members of the U.S. military to enable them to better carry out missions in hot climates like Iraq and Afghanistan without sacrificing performance.

Tell us a little bit more about the IcePlate.
Justin: The IcePlate harnesses the power of frozen water to revive a crucial enzyme and produce a similar effect to anabolic steroids. It yields amazing, unprecedented, super endurance for our users, and it's safe, legal, and affordable.

J.D.: It's really the product that took Qore Performance from a startup to a small business. That was the first product where we actually were able to provide enough cooling power to meet the requirements that the U.S. military will find dramatically valuable for cooling our troops.

How did your backgrounds help guide and inspire you?
Justin: I used to be in law enforcement in California. I was assigned to the emergency services division of the San Diego County Sheriff's Department. One of our most challenging missions was in the high desert near the Cleveland National Forest. While I was out there, I started to think about ways that we could even the playing field by using cooling to boost our own capabilities, without adding more weight.

J.D.: I had a corporate background, but in college at Stanford, I was a baseball player. I knew all about playing sports at a higher level and how much any little edge could be crucial to victory. It's helped me learn how to turn being mediocre into being a champion.
How do your customers play a role in your business?
J.D.: You have to be willing to have real-time conversations with people and adapt and live by the creed that they have something useful to say. There's always valuable information there.

Justin: Every time we have a new customer, we take a lot of time to get to know exactly what problem they need solved and what their restrictions are. We're trying to solve their problem in a way that makes them the best version of themselves.
3 Small-Business Tips for Success
Navigating the path for your small business is a constant learning process. Here's what has worked for J.D. and Justin.
Get Social
J.D. and Justin use social media to acquire the best possible understanding of their customers. They enthusiastically follow social media conversations to determine their audience's needs and interact with their customers. Both personally answer every email they receive.

Give It Your All
"You have to make sure you are ready to give your business 100% or it won't work," Justin says. "A business will take every available resource and then some. I now realize the real risk was not in us starting the business. The risk was in us never starting the business."

Set Smart Goals
A strategic approach helps keep J.D. and Justin on the path to growth that's right for Qore Performance. They evaluate goals against their established criteria to fuel the growth they want and stay aligned with who they are and their highest values of integrity and service.
FedEx Small Business Grant winners like Justin and J.D. are doing great things in their businesses and their communities. See more inspirational winner stories and get insights for business success from past grant winners, plus other entrepreneurs and small-business experts.