Sand Cloud
Sand Cloud
2019 FedEx Small Business Grant Contest Bronze Prize Winner
2019 FedEx Small Business Grant Contest Bronze Prize Winner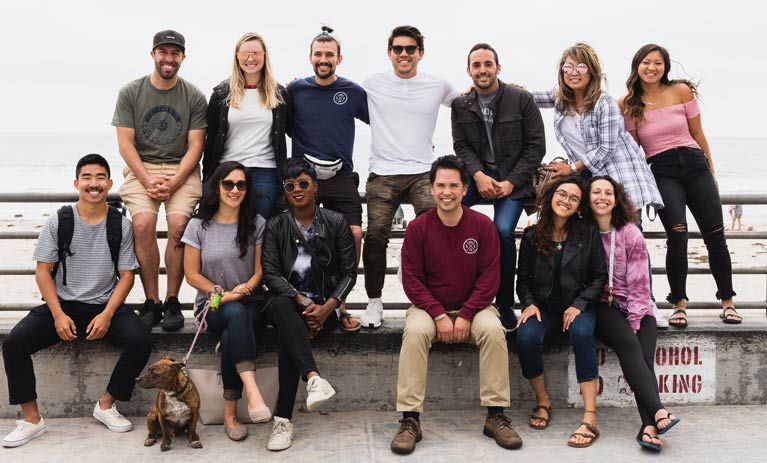 How three friends developed a mission-driven brand with high-quality eco-friendly products
For Steven Ford and his business partners Brandon Leibel and Bruno Aschidamini, the desire to create the best beach towel on the market while helping to protect the oceans they love was the driving force behind Sand Cloud. Before the trio started what's become a popular eco-friendly lifestyle brand, they were friends and co-workers with similar desires and passions. Armed with can-do attitudes, they quit their day jobs, moved in together, and got serious about researching and developing Sand Cloud. After a lot of trial and error and hustling, they launched their business, and the rest is history — history that can be seen all over Instagram and even on a popular episode of Shark Tank.

What was the inspiration behind your idea for Sand Cloud?
Steven: "Our goal was to create the world's best beach towels produced by a company with an even bigger social mission — to help #SaveTheFishies. We walked the beaches of San Diego talking to people about what they liked and didn't like about towels and eventually landed on designing a high-quality towel with a pillow" (the "cloud" in Sand Cloud, but something they've since left behind).

Unlike standard beach towels, their towels are made from imported high-quality Turkish textiles, which repel sand. The partners hustled to sell their towels anywhere they could while funneling 10% of their profits to non-profit partners that focus on goals like rescuing injured marine life and passing environmental laws that ban items like plastic bags.

What's it like to work as a remote team?
Steven: We have a team of 15 employees in the States, and we all work remotely. We use everything from Skype to WhatsApp to communicate and have regular meetings in order to have a sense of culture and community as a team. One of our biggest challenges is maintaining a culture when everyone is not in a physical office, but we're improving this all of the time.

More and more consumers expect online stores to offer free or low-cost shipping. What's your philosophy on free shipping and how to make it work for your business? 
Steven: If you can offer free shipping, it's going to convert [customers] better. The two ways to do it are to offer free shipping on all orders, which gets a higher conversion rate but typically a lower average order size. Or you can offer free shipping on certain thresholds, like $50, but you're not going to have quite as high a conversion rate. So while you might not get as many orders, the orders that you do get should be an average or higher-than-average order value. So in that sense, it may ultimately be better to get that free-shipping threshold at a slightly higher dollar amount.
We're constantly testing the free-shipping threshold. It varies depending on time of year — honestly, it varies all the time. So we're constantly testing and seeing what that sweet spot is to where it offers the best value, urging higher average order values. It fluctuates, but it's been a $60 threshold for probably the past month, at least.
How has your social ambassador program helped you succeed?
Steven: We had the idea for an ambassador program on Instagram before ambassador programs were popular and ran with the idea that same day. We quickly amassed a thousand ambassadors. The program was a huge focal point for us in the early days and is now one of the largest ambassador programs in the nation. We've had over half a million people sign up directly to become an ambassador.

3 Small-Business Tips for Success
Navigating the path for your small business is a constant learning process. Here are Steven, Brandon, and Bruno's tips for success.
Doing Is Better Than Perfect
Just move quickly. Test things, break things, try them. A lot of people have ideas, but the hardest thing is execution. Go for it quickly and try as many things as possible to see what works. Double down on what does work and keep going, and repeat this formula. As long as you're doing something, that's a thousand times more impactful than trying to get it perfect before moving forward.

Engage Regularly With Your Team
With a remote team, regular meetings are essential to staying cohesive. We also find ways to make it fun. We'll bring everyone together for different non-profit events, through galas, and things like that.

Having Meaning Equals Growth
While speed and the "doing is better than perfect" attitude have certainly worked in our favor, we believe having meaning behind what we're doing — having a story to tell and empowering people — is the only way that a business can grow today.
FedEx Small Business Grant winners like Steven, Brandon, and Bruno are doing great things in their businesses and their communities. See more inspirational winner stories and get insights for business success from past grant winners, plus other entrepreneurs and small-business experts.