Something Borrowed Blooms
Something Borrowed Blooms
2019 FedEx Small Business Grant Contest Bronze Prize Winner
2019 FedEx Small Business Grant Contest Bronze Prize Winner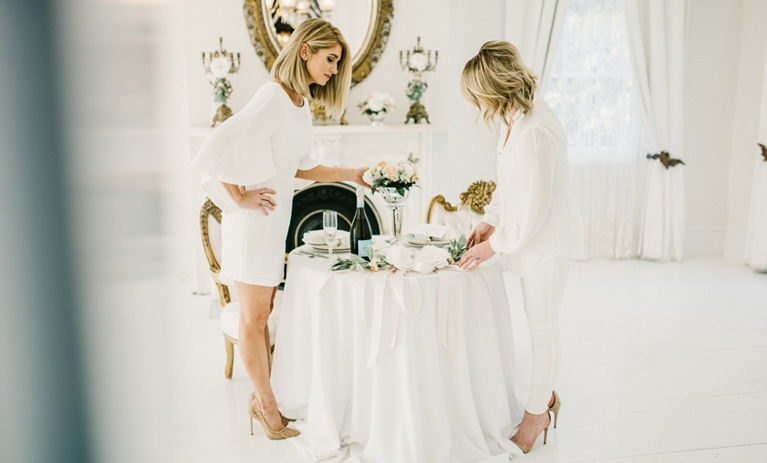 How two cousins built a business that is revolutionizing the wedding industry
Cousins Lauren Bercier and Laken Swan are two moms with no plans to slow down. Over the past three years, they've been transforming the wedding industry with their business, Something Borrowed Blooms. The first-of-its-kind silk flower rental service gives brides and grooms their dream wedding flowers at a fraction of the traditional cost.

What makes Something Borrowed Blooms stand out?
Lauren: We are a rent-and-return floral boutique that specializes in creating wedding flower collections delivered directly to your doorstep for your wedding day. We're helping couples save up to 70% on traditional floral costs. We're really proud to offer this alternative for millennials specifically, who are looking for ways to not just consume and dispose of items, but really have the opportunity to reuse things.

Return shipments are a big part of your business. How do you manage the cost? And how do you handle the quick turnaround so you can prepare the inventory for the next wedding?
Lauren: On an average wedding order, the shipping cost will be $60, and that includes both ways. When the bride gets her package, we include a handwritten little card that explains how to use the flowers and gives them practical details about how to return them. We write some well-wishes, and it's signed by both of us. It's really fun, too, because we get a lot of handwritten thank-you notes that come back with the flowers when they return them to us.

Laken: Normally, under our standard practice, we send a FedEx Ground return label with all [outgoing] orders. We figure whatever comes back this week will go out next week. That's kind of how we plan and manage our inventory. Last year, during our really busy season in October, when we were limited on product and inventory, we looked at certain shipments we needed to receive sooner in order to get them out sooner [to the next customer]. We included a FedEx Express return shipping label to get [that inventory] back to us faster. [We're integrating a new system that] knows exactly what items are in each order, the transit time associated with each order, when it will be back in and when it will be available for the next order to be fulfilled.

How has the support been for your business in the wedding industry?
Laken: I think at first many professionals within the industry didn't understand quite what we're doing, but within a few minutes of talking to them, it's almost as if we see their demeanor change. They get it and the conversation quickly changes from what we're doing to ideas on how we can collaborate. The support has been unbelievable.

Lauren: We've had great interest from major publications like Martha Stewart Weddings and 100 Layer Cake. We've worked with an international photographer, Laura Gordon, who we've developed a friendship with. She had the idea to photograph our flowers in Italy when she's there. We've already started thinking about how we can go global and go bigger, and our partners have been a great help with that.
What is next for you in your journey?
Lauren: For the first year, our goal was 12 weddings a month. Now, we're at 400 weddings per month. We're really focused on the wedding industry, so that's where our attention is, but there's a lot of other opportunities for us to expand beyond that.

Beyond that, my goal is to be a female investor. I'd love to go to other small companies and offer my support and financial resources in a way that mostly men do. I'd love to see more female capital investors, and I'd like to be one of them. Also, I've started showing my children what I'm doing every day, the business that I have, bringing them here to lay the foundation of a work ethic. I think it's important for them to see their mom as an entrepreneur. I'm excited to show my boys these achievements so that way when they are possibly married one day and their wives have ambition, they won't think twice about it.
3 Small-Business Tips for Success
Navigating the path for your small business is a constant learning process. Here are Lauren and Laken's top tips:
Be First, Be Different
They've found more opportunities to succeed by homing in on something that has never been done before. Lauren says, "One of the things that we said we were going to do was revolutionize the industry. We're going to change the way people think about planning wedding flowers, and we feel like we are doing that."

Prioritize Meaningfully
Laken says, "It's hard being a mom and working full-time. Do what you feel passionate about — at work and while spending time with your family. There's never going to be enough time in the day for a perfectly kept house, so focus on what is important and makes you happy."

Craft an Exceptional Customer Experience
Lauren and Laken have made the experience of renting their floral bouquets seamless and easy. Flowers are delivered two days before the wedding wrapped in floral-scented packaging paper and custom packaging to ensure they look and smell great. The packages include a prepaid return label for customers to drop off at FedEx after the event. The handwritten notes they get from brides thanking them is proof of their customer-first mentality.
FedEx Small Business Grant winners like Lauren and Laken are doing creative and exciting things in their businesses. See more inspirational winner stories and get insights for business success from past grant winners, plus other entrepreneurs and small-business experts.