Benefits for our small-business community
Benefits for our small-business community
Meet an extraordinary network of entrepreneurs
When the first FedEx Small Business Grant Contest launched in 2013, no one could have foreseen the unique community that's formed organically around contest winners. It's also led to the creation of the Entrepreneur Advisory Board (EAB), a rotating group of business owners whose members advise FedEx on ways to enhance small-business services.
Pairs and groups of these entrepreneurs have helped one another with packaging challenges, finding investors and many other small-business imperatives. The FedEx team that runs the contest and the EAB helps keep them connected.
A few members of this tight-knit network describe what it's like to be part of it:
"FedEx has helped facilitate a community of experts that I can go to first, to see how they solved similar problems."
— Danny Catullo
2013 Prize Winner
Entrepreneur Advisory Board 2018
Catullo Prime Meats; Perishable Shipping Solutions
Youngstown, Ohio
Danny won a grant the first year of the contest and helped grow the FedEx entrepreneur community from the ground up. He first collaborated with fellow 2013 winner Nicole Snow of Darn Good Yarn. "We came from a yarn business and a butcher shop, and yet we had such similar ideas that it made sense to work together to help grow each other's businesses," Danny says.

The EAB was formed on Nicole's suggestion to advise FedEx about small-business needs, but Danny says it's become much more. He's helped other winners solve perishable-shipping challenges and has benefited from advice on other small-business issues: "I come from the business-to-consumer world, so B2B or wholesaling was not something that we focused on. But I've been talking to a lot of grant winners to learn how to do B2B selling. It's nice to be able to call up three or four people that have been through that before." 
---
"It was revolutionary. Like my business went from zero to 1,000 just from our first couple of meetings."
— Brian Munoz
Entrepreneur Advisory Board 2019
Penny Luck Shoes
Austin, Texas
Brian connected with past winners David Patrick and Gina D'Orazio Stryker for help finding financing. "Being an entrepreneur has been a super lonely journey — it's hard to find people that share the same vision and passion. When I joined the EAB, I got to meet other people that were going through the same struggle.

"It's such a unique thing that FedEx has created and by far one of the greatest experiences that I've had for entrepreneurship. It's great to celebrate your ups with people and also share the downs so they can help you when you're in that place. That's what's special about this little nucleus FedEx is creating," Brian says. 
---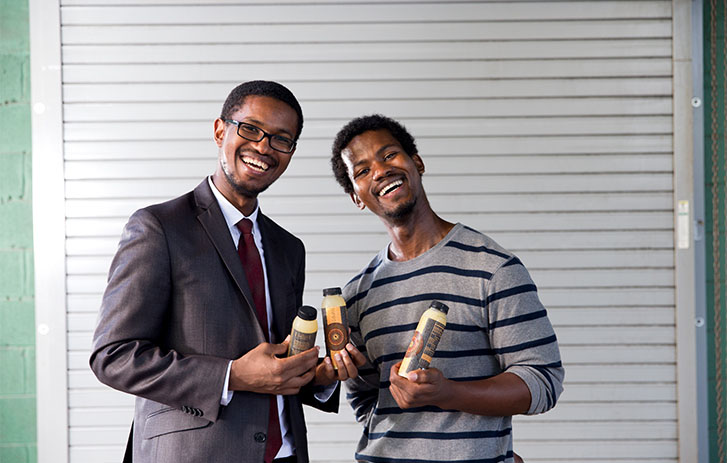 "Knowing there's this network I could potentially tap at any time — that's a huge advantage."
— Rahim Diallo
2016 Grand Prize Winner
Entrepreneur Advisory Board 2018
Ginjan Bros
New York, New York
Rahim has assisted Gina with finding a food-container supplier, as well as receiving help from others, including David. "Being a grant winner, it's a faster connection we share. It's like we graduated from the same class. Although we met very briefly, we have some sort of deep connection, like an alumni network.

"And participating in the EAB, being in a room with likeminded folks for a few days at a time, allows you to have much more productive sessions in a short amount of time than you do while just casually interacting with other entrepreneurs," Rahim says. 
---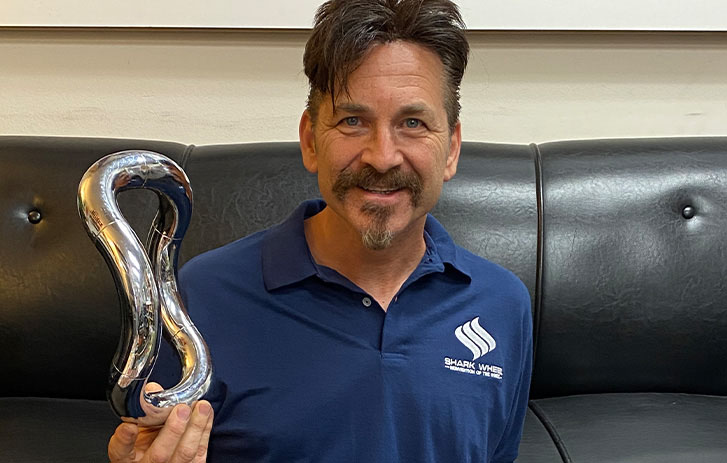 "Everybody has these struggles as an entrepreneur, and a problem shared is a problem halved."
— David Patrick
2015 Bronze Prize Winner
Entrepreneur Advisory Board 2018
Shark Wheel
Ladera Ranch, California
David has helped Brian, Rahim and Gina navigate equity crowdfunding, a new way of raising business capital. "I love finding other people that share the same pain points and hearing how they resolved or are trying to resolve them. It's very helpful just knowing you're not alone in that world; you're not some anomaly, where everybody else is succeeding and you're not.

"Whether you're sharing your problem or letting somebody else unburden themselves on you, it's very cathartic. It's the best thing that's ever happened to me," David says.
---
"It's really nice to have somebody else do the legwork on one thing and you do the legwork on something else, because we're all wearing so many hats."
— Hannah Garrison
2019 Alumni Choice Award Winner
Wear Your Music
Providence, Rhode Island
Hannah says that EAB member Tivan Amour's services have helped her increase sales. She's also found the entrepreneur community is a valuable referral network. "If another grant winner has done all the research and found the best option, it won't take me as much time to get to the solution that I need," Hannah says.

Even just entering the contest is beneficial, Hannah says: "As entrepreneurs, we're so often working on the things that are most urgent that day and not the big picture. Figuring out how to present ourselves in our application made us think back to our value system and the founding principles we have as a company."
---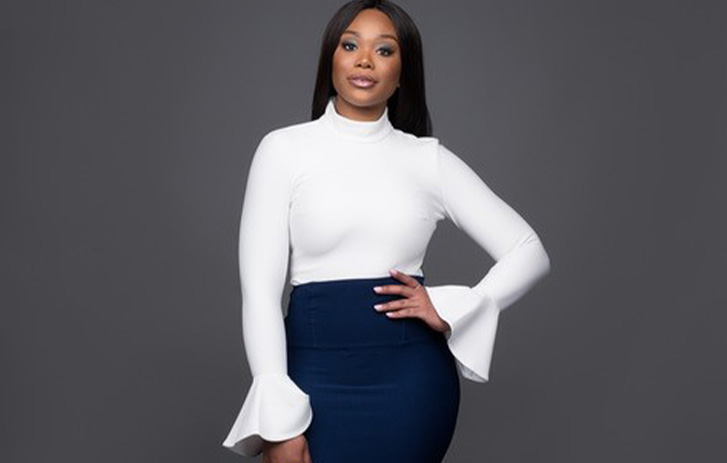 "I'd like future EAB members to know that this is not just one opportunity. You get so many different connections, and it's all powered by FedEx."
— Aqila Augusta
Entrepreneur Advisory Board 2019
Edge Entity
Bartlett, Tennessee
Aqila also credits Tivan's business with increased sales: "We've been doing really well, and a lot of it is because of him. His service was one of those things I didn't think I needed until I had it.

"When we got together as the EAB, we all had the same feeling that we didn't have a community of people like us that we could discuss things with. All of us had different businesses but the same kinds of challenges. One EAB member was making $8 million in revenue a year, but he could take advice from somebody like me, who's not making nearly as much. We all share information and learn from each other," Aqila says. 
---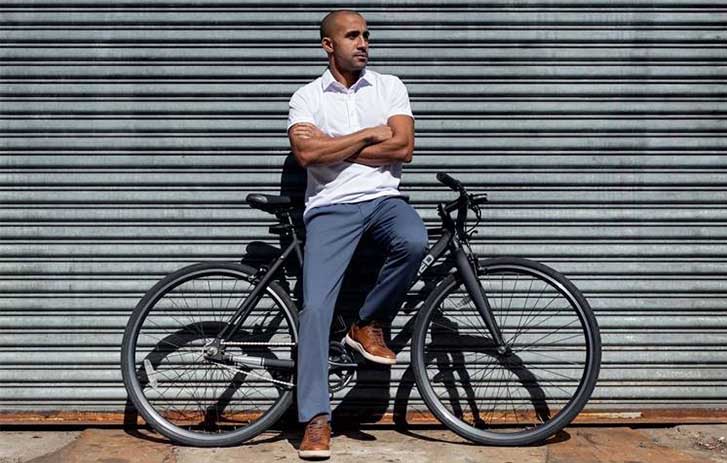 "One of the main benefits of winning a grant or being on the EAB is having continued support through the entire entrepreneur journey. It's great to have a relationship with a company like FedEx."
— Tivan Amour
Entrepreneur Advisory Board 2019
SaveMySales
Boston, Massachusetts
Tivan says working with Hannah and Aqila through his business has made them fast friends. He's also enthusiastic about the support FedEx offers grant winners and EAB members: "The FedEx team has always kept in contact with all of us on a really personal level, which I appreciate so much. We won a couple other grants around the same time, and even though the monetary value may have been bigger, there was no community — it was kind of just a one-and-done thing. With FedEx, it was very different. I started getting text messages, emails — they're constantly trying to find ways to be helpful on my journey."

---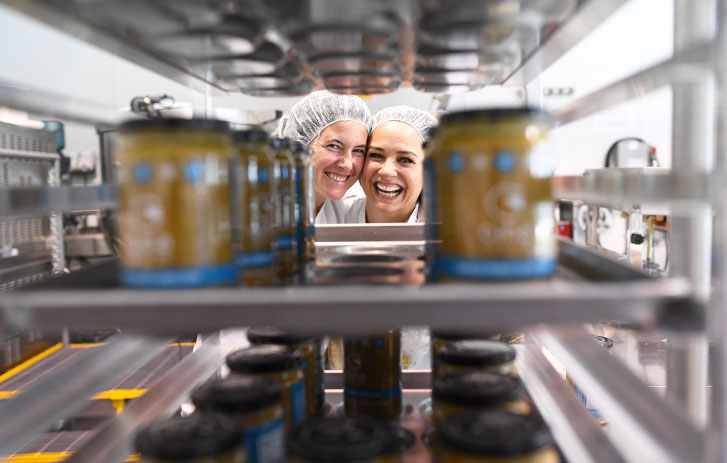 "Lifetime relationships are created through this program. I think about all the things that we can do as a community of entrepreneurs and I get very excited."
— Gina D'Orazio Stryker
2016 Bronze Prize Winner
Entrepreneur Advisory Board 2018
Gina Cucina
Carbondale, Colorado
Danny's help was instrumental in solving Gina's perishable-shipping challenges. She's also connected with Rahim, David and Brian to both give and receive guidance. "The group of us that served on the EAB are all still really close. I've found their relationships and guidance and observations invaluable for me in my business. They're my biggest cheerleaders, and I'm their biggest cheerleader.

"It's an amazing resource to have this group of likeminded people who are out there in the world trying to make a difference and building their own businesses. FedEx has done something amazing, and this community only continues to get stronger and more heartfelt and more effective in the world at large," Gina says.