FedEx® HealthCare Solutions
FedEx® HealthCare Solutions
Healthcare Cold Chain Shipping
The healthcare industry moves fast — and so must your supply chain. Whether you're shipping temperature-sensitive pharmaceuticals, diagnostics tests or samples for clinical trials, you must be confident your products are protected and uncompromised.
Luckily, recent innovations are pushing cold chain shipping into a new era. FedEx® healthcare cold chain solutions help ensure your products arrive at their destination on time and at the required temperature range with:
Increased air freight capacity for dry ice shipments

High-tech packaging choices

Temperature-controlled less-than-truckload (LTL) shipping options

Advanced shipment tracking and monitoring methods
More Shipment Capacity
After rounds of rigorous scientific testing, we increased the capacity in our fleet of aircrafts for dry ice shipments by nearly 100 percent in the latter part of 2017. While standard country-specific restrictions on dry ice still apply, you can now ship more dry ice packages and freight within the U.S. on Boeing 767s and 777s than ever before.
The capacity boost will save you — and shipment recipients — time and energy:
Consolidate your shipments into a single aircraft.

Track your items more efficiently.

Provide your customers with better service.
Innovative Temperature-Control Options
From insulin to tissue, when it comes to shipping perishables, choose cold chain package and shipping solutions from FedEx Temp-Assure®, our portfolio of temperature-control solutions. Pick the solution that work best for your products:
More Security
The better your tracking and the more tools at your disposal, the easier it is to move those high-value samples or medications with confidence.
For an added layer of security, subscribe to the sensor-based monitoring system SenseAware®, a FedEx innovation. The sensory device travels with your shipment, enabling around-the-clock updates on your freight or package. You can access information about your shipment — including temperature, location and humidity — in near real time online.
For next-level transparency on a case-by-case basis, SenseAware Single Journey allows you to use the services of SenseAware to monitor a single shipment for a flat fee, without a subscription.
When speed and security are absolutely critical, FedEx Priority Alert® provides a variety of cutting-edge services, including 24/7 personalized support via your own global service analyst. In addition to end-to-end monitoring, your parcel or freight receives priority boarding and priority placement on the aircraft, and priority clearance when possible.
Exclusive-Use Shipping With Full Support
For shipments requiring exclusive-use transportation, full-range temperature control and 24/7 monitoring, select from our range of white-glove services:
Travel by ground:
Travel by air:
FedEx Custom Critical Temperature-Controlled Air provides door-to-door service for pickup and delivery via our exclusive-use vehicles. Your shipment is transported via air in temperature-controlled containers or packaging.* We'll provide status updates and temperature readings, when available.
FedEx Custom Critical Temperature-Controlled Air Validated offers the same service as mentioned above, plus temperature documentation needed for strict regulatory compliance and added support from the FedEx Custom Critical Quality Assurance team.
As healthcare technology leaps forward, healthcare logistics is making some leaps of its own, expanding the possibilities of cold chain shipping. And that means you can keep your focus where it needs to be: treating that next patient or developing that next revolutionary compound.
More Information
To learn more about shipping solutions designed specifically for the healthcare industry, go to FedEx HealthCare Solutions.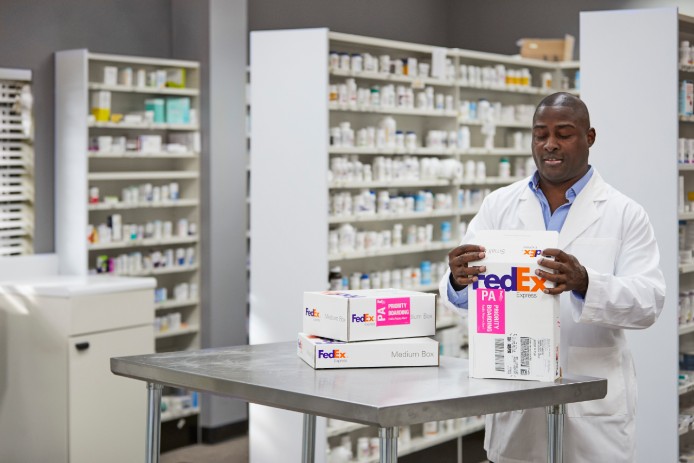 FedEx HealthCare Solutions Knowledge Center
Check out our library of articles, videos and webinars that discuss the healthcare supply chain as it looks today and where it's headed in the future. Plus, learn from experts how innovative technology, strong connectivity and data-driven solutions will help improve the healthcare industry.