FedEx® HealthCare Solutions
FedEx® HealthCare Solutions
U.S.-Controlled Exports Made Easy
by Dr. Christelle Laot
July 10, 2017
Exporting goods out of the United States can be challenging, especially when special permits or licenses are required to enable such movement. Commodities that are tightly controlled by U.S. regulatory agencies include certain pharmaceutical prescription drugs regulated by the U.S. Drug Enforcement Administration (DEA), goods from Foreign-Trade Zones (FTZ) or bonded warehouses, and military shipments. Regardless of these challenges, FedEx can help. Here's a few tips on completing forms and utilizing FedEx® services to help make the process easier.
Controlled Substances Regulated by the DEA
The manufacture, distribution, transportation, and the importation and exportation of controlled substances are highly regulated because of the potential for addiction, abuse and diversion. The United Nations has established a global monitoring process for controlled substances such as narcotics and central nervous stimulants. In the U.S., the Controlled Substances Act (CSA) of 1970 divides substances into five different schedules, with schedule II drugs being known to potentially lead to high abuse but still accepted for medical use.
In order to export controlled substances abroad, DEA Form 161 needs to be completed as part of the export permit application. Port of exportation, mode of transportation and name of transportation provider are required fields. Controlled substances are not permitted in international mail postal services but can be transported by other authorized regular shipping services such as FedEx.
Once the permit has been granted, the controlled substance export declaration DEA Form 236 (DEA-236) is completed. There are specific rules associated with DEA-36, such as the necessity to prepare triplicate DEA forms for each export shipment. DEA forms are provided in conjunction with other complex paperwork required by the country of import, which may have established quotas for controlled substances.
Regulatory Compliance of Controlled Exports
Transportation permits are issued to the shipper or the recipient, never to the carrier. However, once a permit has been granted, the carrier can submit paperwork and original permits to U.S. Customs and Border Protection (CBP) at the port of export and obtain regulatory clearance for shipments to physically leave the U.S.
This is exactly what the FedEx International Controlled Export (FICE) service provided by FedEx Express does. Since the launch of this service in 2003, numerous exporters have taken advantage of the FICE program in the U.S. and Puerto Rico, both for small parcels and freight shipments.
Benefits include lower risk of clearance delays, faster transit times and lower handling fees compared with traditional services offered by freight forwarders. Ready to get started making customs clearance easier? Go to fedex.com/serviceguide or reach out to your FedEx sales representative for more details.
---
Christelle Laot
Technical Fellow
Dr. Christelle Laot joined FedEx Express in 2007 and is currently technical fellow in the FedEx healthcare industry vertical. In this role, she provides thought leadership, strategic direction and subject matter expertise for healthcare transportation. Prior to her work with FedEx, Dr. Laot held managerial positions in R&D, innovation and strategy at Bayer in Germany for about six years.
Dr. Laot obtained a PhD and MS in chemical engineering from Virginia Tech (USA), a Diplôme d'Ingénieur from UTC Compiègne (France), as well as an MBA from HEC Montreal (Canada).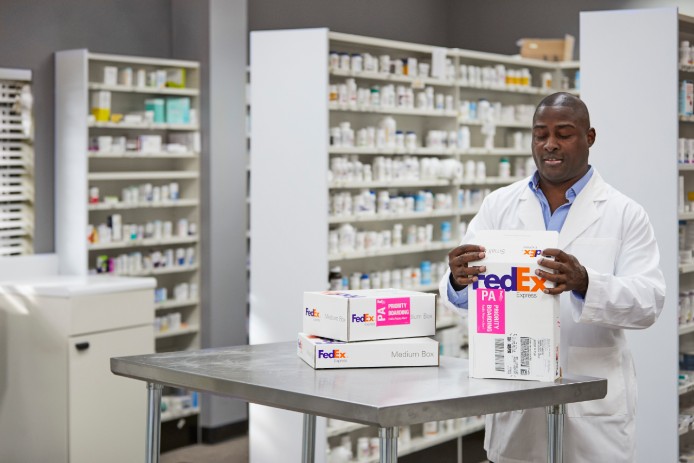 FedEx HealthCare Solutions Knowledge Center
Check out our library of articles, videos and webinars that discuss the healthcare supply chain as it looks today and where it's headed in the future. Plus, learn from experts how innovative technology, strong connectivity and data-driven solutions will help improve the healthcare industry.