FedEx® HealthCare Solutions
FedEx® HealthCare Solutions
How to Transport Frozen Vaccines With FedEx
Providers of healthcare transportation shipping solutions have been investing in temperature-controlled infrastructures at airports worldwide to mitigate the risk of temperature excursions during transit. However, most existing temperature-controlled rooms were only designed for two specific temperature ranges: controlled-room temperature (15°C to 25°C) and cold (2°C to 8°C).
FedEx Express built the FedEx Cold Chain Center Memphis to not only address contingency planning at the largest U.S. Federal Drug Administration port of entry but to also provide a greater range of temperature protection for shipments. Frozen rooms (-25°C to -10°C) were added to ensure shipments that contained items such as temperature-sensitive healthcare products were never compromised.
Today, vaccines are typically transported in cold temperature range (2°C to 8°C). But vaccine manufacturers and pharmacies are seeing the value in selecting a lower transportation temperature range for specific products. For instance, freeze-dried vaccines (such as measles, MMR, BCG, yellow fever) are frozen during lyophilization manufacturing processes, then specific cold liquid diluents are added to vaccine powders right before injection into patients. Keeping freeze-dried vaccines in the frozen state during transportation could extend expiration dates out and improve product shelf life.
FedEx® cold chain management provides shipping solutions for these products:
Simple gel packs maintain temperatures below 0°C during express transit.

Gel pack replenishment services offered at the FedEx Cold Chain Center Memphis ensure thermal continuity in case of unexpected transportation and clearance delays.

Frozen rooms in Memphis have been fully qualified by a third-party vendor. Temperature records are available to confirm that the environment was appropriately maintained during temporary storage.
To learn more about the FedEx Cold Chain Center Memphis and discover more cold chain shipping solutions from FedEx, go to the Temperature Control tab on fedex.com/healthcare.
---
Christelle Laot
Technical Fellow
Dr. Christelle Laot joined FedEx Express in 2007 and is currently technical fellow in the FedEx healthcare industry vertical. In this role, she provides thought leadership, strategic direction and subject matter expertise for healthcare transportation. Prior to her work with FedEx, Dr. Laot held managerial positions in R&D, innovation and strategy at Bayer in Germany for about six years.
Dr. Laot obtained a PhD and MS in chemical engineering from Virginia Tech (USA), a Diplôme d'Ingénieur from UTC Compiègne (France), as well as an MBA from HEC Montreal (Canada).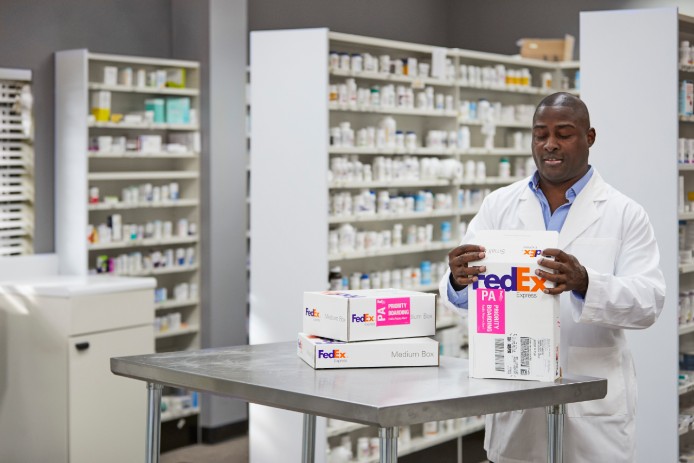 FedEx HealthCare Solutions Knowledge Center
Check out our library of articles, videos and webinars that discuss the healthcare supply chain as it looks today and where it's headed in the future. Plus, learn from experts how innovative technology, strong connectivity and data-driven solutions will help improve the healthcare industry.