Coronavirus news
Coronavirus news
FedEx stands up special operation to fight COVID-19
We're continuing to make critical connections around the globe during the coronavirus outbreak, delivering strength to people and communities in need. Read our stories here, or visit our coronavirus (COVID-19) response page.
Test swabs distributed in cooperation with U.S. military
FedEx team members have distributed more than one million COVID-19 test swabs, flown into Memphis, TN from Italy via U.S. Air Force C-17 cargo planes. Read more from Oriana Pawlyk on military.com.
See how we're helping
How we're Delivering for Good to help combat COVID-19
In times of need, our FedEx Cares team steps up to support organizations with mission-critical demands. Since the outbreak of coronavirus, we have provided delivery of personal protective equipment and critical supplies to organizations around the world. 
We delivered millions of pieces of personal protective equipment to China in January, and we continue to help numerous organizations fight coronavirus by providing in-kind shipping services and logistical expertise.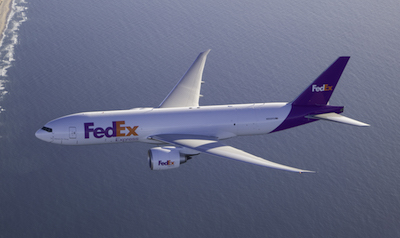 International Medical Corps prepares for COVID-19 surge
Working with International Medical Corps., FedEx has mobilized two of International Medical Corps' Emergency Response Field Hospital shelters from the FedEx World Hub in Memphis to Martin Luther King, Jr. Community Hospital in Los Angeles.
See how we're assisting
FedEx pledges transportation support to aid in coronavirus emergency
In January, FedEx shipped more than 200,000 surgical masks and personal protective equipment to its Asia Pacific Hub in Guangzhou, China to support the response to the Novel Coronavirus outbreak in Wuhan.
Read the release
Protective gear delivered to approximately 1,000 U.S. health centers and clinics
Direct Relief, supported by FedEx, shipped 250,000 N95 masks and other personal protective equipment (PPE) to as many as 1,000 community health centers and free clinics in all 50 U.S. states.
View the announcement
Featured stories
Mobile Field Hospital Deliveries Escalate as California Combats Surge of Coronavirus Cases
March 31, 2020: The first delivery of M.A.S.H.-style field hospital modules arrived at a community hospital in South Los Angeles last week that is so overwhelmed with coronavirus cases, it is nearly fully dedicated to combatting the illness.
But even the extra beds it provided weren't enough.
Los Angeles county has become the epicenter of the virus in California, with double the cases of any other county in the state and the most deaths. To help overwhelmed and near-capacity hospitals deal with the crisis, FedEx, in collaboration with the International Medical Corps (IMC), is delivering three additional mobile hospital modules – one of which will at arrive at Los Angeles County + USC Medical Center, and the other two will be deployed at other Los Angeles hospitals.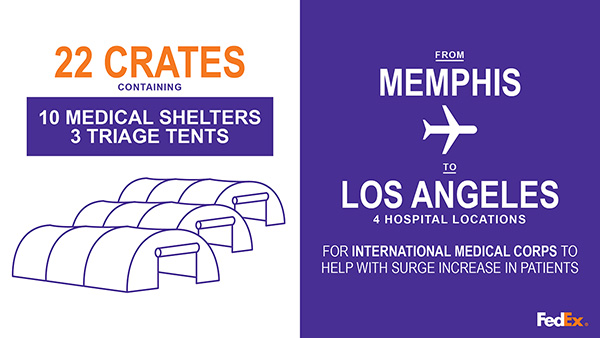 The mobile units join two already delivered by FedEx to Martin Luther King Jr. Community Hospital in mid-March that are being used to isolate patients with coronavirus. The hospital, which houses the largest emergency department in Los Angeles, was quickly running out of beds.

"FedEx's support is crucial, enabling International Medical Corps to immediately deploy medical shelters and supplies to help meet needs across hospitals in Los Angeles, as they prepare for the surge as a result of the COVID-19 pandemic," said Ky Luu, Chief Operations Officer for International Medical Corps. "Their assistance helps our teams get critical equipment at a moment's notice to those who need them."
It's not the first time FedEx and the International Medical Corps have worked together. In 2018, FedEx shipped mobile hospital units to the Democratic Republic of Congo to help fight Ebola. And just last year, FedEx planes transported medical supplies and field units to a Bahamas nearly leveled by Hurricane Dorian.
The hospitals can be fully operational 48 hours after a major disaster hits anywhere in the world. FedEx logistics experts worked with International Medical Corps to make the field hospital even more flexible, to support varying levels of disasters, and the company provides warehousing for the hospital near its Memphis Hub. This location, where the company's fleet of aircraft is based, enables the rapid deployment of the hospitals.
"Now more than ever, a quick response is needed to deliver resources where and when they are needed most, and that's exactly what we did in partnership with International Medical Corps," said Adrian Pomi, Director of Global Citizenship at FedEx. "We swiftly mobilized our global network to deliver IMC's emergency field hospital to the LA community to help with the surge patients battling COVID-19. This is who we are and what we do best."
When fully deployed with all units, the hospital has a 60-bed capacity, 12 medical shelters that take up the length of the feedback field and weighs some 50 tons. 
---
From drive-thru test sites to labs: How FedEx team members mobilized to ship thousands of COVID-19 test samples in less than 24 hours
March 27, 2020: In mid-March, as coronavirus testing began across much of the country, a nimble network of FedEx team members sprung into action to answer a call from the White House Task Force to transport COVID-19 test samples from test sites to labs for analysis.   
In less than 24 hours, FedEx designed pick-up and delivery operations to move more than 20,000 COVID-19 test samples from 50 test sites in a dozen states to labs in ten states for analysis. It all occurred over a weekend when people are typically not working, and included 28 flights, 40 trucks, and countless team members.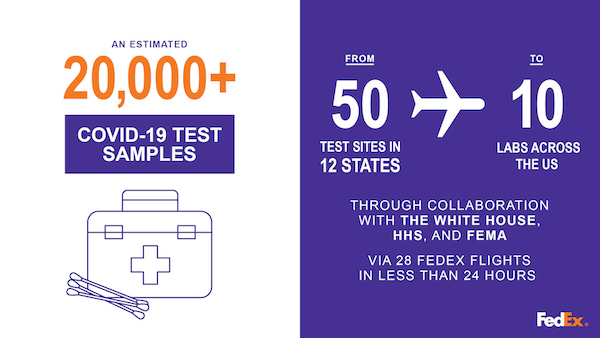 The initial operation was successful, and FedEx is now scaling up as Task Force testing centers expand throughout the country. Working with different government agencies from the onset, FedEx is now well versed in compliance with the regulations and rules for transportation of COVID-19 test samples.  
It all began with a text to Sam Smith, FedEx Government and Regulatory Affairs, from a former colleague who now works in the Administration. After further discussions between Gina Adams, Corporate Vice President of Government & Regulatory Affairs, and the Administration, an all-hands-on-deck operation was activated by FedEx Express team members in a matter of days to execute the transport of the first test samples from drive-thru test centers to labs for analysis.  

"They asked if FedEx would be willing to step in," Smith recalls. "And of course, our entire team was willing to do whatever possible." 

A team co-lead by Joe Stephens, FedEx Express Senior Vice President of Global Engineering & Business Transformation, and Frank LeRose, FedEx Express Senior Vice President of Global Support Services, set to work designing a plan to ship the test samples. 

Because FedEx already works with some of the largest private testing labs in the country, the company stood ready to move these critical shipments on short notice with Priority Alert monitoring, temperature-controlled shipments, and advanced SenseAware tracking technology. 

The unique importance of the task at hand did not escape the team. "This is a true-life situation for a lot of people, where the purpose of this mission was a goal well above business," said Bobby Dunavant, Managing Director of FedEx Express Global Operations Control. "We knew, if this comes out well, it's possible we can help stop the spread of this virus."  

Team members went above and beyond the call of duty: running routes, teaching public health officials how to package appropriately, advising the Task Force on network capabilities and safety protocols. And when the time came to activate, the team was ready.  

"Under a normal timeframe, we have a couple of weeks to plan something of this magnitude, but for this it was only a matter of hours," said Mike King, FedEx Express Managing Director of Operations Planning and Engineering, who was one of five FedEx Support teams who helped manage the project. "It was complex, things were constantly changing, but it was folks' can-do attitude and skill sets that made it happen… everybody knew what was at stake."
FedEx is positioned to flex its network to accommodate the critical transportation of test samples, and is also working closely with the labs to adjust pick-up and delivery times so as to not overwhelm them with samples.  
"The FedEx team has been outstanding in responding to these complex requests," Smith said. "No other company could do what we are doing to support these efforts and we will continue to work hard on whatever unique challenges lay ahead." 
And FedEx team members are making it happen.  
"What differentiates us is our people and I am incredibly proud of our team at FedEx Express for executing such a critical operation," Stephens said. "Everyone is committed to collaborating, no matter what it takes. Our team members are eager to play their part to help those in need. This certainly would not have happened without Doug Jones, Marcus Martinez, Christopher Coburn, Mike King, Karl Lindsley, Bobby Dunavant and Brad Wilson."

FedEx in the news
Researchers developing potential coronavirus antibody therapies -- VUMC News
March 24, 2020: "Memphis-based FedEx Corp. is a partner in the critical shipment of non-infectious human donor serum samples to VVC needed for antibody isolation. FedEx Express is using SenseAware to help ensure the safety, logistics, and proper handling of these invaluable samples." Reported by Vanderbilt University Medical Center News.
Raj Subramaniam discusses FedEx COVID-19 response on Bloomberg
March 23, 2020: "We know that we are one of the unique networks around the world, and we have a role to play. And we are stepping up to the plate," FedEx President and COO Raj Subramaniam said to Bloomberg in an interview on March 23.
Commercial Appeal: Richard Smith says response to COVID-19 largest, most global effort he's seen
March 19, 2020: "In times of crisis, you see what people are made of," Smith said. "This team never ceases to amaze me with their selflessness."
We are delivering
Doctors and patients need you now more than ever.  Our network and capabilities help you keep delivering during this crisis.  We're working around the globe and around the clock to help you fight COVID-19.
See how FedEx can help.
View our healthcare services