Coronavirus news
Coronavirus news
FedEx delivers critical healthcare supplies to
India to support the fight against COVID-19
FedEx delivers critical healthcare supplies to India to support the fight against COVID-19
---
"At FedEx, we have no higher priority than to get COVID-19 vaccines delivered on time and to the right locations."
Frederick W. Smith
FedEx Chairman and CEO
---
Transporting COVID-19 vaccines
Learn more about how we're supporting our healthcare customers and communities by rapidly and reliably shipping vaccines and essential medical shipments to help combat COVID-19.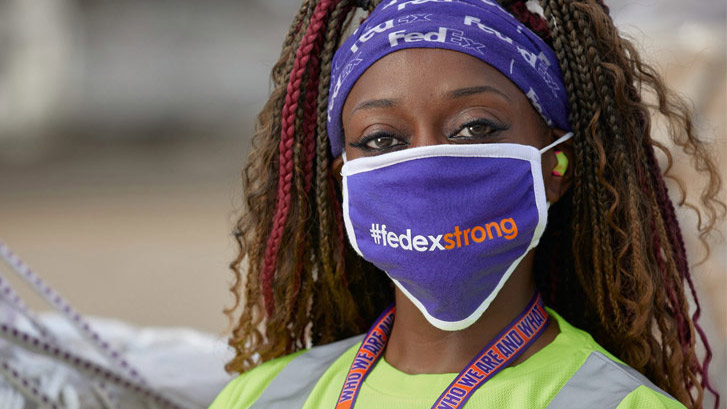 Delivering strength
We continue to make critical connections during the coronavirus outbreak, delivering strength to people and communities in need. Read our stories here, or visit our coronavirus (COVID-19) response page.
How we're Delivering for Good to help combat COVID-19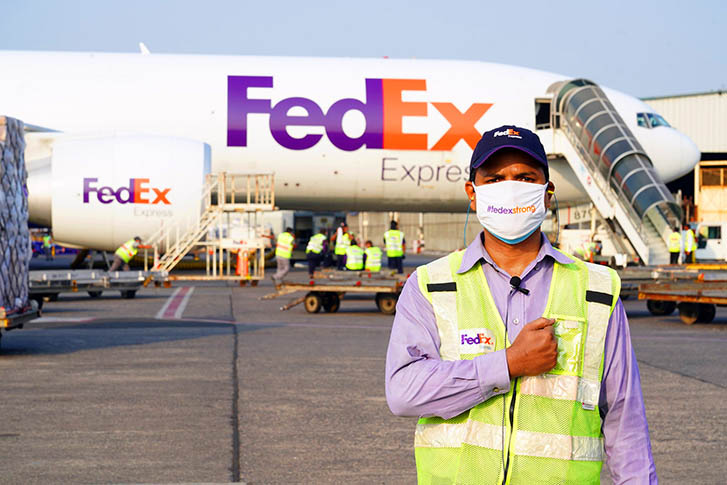 In times of need, our FedEx Cares team steps up to support organizations with mission-critical demands. Since the outbreak of coronavirus, we have provided delivery of personal protective equipment and critical supplies to numerous organizations. 
To help reach underserved communities with the COVID-19 vaccines, we've committed $4 million in cash and in-kind transportation to support several nonprofits serving communities around the world.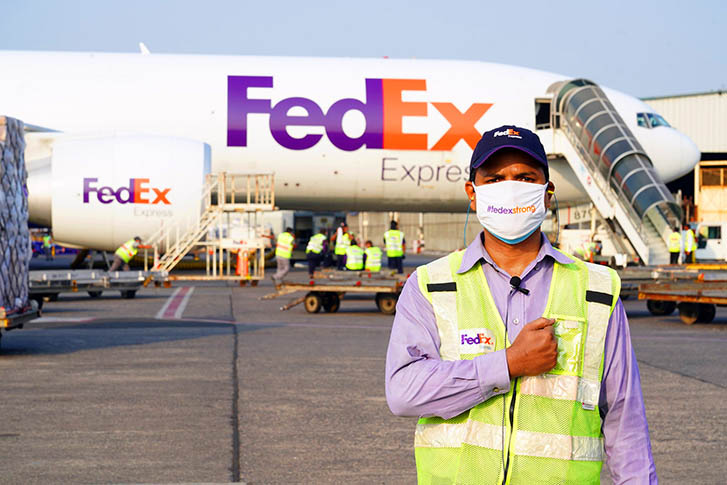 Recent news

FedEx delivers 1.35 million COVID-19 vaccine doses to Mexico
FedEx distribution of COVID-19 vaccines grows, tops 100 million vaccine doses delivered in the U.S.

FedEx prepares for COVID-19 vaccine volume growth, begins shipping newly approved vaccine

FedEx has shipped first wave of Moderna COVID-19 vaccines across the United States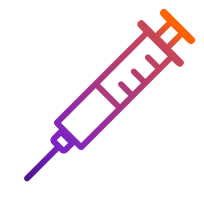 FedEx delivered the Pfizer-BioNTech COVID-19 vaccine
Featured stories
On May 8, FedEx donated a FedEx Boeing 777F charter flight to move more than 3,400 oxygen concentrators, converters and nearly 265,000 KN95 masks for Direct Relief from Newark, New Jersey to Mumbai, India. The supplies were delivered to healthcare facilities in Mumbai.
FedEx is working with customers and non-profit organizations to deliver hundreds of tonnes of medical supplies and aid into India to aid in the fight against COVID-19.
June 9, 2021: FedEx team members across the U.S. have stepped up to deliver in extraordinary ways during the COVID-19 pandemic – both personally and professionally. Read on for stories about FedEx employees who have worked to make a difference when it matters most in their communities.
Making a difference – and new friends – in San Diego
Joe Simms, FedEx Office human resources advisor, loves helping people. When he learned about the opportunity to volunteer at the San Diego COVID-19 Vaccination Super Station, he did not hesitate to sign up. 
"Working at the vaccine station was a once in a lifetime chance to help thousands of people in my community – the scale of it all was really amazing to witness," said Simms. "It was an honor to be part of the incredible team of doctors, nurses, other medical professionals and my fellow volunteers."
The San Diego site opened in January 2021 and was the first of its kind in California. It was located in the parking lot of Petco Park, home of the San Diego Padres baseball team. The application and background process took a few weeks and Simms was approved to start volunteering early February.
Simms monitored vaccine recipients to ensure there were no reactions. All of his shifts were for those receiving their second doses so checking in on the patients was more like a celebration.
"To say that every person getting vaccinated was ecstatic and filled with joy, is an understatement," said Simms. "Every 15 minutes, it was like waving good-bye to a new set of friends."
The San Diego COVID-19 Vaccination Super Station administered more than 200,000 vaccines from January through the end of March. The site closed to ready for the Padre's opening day on April 1. "It was bittersweet when it closed but I took a lot of joy knowing that it changed the lives of so many people – including mine," said Simms.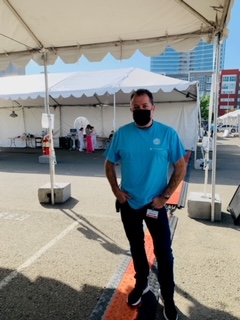 Making history at Fenway Park
As a longtime FedEx Express customer service agent in the Boston area, Donna Silveira thought she had seen it all. That was until COVID-19 changed the world almost overnight.
"Initially, we were faced with the challenge of tracing and re-routing shipments as businesses shut down all over the world," said Silveira. "Then, e-commerce ordering exploded and we went into Peak volume mode and have been there ever since."
In February, Silveira began working weekends at Boston-based CIC Health, a COVID-19 vaccination and testing company. As a registered nurse, she has administered countless vaccines, assisted with monitoring high-risk patients following their vaccinations, booked appointments for patients, and more. She plans to continue to help until the pandemic is over.
"It truly is a wonderful feeling to play a role in helping to end this horrible pandemic," Silveira said. "The best part is how grateful and happy everyone has been to receive a vaccine."
Silveira is also grateful to be able to help and to witness the joy and relief as people in her community receive their vaccines. Her patients have shared their stories of isolation and how the vaccine would allow them to hug their parents again, how they had medical conditions and were terrified of dying from COVID-19, and they shared heartbreaking stories of family members and friends who were lost during the pandemic.
And many patients were incredulous that they were receiving their vaccines at the iconic Fenway Park. Silveira could relate. "If someone would have told me that someday I'd be helping vaccinate people in Fenway Park because of a global pandemic, I never would have believed it," she said. "I'm just so happy I'm able to help my community. That it's at Fenway makes it even better."
Company collaboration to support Dallas vaccination site
In early February, FedEx Ground and FedEx Office team members collaborated to provide support to Dallas County, Texas, for a vaccine administration event in South Dallas that drew thousands of local vaccine candidates. 
Lissa Smith, FedEx Office community relations advisor, was involved in preliminary discussions with the county and asked FedEx Ground Lone Star District Manager Jeff Johnson to assist with logistics at the county's main vaccination hub at the State Fairgrounds.
FedEx Office provided signage to help those in line know where to go, what to do and what to expect. Johnson contributed his time and talents to review traffic pattern plans and provided on-site consultation for the event. He helped set up the entire process from traffic patterns, traffic flow and number of vaccines given per hour under the tent. He also taught volunteers how to use iPad software for Dallas County Health Services, helped register elderly participants and used a FedEx QDM process – the service cross – on the windshields so first responders knew how many people were in the car and which dose was needed.
The goal was 980 shots per hour per day over 10 hours equating to a car every 20 seconds. By day two, the vaccination site was servicing 770 cars per hour with 5,000 shots in the arms. They are now up to 10,000 shots.
Participating in this event was a very personal experience for Johnson, who lost his mother to COVID-19 in October, prior to the availability of the vaccine. "It was very rewarding to be able to help with this event," he says. "I still see cars with the cross on the windshield and am comforted knowing they've been vaccinated as a result of this effort."
A number of people and teams from FedEx Office were also instrumental in making this event a success. "We are all proud to be part of the effort to support the vaccine distribution here in our local community where our team members live and work," said Smith. "It was a great cross-opco collaboration."
Putting talents to good use in Memphis
Brian Athow, FedEx Services director of human resources, is no stranger to making things happen at FedEx. Athow has led initiatives across the globe from streamlining operations, to managing customer data, to his current role leading efforts to provide health care options to more than four-hundred thousand U.S. employees and their family members.
When Athow learned volunteers were needed in Memphis, Tennessee at the county COVID-19 vaccine site, he and his wife, Kelly, immediately signed up to help.
On Feb. 13, 2021, Athow was assigned to direct traffic at the Shelby County drive-through vaccination site near the Liberty Bowl Memorial Stadium. "Cars were lined up for miles, it was a windy 20 degrees and people, many of them elderly, had been waiting for two or three hours," said Athow. "In spite of all that, every single person I encountered was grateful, relieved, and happy to be there. It was really special to be a part of it."
Seeing the need, Athow stayed and worked a double shift. "The clinical providers – active health care professionals, students from the University of Tennessee, retirees – were all volunteering for 12-hour shifts to for the community. The least I could do was stay longer to help out," said Athow.
The practical experience has also been useful for one of Athow's current roles in leading efforts to provide vaccination information and opportunities to all U.S. employees and badged vendors. "COVID-19 has served to remind us all that we're all in this together – and the fastest way out of this pandemic is for everyone to play their part and get vaccinated."
Like Athow, the many professional talents of FedEx Express vice president of human resources Robbin Page also came in handy in supporting the vaccination efforts in Memphis, both as a volunteer and as a FedEx employee.
Page recently volunteered at a Shelby County-run vaccination site in Memphis and describes her volunteer experience as a "six-hour shift of awesomeness."
In this volunteer role, Page was responsible for the vaccine paperwork and completing vaccination cards. She was also called on for moral support when it came time for some patients to receive their shot, even holding the hands of those who felt nervous about the needle.
As part of her FedEx job responsibilities, Page helped coordinate three COVID-19 vaccination events for FedEx for team members in Memphis and is part of a team facilitating similar events in other states throughout the country with large team member populations.
"No matter your area of expertise or your role in a community, there are so many ways to help our neighbors and help bring this pandemic to an end," said Page. "It is truly an honor to have contributed to vaccination effort here in Memphis."
A shot in the arm for Colorado delivered by FedEx Office
In February, thousands of Colorado residents were vaccinated against COVID-19 at a drive-through vaccination clinic at Coors Field, home of the Colorado Rockies baseball team. The event was made possible by a cross-functional team of FedEx Office sales, operations, manufacturing, and SameDay City team members.
Steve Murphy, FedEx Office customer solutions consultant, manages the UCHealth account for FedEx Office in Colorado. When they made plans for a drive-through vaccination program in partnership with the Colorado Rockies, the state of Colorado and the city of Denver, Steve worked closely with the FedEx Office Flagship Store in Cherry Creek and the Denver Digital Production Plant to make sure all of the materials were printed by the deadline. SameDay City couriers then jumped in to help, delivering to Coors Field everything UCHealth needed for a smooth and successful event.
The media took notice, as did the Governor of Colorado. "Our work in February was used as a blueprint for other area vaccination events," Murphy said. "It's another great example of how FedEx connects people and possibilities."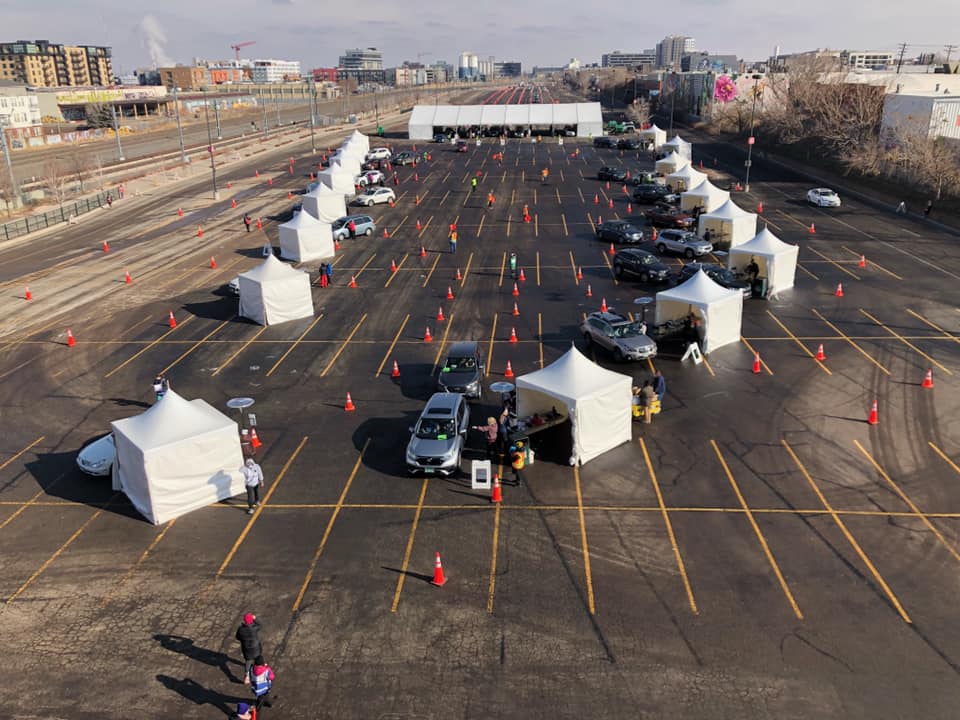 February 9, 2021: Meet Captain Tom Gregory. FedEx Airbus Fleet Captain and one of the pilots to fly out the first doses of the Pfizer-BioNTech COVID-19 vaccine last December. As a COVID-19 survivor, he was honored to play a key role in delivering vaccines to help prevent others from experiencing what he went through. His story was recently featured in The Houston Chronicle.
Behind the scenes of the COVID-19 vaccine rollout

January 28, 2021: It was a moment months in the making. The first trucks left drug maker Pfizer's complex in Portage, Michigan with the newly approved Pfizer-BioNTech COVID-19 vaccine on board. This first critical shipment of COVID-19 vaccines was transported by truck to Grand Rapids International Airport (GRR), where it would be flown to the FedEx Express hub in Memphis, Tennessee, to be sorted and distributed to final destinations across the U.S.

The COVID-19 pandemic swept the country and the world throughout 2020, and as FedEx team members at GRR prepared to load the first vaccines onto our aircraft at the FedEx ramp at GRR, they felt a sense of pride. Bruce Smith, a FedEx material handler working his third peak season, had lost his sister to COVID-19 earlier in 2019 and told local news, "If I have the honor of just touching that box, knowing what it is. That means everything to me because I can't go forward without that vaccine. None of us can."
The first shipments of COVID-19 vaccines flew to destinations across the country via FedEx Priority Alert First Overnight. Each shipment included a FedEx SenseAware ID device to track its location in real-time.
On Monday, December 14 at 5:53 am eastern time, the first U.S. vaccine delivery was made to Boston Medical Group in Boston, Massachusetts by FedEx Express team member Christine Arigo.
"I talked to the courier in Boston, Christine, and she made the first delivery in the network, said FedEx CEO Don Colleran. "She said to me, Don, it reinforces who we are, it's what we do."
Shipping the Pfizer-BioNTech COVID-19 vaccine requires accuracy, precision, and temperature control since it must be kept at subzero temperatures of -90 degrees Fahrenheit. We are well positioned to handle these shipments with our temperature-control solutions, real-time monitoring capabilities, and a dedicated healthcare team to support the customs brokerage and express transportation of vaccines and bioscience shipments around the world. Our healthcare team is well-versed in the transportation and handling of vaccine shipments. We've shipped flu vaccines each flu season for the past decade.
Distribution of COVID-19 vaccines is coordinated by the U.S. Depts. of Defense and Health and Human Services, in conjunction with the Centers for Disease Control. At FedEx, a team was established to work with our healthcare customers and the federal government to oversee vaccine shipments. Playing a key role is Director of Government Sales Kirstin Knott. Now embedded as a liaison with the COVID-19 Rapid Response team at the Department of Health and Human Services, Knott looks back at that first week with clarity. "We were ready for this," explained the 30-year FedEx veteran who routinely works with the Department of Defense and has been to bases in Iraq and Afghanistan in her role. "Every package is important to FedEx but knowing that these deliveries would help society as a whole improve was special."
As the first week rolled on, a new wrench was thrown into the works. A nor'easter had been building its way toward the Mid-Atlantic states, eventually dumping a foot of snow. While states experienced widespread power outages and hundreds of reported road incidents, FedEx shipments of the Pfizer vaccine made it to their final destinations.
"This is where our contingency planning comes into play," explains Marcus Martinez Vice President of Global Control and Quality Assurance. "It's my team's job to deal with chaos, which usually comes during our peak season around the holidays or when a new iPhone comes out." But Martinez and his team had also been preparing for the vaccine rollout since late spring, joining planning calls with the government daily. And weather is a contingency his team plans for every day. They assure hubs and other facilities are ready to receive cargo and know how to accommodate when they're not.
The vaccine rollout was doubly challenging because it landed in the middle of the busiest peak holiday season in FedEx history. "The vaccine rollout is the longest planned contingency we've ever prepared for," Martinez says. "And very simply, we performed at or above any reasonable expectation of how that first week could go."
By the end of December 2020, we had delivered approved COVID-19 vaccines to all 50 states, Puerto Rico, the U.S. Virgin Islands, and Washington, D.C.
"This effort is among the most important work in the history of our company," said Martinez. "And FedEx is committed to delivering COVID-19 vaccines until this devastating virus is eradicated."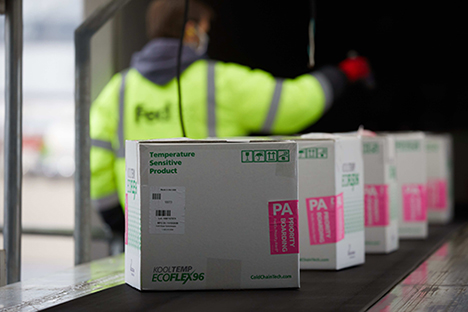 December 19, 2020: FedEx Express, a subsidiary of FedEx Corp. (NYSE: FDX) and the world's largest express transportation company, announced today that operations are in motion to transport Moderna's COVID-19 vaccines for McKesson Corp. throughout the United States. 
Following the Food and Drug Administration's approval of Emergency Use Authorization for the Moderna COVID-19 vaccine, FedEx Express will begin transport of the vaccine and kits of supplies for administration of the vaccine, using its FedEx Priority Overnight® service supported by FedEx Priority Alert® advanced monitoring. After months of preparation and close planning with McKesson, Operation Warp Speed and state and local officials, the COVID-19 vaccines will begin moving to dosing centers throughout the United States. FedEx continues to work closely with its healthcare customers on plans for additional vaccine shipments and the transportation of critical vaccine-related supplies.
December 11, 2020: FedEx Express, a subsidiary of FedEx Corp. (NYSE: FDX) and the world's largest express transportation company, announced today that operations are in motion to transport its first shipments of COVID-19 vaccines. 
Following the Food and Drug Administration's approval of Emergency Use Authorization for the Pfizer-BioNTech COVID-19 vaccine, FedEx Express will begin transport of the vaccine using its FedEx Priority Overnight® service supported by FedEx Priority Alert® advanced monitoring. After months of preparation and close planning with Pfizer, other healthcare companies, and federal and state officials, the first COVID-19 vaccines will move to dosing centers in the United States. Vaccine distribution will be balanced among major cargo carriers, and FedEx is working closely with healthcare customers to prepare for additional vaccine shipments and transportation of critical vaccine-related supplies.
July 27, 2020: Since March 2020, FedEx has worked closely with the White House task force, U.S. Dept. of Health and Human Services and the Centers for Disease Control to transport COVID-19 test samples from testing centers to labs for analysis throughout the country.
Experts agree that expanding testing availability and speeding up the turnaround of results throughout the country are vital to the fight against COVID-19.
In Texas, FedEx team members have been collaborating with local medical systems, labs and the government on solutions to expedite test results in their communities.
When tasked with coordinating test sample shipping and logistics in his community, Will Davis, operations manager for FedEx Express in Dallas, drove to the labs and testing sites to meet firsthand with the medical professionals at the points of pick-up and delivery.
"I went to the customer site locations as they were setting up," Davis said. "And then I brought that information back to my team and we collectively strategized and came up with a plan to accommodate the specific shipping needs." Davis, who has worked for FedEx for nearly 29 years, knew it was important to bring his team in early on the planning process to ensure everyone felt safe and comfortable.
The team, working hand-in-hand with the testing centers and labs, quickly designed and implemented a safe process for transporting the critical samples, with contingency plans in place to accommodate severe weather and other unplanned interruptions.
As spring turned into summer, Davis and his team adjusted operations and scaled up to safely accommodate more shipments in the Texas heat. This included inbound shipments from Houston and other parts of the country headed to labs in Dallas.
The team incorporated SenseAware ID technology for temperature control and real-time tracking of the shipments as they traveled by both air and ground from test centers to labs for analysis. "We know the technology well," Davis said. "We were involved with the beta testing."
The first-of-its-kind, sensor-based logistics device provides real-time awareness of a package location while it's in the FedEx Express network, from point-of-pickup to delivery. The company has spent more than a decade developing and testing the product, which started rolling out in the FedEx Express First Overnight network earlier this month.
"It's been great to see SenseAware ID in action during such an important time," he said. With these critical shipments under his care, he needed to know where they were at all times. "It went off flawlessly, to be honest," Davis added.
But the operation would not have been successful without constant communication and teamwork.
"It's a true testament to what FedEx can really do when times are tough and people are in need," said Davis. "Our folks stepped up to the plate and offered our services to be able to assist people. And that's why I'm completely proud to work for a company like this."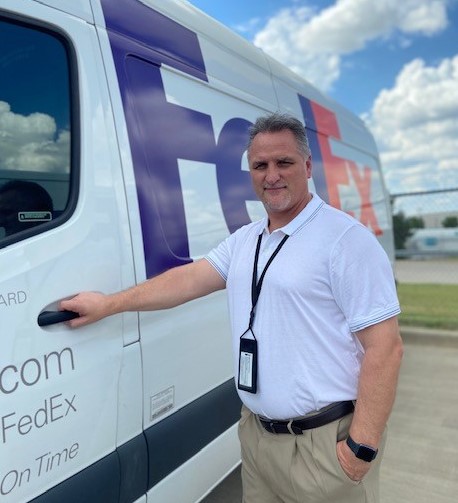 July 24, 2020: There's no doubt that air travel has changed.
In January 2020, skies were busy with well over 100,000 global commercial and cargo flights on a typical day.
Then in March, the COVID-19 pandemic grounded passenger travel to a halt, and once-bustling airports and runways had only a fraction of their regular activity.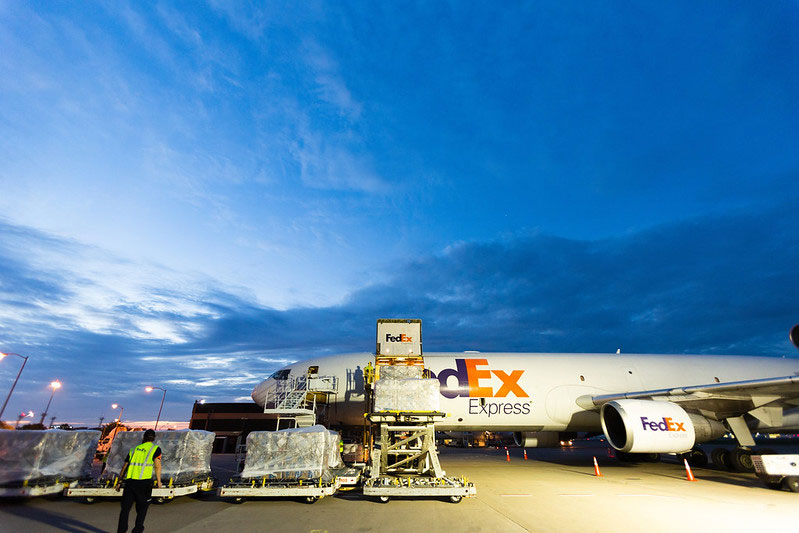 Despite the impact to passenger airlines, FedEx Express, with the largest all-cargo fleet in the world, was still flying. The FedEx global network became more essential than ever as customers needed supplies critical to the fight against COVID-19 to be moved as quickly as possible after they were produced and purchased.
"There was certainly less traffic in the air," said Captain Rich Huck, a Boise, Idaho based pilot for FedEx Express. "But what you really noticed when you'd land at these gigantic airports, from Seattle to Dubai to Anchorage, was all of the airplanes parked on the tarmac."
Anchorage, Alaska based MD-11 First Officer Eric Barlow remembers flying from Honolulu to Los Angeles and only hearing one other plane heading into LAX. "We didn't hear anyone else. It was pretty unusual for that airport."
As strains increased on essential supply chains, FedEx was matched with supply companies like DuPont to expedite the shipment of personal protective equipment to the United States as a part of a public-private partnership with the U.S. Department of Health and Human Services (HHS). Tyvek® protective suits produced in Vietnam that usually moved via ocean freight to the U.S. over the course of several weeks, were now being moved overnight on FedEx aircraft piloted by the company's essential team members.
First Officer Barlow piloted the first charter flight of Tyvek® protective suits out of Vietnam. The flight went smoothly and paved the way for weekly charters moving about 500,000 suits per week. So far, FedEx Express has helped transport more than 4.5 million Tyvek® protective suits to the U.S. for use by healthcare workers on the front lines in hotspots throughout the country.
"I didn't think about it much at the time because I was focused on flying into a new airport, but in retrospect it's nice to know you're hauling things that are important to keeping people safe," First Officer Barlow said.
So far, missions flown in collaboration with HHS; states like Arkansas, Illinois and New Hampshire; medical supply companies and other direct customers around the world have amounted to the movement of more than 31,800 tons of personal protective equipment between February and June 2020, with flights continuing to be added.
In addition to providing essential transportation of critical shipments around the world, FedEx team members worked hard to accommodate peak-like e-commerce volumes in the United States, as millions of Americans sheltered at home.
On one charter flight bound for Dallas, Captain Huck remembers taking a look at the payload he was carrying and feeling a sense of pride for his role in the fight against COVID-19. "I feel like I'm doing my part. It feels good to know you're bringing back PPE, as well as consumer shipments, to help keep first responders safe and the economy moving."
But like many of us on the ground, the pilots are ready for things to return to normal. When asked what they're looking forward to post-pandemic, both pilots said they're eager return to exploring the countries they visit and spending time outside hotel rooms during their layovers – perks that drew them to be international pilots for FedEx Express.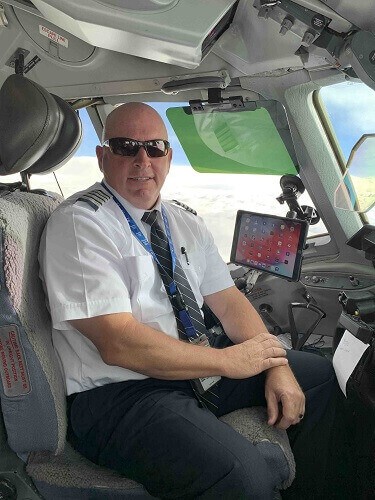 July 17, 2020: Le Bonheur Children's Hospital in Memphis, Tenn., began preparing for the COVID-19 outbreak in January. When new pre-screening measures were implemented requiring additional testing periods and limited access to hospital facilities, patient families suddenly found themselves in a bind with limited accommodations available. FedExFamilyHouse has always been a home away from home for families of LeBonheur patients receiving treatment, but COVID-19 brought new, unforeseen challenges. That's when hospital leadership leaned on FedExFamilyHouse to provide housing for additional out-of-town patients and help ensure families had a clean and safe place to stay free of charge.
Le Bonheur Children's Hospital, consistently ranked among the best pediatric hospitals in the country, implemented strict protocols to reduce risks of transmission of COVID-19. Prior to any medical procedure, all patients and family members were screened for COVID-19. Additionally, the hospital required social distancing, the use of masks and limited visitors, allowing each child patient to have one healthy caregiver accompany them. While necessary, these precautions meant that out-of-town families were faced with the burden of finding adequate lodging to safely meet their needs as they awaited COVID-19 test results prior to medical treatment for their child.
The Le Bonheur team quickly equipped FedExFamilyHouse so it could be used as a safe housing option for families traveling long distances for treatment amid COVID-19 restrictions. FedExFamilyHouse, which opened in 2010, was designed to provide housing support to pediatric patients and their families. While current visitor restrictions in the hospital are limited to one healthy caregiver per patient, FedExFamilyHouse allowed for an additional caregiver to travel and provide support in Memphis. This solution gave out-of-town families the opportunity to stay together throughout the entire process.

"We realize that children need to come to the hospital when they are sick, so we have developed protocols to keep the entire family safe while they are in our care," says Sara Burnett, director of public relations for Le Bonheur Children's Hospital. The hospital team has maintained these medical procedures while providing a sense of normalcy for overnight guests at FedExFamilyHouse.
The ongoing donor and community support for FedExFamilyHouse has benefited families in other ways as well. The team is now able to identify and provide for specific needs that have become an ongoing strain for out-of-town guests, such as individually packaged food and gas assistance.
No one could possibly understand the benefits better than Amy Gagel of Paragould, Ark., mother of a patient at Le Bonheur Children's Hospital. 
"I never have to feel alone in this journey," says Gagel.
While keeping to the hospital's one caregiver rule, Gagel is able to stay with her daughter and her husband at FedExFamilyHouse. From a fully-stocked pantry, to an exercise room, and even a facility that takes care of her family's laundry, FedExFamilyHouse is able to meet Gagel's needs, with the added convenience of being within five minutes of her daughter's hospital room.
"None of this would be possible without the amazing people who give financially to FedExFamilyHouse. Our family never has the burden of securing housing when at Le Bonheur," says Gagel.
To Gagel, her room at FedExFamilyHouse has become a place of relaxation and comfort, where staff have now become her friends, and emotions have been shared and supported by all. Most importantly, her family can travel and receive medical treatment without being separated.
"Staying at FedExFamilyHouse is more than a room to us," says Gagel, "…it's coming home."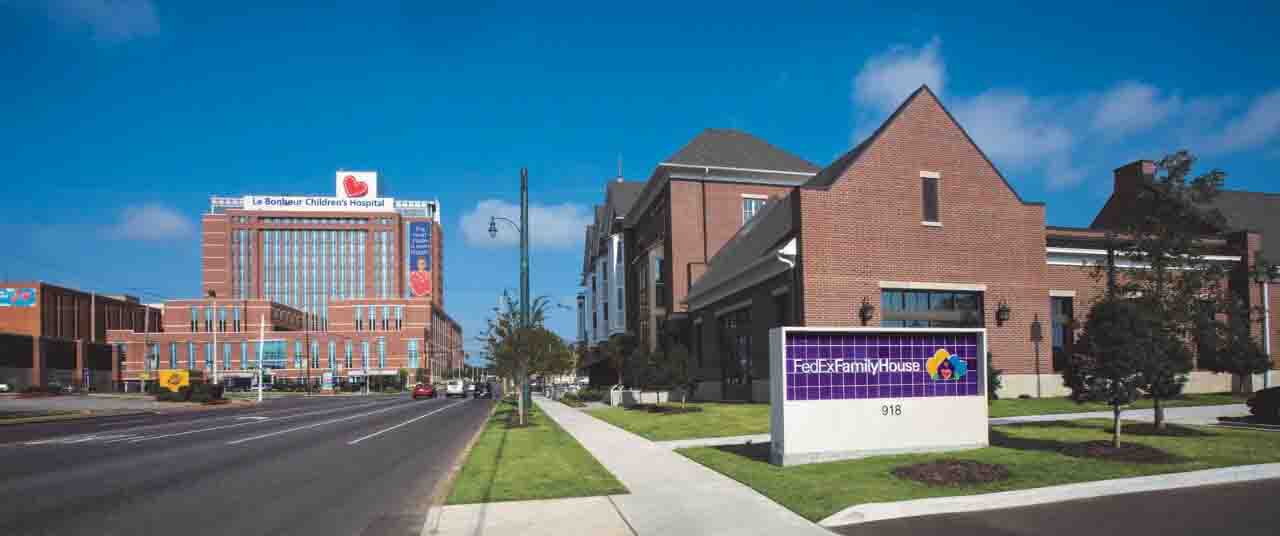 FedExFamilyHouse Photo courtesy of Le Bonheur
June 30, 2020: When Pratibha Singh and his cousin saw hundreds of migrant workers trying to leave Delhi overnight because of the COVID-19 lockdown across India, they realized they had to help. The sudden lockdown had halted public transportation, leaving migrant workers with two choices – starve or walk back to their hometowns, sometimes hundreds of miles away.
To learn what these men did to help during the pandemic, we caught up with Pratibha, a FedEx Sales Account Executive based in Delhi, India.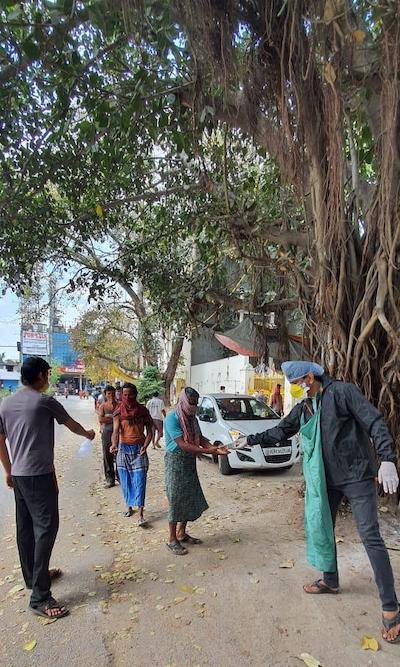 Pratibha's group delivers food on the street in Delhi.
FedEx: Tell us about the situation in Delhi.
Pratibha: Delhi is full of migrant workers because of the lack of job availability in their home cities. They are autoworkers, drivers, delivery people, cooks and people that work in manufacturing and other industries. These are people who work hard every day to support their families. Due to Covid-19 lockdown, they suddenly lost their jobs.
Like a lot of people around the world, many were living on daily wages, so when the work ran out, so did their money. This forced many people to head back to their hometowns and without public transportation; they had no option but to walk, sometimes hundreds of miles.
When my cousin and I saw people along the highway and they were starving, something clicked in us. We got some friends together and planned to distribute food packets along the road. Since the lockdown was in effect, we had to get special permission from the government authorities and follow all safety and social distancing guidelines.
Then we got to work and started delivering food.
FedEx: How did you start out? How was it funded?

Pratibha: When we started, my cousin and I used our savings. We started with INR 30,000, around 400 US dollars.
FedEx: The situation must have been very emotional for you to use your savings.
Pratibha: It's just that we saw people who were suffering and we started this. It's very simple. There is no big story.
FedEx: I think you're downplaying the impact you've made.

Pratibha: When you go outside and see people who have worked hard all their lives and have never asked for anything, crying because they're starving, that is all the motivation you need to donate what you have. I am very fortunate. I live in a house where I can afford three meals a day, but these people, they don't have anything. I think if we see people in dire situations, not helping would make us question our morals, not our bank accounts. They need us. That's what motivates us.
FedEx: So you started handing out food packets along the highway, but that changed, didn't it?
Pratibha: Yes, after a couple of days many people started gathering. The authorities didn't allow us to do it along the road because it was difficult for them to handle the crowds, so we started serving in a couple of different locations in Delhi, two meals a day, lunch and dinner.
Initially it was just the two of us, then a few more friends started to help. In the beginning, we were serving 500 to 600 meals a day.
Today, we have more than 10 people on our team and on average serve 1,000 meals a day in four different areas around Delhi. Most of us are still working, so we have a roster where we go out and serve and alternate taking time off from work to deliver the meals.
FedEx: Where did you get the money to keep this up?
Pratibha: We spread the news in our social media network and our friend circle, and people started donating. The response was very good from our friends and close family members. And word of mouth helped us a lot too. It wasn't just money, people and companies donated masks for us to distribute to help stop virus from spreading. I especially want to thank my FedEx family for being supportive in so many ways.
FedEx: You've served over 50,000 meals since the end of March, how does that make you feel?
Pratibha: Until we spoke right now, I had never done the math. (long pause) All I can say is it's a good thing. It's a good feeling, to be able to serve society and those in need.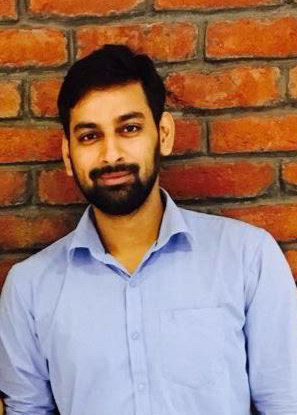 FedEx: With the difference you are making, will it be hard for you to stop?
Pratibha: We started on March 24, 2020 with the intention of stopping at the end of the lockdown on May 31st.
We chose to keep going because overnight you can't have money in the worker's pockets. It will take some time for the market to normalize. People will still suffer for months after the lockdown is over.
To help keep this going we have launched a website. We'll be continuing to serve the people in slum areas where they need food, education, and the other things like medicine. This has evolved into a project typical of a Non-Governmental Organization (NGO).
We are in the beginning stages and still have a long way to go, but we're not going to stop.
May 22, 2020: Sara Taylor had no idea what was in the box that she received from her college, accompanied by a note that read "Do not open until Saturday, May 16 at 2pm." But as a graduating college senior, she had an idea that it might just have something to do with the graduation that was originally scheduled to take place that day.
That was the day that Sara was set to get her degree in International Studies from Rhodes College. And of course it was before the COVID-19 pandemic caused college campuses to be closed and classes moved to online-only.
Millions of college and high school seniors in the class of 2020 are coping with graduation season during stay-at-home and social distancing orders prompted by the pandemic.
Graduations are being noted through video streams, virtual recognitions, small socially-distanced family celebrations, and many other ways.
The staff at Rhodes College got creative and sent out a sort of "Graduation in a box" to their 475 graduating seniors. Each box, delivered by FedEx to 22 states and as far away as Japan, contained a cap with tassel, a special print, alumni decals, and other celebration items. Also included is a fold-out print of the school seal, which allows a unique school tradition for graduating seniors to continue – walking across the seal on graduation day.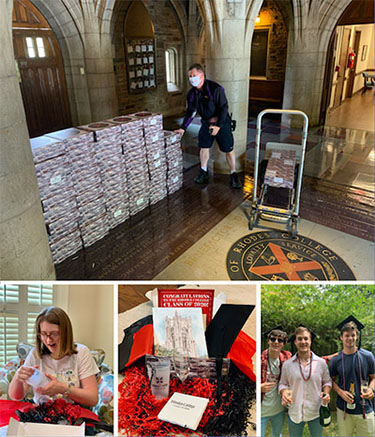 After opening her box, Sara said, "The ceremony we all worked so hard for was not to be -- but Rhodes made sure to provide us ways to celebrate, no matter how far apart we were. As a first-generation college graduate, I have been particularly heartbroken over the loss of such a momentous day for me and my family, but so many people came together to make me and the entire class of 2020 feel recognized and honored nonetheless."
At the same time, Nick Erickson, a Rhodes senior from York, Pennsylvania, was opening his graduation box. "Four years ago, I never would have pictured myself watching my graduation ceremony from the comfort of my couch. But I sincerely appreciate Rhodes and FedEx for their effort to give us a meaningful experience before our send-off to post-grad life. Opening the packages with my friends and sporting our new caps and Rhodes gear made the event exciting, and something I'll remember for many years after my time at Rhodes."
Graduates across the world are putting their creative juices to work in finding ways to celebrate their academic accomplishments, like the FedEx team members in Fort Wayne, Indiana, who recently donated items for graduating high school seniors.
Back at Rhodes College, the graduation box idea originated with Kim Bennett, the Director of College Events. Kim says, "You never outgrow the joy of receiving an unexpected delivery. Our goal is to honor the Class of 2020 and for them to know that even though we are apart, their classmates, families, faculty and staff are all coming to together to celebrate their accomplishments."
April 21, 2020: When FedEx was tasked with transporting COVID-19 test samples from testing centers to labs across the country, team members like Chris Coburn stepped up to ensure the safe delivery of the critical test samples in his community.
Coburn is the senior manager at a FedEx Express station outside Boston, Massachusetts, a metro area that was one of the initial East Coast hotspots for coronavirus. One of his responsibilities is to keep his team safe while on the job. While implementing social distancing and providing personal protective equipment to his team, Chris was also tasked with helping ensure the safe transport of test samples from a test site in his community to a nearby lab.

"For us, the most important thing was the safe handling of the shipments and the safety of our people," Coburn said. "We haven't really done anything of this scale or magnitude, so we wanted to make sure we chose the right vehicle for the shipments, the correct packaging and put the correct procedures in place for any time we had to put hands on these boxes."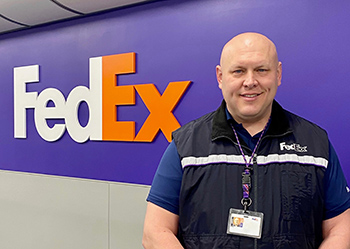 As the process was put in place, skills he learned in the past as a Federal Emergency Management Agency (FEMA) trainee helped him assess the situation from multiple perspectives. He spent time talking to everyone involved, from the priority alert team members, to his contacts at the testing site and lab.
Coburn designed operation logistics that would help prevent further outbreak of the disease and protect his team. For him, it was essential to understand the needs of people at each point in the delivery and testing process, before creating protocols in collaboration with the U.S. Department of Health and Human Services and FEMA that would keep FedEx team members – and the samples – safe.

"This is the type of mission that FedEx is great at," he said. "For us, there was a tremendous sense of pride that we were actually helping our community, our country, get back on its feet. The testing is an important step to identify who is sick and we felt like we were part of the solution early on."

The pilot operation successfully concluded for FedEx and the federal government in early April as the state of Massachusetts stepped in to handle continued testing, but the effects of the meticulous safety protocols Coburn set in place continue to have far-reaching implications for FedEx as other projects continue.

For him, the most gratifying part of the operation was that it went off without any major issues: "We took all these steps, in many cases going above and beyond, but we were able to get it all done, and do it well. Our safety protocols worked." 

April 17, 2020: With wider-spread coronavirus testing needed in cities and states across the country preparing to peak, Jami Clark — a FedEx Express Global Operations Control specialist, C-17 pilot and member of the Tennessee Air National Guard — took to the skies to pilot a joint overseas mission with the U.S. Armed Forces, transporting nearly one million test swabs from Italy in under 80 hours.
As parts of Italy began to slowly reopen, including areas where surplus test kit equipment is manufactured, Clark and her team began a mission to quickly move these needed supplies to the United States. Over the course of the mission, Clark and her crew traveled from Memphis, Tenn. to Germany, handed the plane off to another crew who flew from Germany to Italy and back with supplies while she and her team rested, then Clark piloted the final flight back to the U.S.
Moments after landing back in Memphis, a FedEx team was waiting to sort and distribute the test swabs to ensure the precious cargo could be quickly delivered to eager recipients in throughout the country.
"Folks are getting the supplies they need: the testing swabs, the [personal protective equipment], the masks—any number of items that we're bringing in, they are getting them overnight," Clark said moments after her plane landed last week. "We're working so we can get answers to this pandemic and try to beat it."
Though exhausted by this mission — and the stress that resulted from such a high-stakes operation — the team remained in good spirits thanks to the encouragement they received from both the public and private sectors.
"Everything that we've seen from every crew member and team member here at the [National Guard] and FedEx is a positive attitude, and that keeps us going," Clark said.
While this was Clark's first flight assignment of this kind, she suspects it will be just one of many upcoming undertakings between FedEx and the National Guard to support the fight against COVID-19. And having served both organizations for more than 10 years, Jami is grateful for the opportunity to do her part in the broader pandemic response.
"It's an absolute honor and privilege that both FedEx and the [National Guard] have allowed me to be a part of these missions," she said. "I've trained for it and it's what I love to do, so it's the ultimate honor and privilege."
May 6, 2020: FedEx Freight driver Sarah Fiske is no stranger to making special deliveries. During the holiday season, Sarah and her husband Chuck, also a Freight driver, are two of Santa's biggest helpers by dressing up like Mr. & Mrs. Claus to help get gifts for Toys for Tots and delivering Trees for Troops. But the fun doesn't stop after the holidays. For over 16 years, Sarah has been sending postcards from her travels on the open road to Avon Elementary School.

"We're from a small town, so I love to show the kids what's out there. I want them to see and learn about other parts of the country," says Fiske, who adds, "people that got my postcards as children now tell me their kids are getting them."
With schools closed for the rest of the year, Sarah wanted to keep the tradition going. Check out the video at right to see what she's doing. A big hint: her hand may be getting tired.
May 4, 2020: While the coronavirus has taken hold of many major metropoles, the disease has also stunned smaller cities in rural pockets of the U.S. Take, for example, Albany, Georgia, a city approximately 200 miles from Atlanta in the southwest corner of the state; the area recently received national attention after two funerals were believed to have sparked a COVID-19 outbreak that has made Albany one of the worst virus hotspots in the country.
But when the coronavirus White House Task Force asked FedEx for help transporting COVID-19 test samples from drive-thru testing centers to labs in under 24 hours in March, team members at the company's Albany facilities jumped into action. In fact, courier specialists Nickolai Oakley and Michael Evans went above and beyond the operation's call, driving from one end of Georgia to another to ensure just one packet of tests from the city would be delivered to the lab on time.
"Mike had handled the operation from early in the morning to the evening, so my job was really the easy part," said Oakley, who was the man behind the wheel. "Once I got the package, I knew where the Atlanta ramp was, so it was nothing — we just made it happen."
"It was seamless," Evans added. "We just wanted to make it happen for the customer and for the community — for Albany."
Albany's recent struggles are reflected in COVID-19 statistics for Dougherty County. According to the Georgia Public Health Department, the county has logged more than 1,400 confirmed coronavirus cases and surpassed 114 deaths from the disease as of April 29. Most significantly, however, it has one of the state's highest confirmed case rates per 100,000 persons, an impact felt by all. 
"For the most part, Albany isn't a big city, so we have been affected more closely," Oakley said. "There's been a lot of heartache lately, so we just wanted to do our part in the Albany community by helping these test samples get to where they had to go."
With testing such a crucial part of the coronavirus equation, Oakley, Evans and the rest of the FedEx team are hoping their contribution plays a role in stopping the spread and getting individuals the help they need.
"I think more people being tested will help us find solutions for this problem," Evans said. "The more people that are tested, the better off Albany will be as a community because they will know who has COVID-19 and who doesn't to keep people safe."
Oakley's and Evans' recent efforts are a demonstration of FedEx's Purple Promise at work: doing what is necessary to deliver the package on time in an efficient and timely manner. Having each spent more than 15 years at the company mastering this mission, both men are now managers, setting a strong example for their team during a trying time.
"FedEx looks out for their communities that they're in and they help people all around the world," Evans said. "So that's what we wanted to do—to just make a small dent—you know—to make something happen."
"We love our jobs and are grateful for the opportunity to be in this position to support other," Oakley said. "We're very blessed."
April 20, 2020: "I can build one of those things myself."
That's what went through Shawn Yarbro's head when his wife, a nurse, told him about the need at hospitals for something called an intubation box. It's a shield of sorts, for protecting healthcare workers from infection while performing the process of intubating a patient.

A high percentage of COVID-19 patients require this procedure in order to clear their airway so they can breathe. And it's a pretty risky process, exposing hospital staff to a risk of infection.
Shawn, a FedEx aircraft mechanic for 31 years, put his engineering skills to work, building an intubation box based on a video provided by Dr. Imad Omer, an infectious disease doctor in Memphis, Tennessee.
Joined by his son Logan (also an aircraft mechanic who just started with FedEx in the last month) he designed a process and built the first two intubation boxes in a single afternoon.
Shawn describes the process, "I'd been sent plans that involved using a million-dollar piece of equipment, which I don't quite have in my home shop. So, we went down to Home Depot, bought some Lexan—similar to plexiglass—and got to work."
After delivery to Baptist Memorial Hospital-Memphis, the box was used twice in the very first night.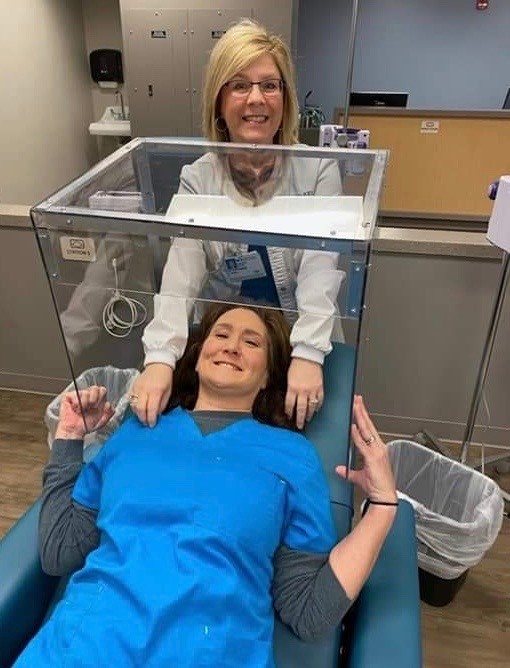 Reports of the intubation boxes' effectiveness spread quickly. Shawn's daughter is a nurse at St. Jude Children's Research Hospital, so she took a box there. Yarbro has since been asked to make 20 more intubation boxes for other hospitals, including some for locations in neighboring Mississippi.

True to their FedEx spirit of continuous improvement, Shawn and Logan started looking for enhancements to their process. They quickly built intubation box 2.0 that has fewer pieces and is easier to keep clean, and version 3.0 is in the works.
"This is a tough time for our country. Everybody needs to band together and do what we can to help," Shawn said.
April 17, 2020: "It's what we're raised to do."
That's how husband and wife duo Sammy and Martha Garner explain their work. The Laurel, Mississippi, natives, both FedEx Custom Critical team members, have been on the road throughout the U.S. and Canada, making deliveries during the COVID-19 outbreak. But the pair didn't hesitate to answer the call when local help was needed.
After receiving a request to deliver meals to students in need, 59-year-old Sammy and 50-year-old Martha did what they do best: give back. The Garners headed to Memphis, Tennessee, where a local outbreak of COVID-19 forced the county-wide school system to halt meal delivery to students. That disruption in service prompted quick action by the YMCA of Memphis and the Mid-South, who immediately took over the meal program to organize and distribute to those in need.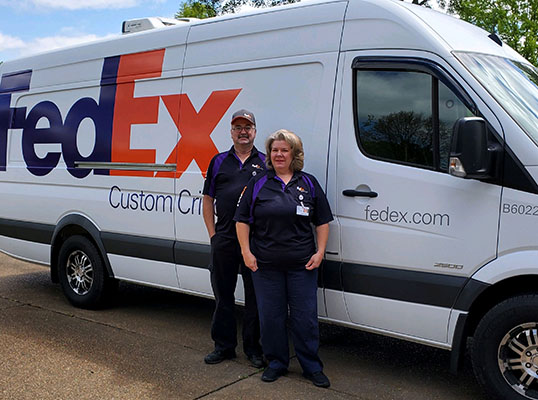 The Custom Critical team reached out to the Garners, who were on a nearby delivery, to see if they could help. The couple, eager to answer the call, fully understood the importance of critical deliveries. "We're used to handling direct shipments that have to be kept at certain temperatures, focusing on one customer at a time so there aren't any distractions," said Sammy Garner.
The Garners travelled to meet with the YMCA. "We loved that we could be a part of helping the community but owe a lot of that success to the YMCA. When we met with the organization, we could tell there were many sleepless nights put into this operation," said Garner.
Without the original structure of the school system's nutrition and transportation services, the local YMCA needed to coordinate delivering meals in a safe and immediate manner to as many as 105,000 students in Memphis. FedEx supported these efforts by equipping the team with an additional 26-foot truck that served as a distribution center, and the smaller van the Garners operated.
"It was really helpful for us to have a mobile storage area that was refrigerated, which could deliver from production to service while keeping meals fresh," said Erik Houston, Executive Director of YMCA of Memphis and the Mid-South.
And as for the Garners? "Top Notch," said Houston.
"The Custom Critical team was responsive to our needs and equipped us to service areas of our city that would otherwise be inaccessible to us. FedEx was responsive and able to adapt quickly, even when our routing needs changed daily," said Houston.
The Garners delivered a thousand meals a day while working their route, although they have now been called elsewhere. The ongoing operation by the YMCA has grown to serve 9,000 meals a day at 65 sites across Memphis to provide meal service to support entire families in need.
That outreach left a lasting impact on the Garners, who are grandparents to five little ones at home. "Seeing the children we served really made this work worthwhile. We don't always get to see the end result of our deliveries, but connecting with families felt like a little bit of humanity was back to normal."
"If we can help our community in a small way, then hopefully they can pay it forward," said Garner.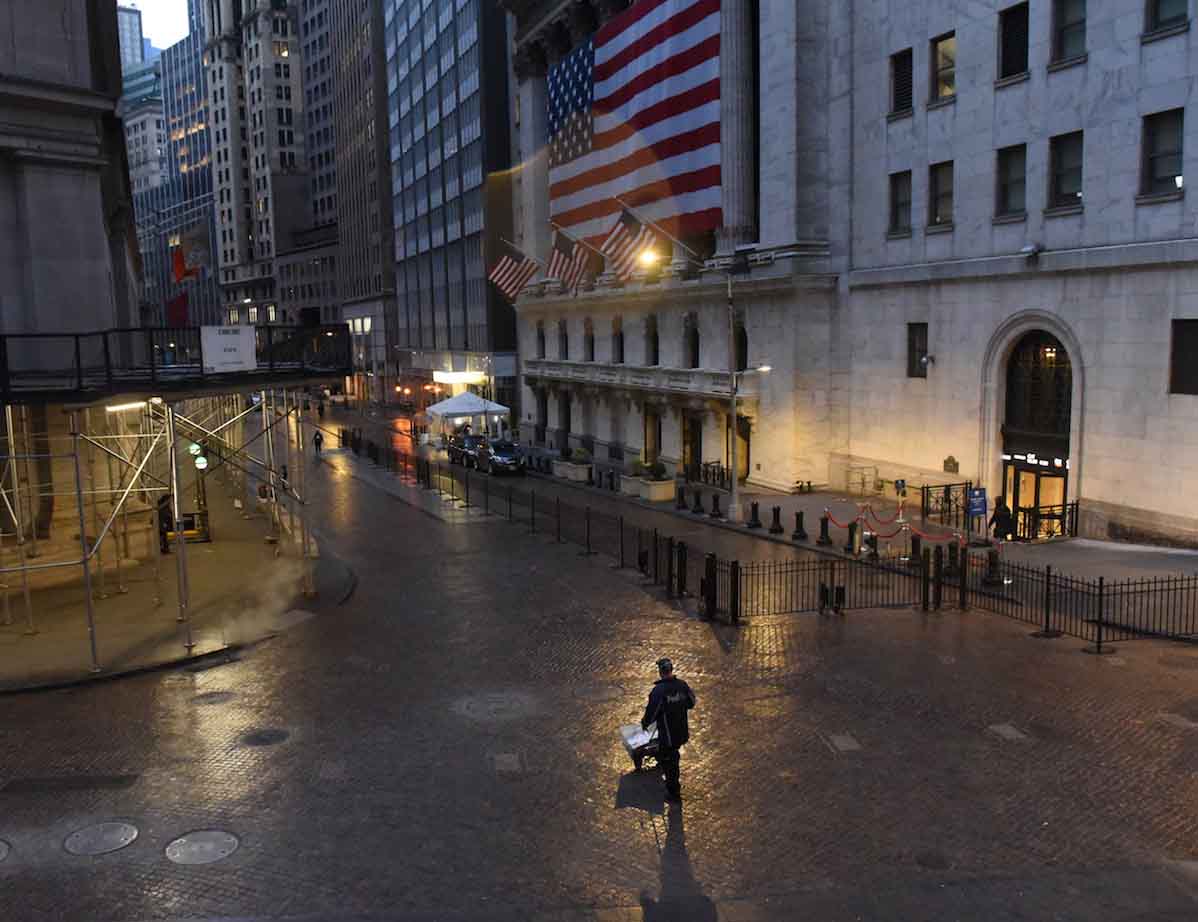 April 8, 2020: To our 475,000 team members around the world, thank you for continuing to deliver for our customers and communities. Whether it is life-saving medical supplies, essential business items, or critical materials needed during shelter-in-place orders – team FedEx is delivering. It's in our DNA.
For 35 years Lenny Vitello has traversed the streets and alleys of lower Manhattan on foot, delivering FedEx packages.
He's seen just about everything over those years. He was here during the horrific attack in September 2001 and the national unity that followed. He resiliently weathered the loss of possessions to Hurricane Sandy (his FedEx station was destroyed in that storm as well.)  He's steadfastly navigated blackouts, snowstorms, parades, and protests.
But this is different. The coronavirus pandemic is impacting the planet in previously unimagined ways. Lenny says, "There's been nothing like this. The trains are empty. You just don't see anybody."
Lenny is on a first-name basis with a lot of the people on his route, and they are all taking their own precautions like leaving boxes outside for deliveries, wearing masks, and maintaining social distance guidelines.
Recently, while delivering First Overnight packages on Wall Street at about 6:45 a.m., he was captured in this iconic photo. Lenny was doing what he always does – connecting his customers with consistency and personal dedication.
He never even saw the photographer.
April 8, 2020: As demand for personal protective equipment (PPE) and other medical supplies has grown throughout the United States, FedEx team members have been working day and night to coordinate the logistics and transportation of these critical shipments. In the past week, FedEx contracted with the U.S. government to streamline shipments from around the world, through an effort known as Project Airbridge.
Coordinated by the U.S. Dept. of Health and Human Services (HHS) and the Federal Emergency Management Agency (FEMA), the goal of Project Airbridge is to expedite the shipment of personal protective equipment and other supplies critical to COVID-19 relief efforts by fast-tracking shipments via air cargo, instead of traditional ocean shipping.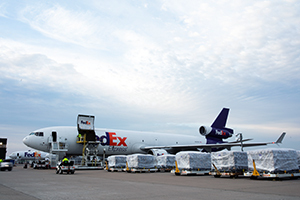 This week, FedEx Express delivered its first shipments as a part of the program, flying PPE from manufacturers in and around Hanoi, Vietnam; Kuala Lumpur, Malaysia; and Shanghai, China, to the United States. Upon arrival stateside, these shipments are added to the U.S. Strategic National Stockpile. The FEMA Movement Control Team then manages distribution to healthcare facilities and workers throughout the country.

Two of the initial shipments were coordinated with DuPont and included more than 450,000 Tyvek® protective suits.
"We are proud to be a partner in Project Airbridge with the U.S. Department of Health and Human Services and FedEx to help expedite the delivery of Tyvek® protective apparel to the frontline responders who need it most," said David Domnisch, Global Business Leader, DuPont Personal Protection.
In the weeks ahead, DuPont expects to ship more than 500,000 suits each week to the U.S.
Chartered FedEx Express flights from Malaysia and China also contained more than 7 million facemasks, additional PPE and anesthesia supplies being brought by Medline to the United States.
"Medline is grateful for the dedication and courage of the frontline healthcare workers responding to the COVID-19 pandemic. We are working tirelessly to address PPE and medical devices shortages," said Medline Executive Vice President of Global Operations Bill Abington. "Through Project Airbridge, FEMA's leadership and partners such as FedEx, Medline is cutting out four to five weeks of time it would take to get product from the manufacturing line into the hands of healthcare providers across America."
The operation is an example of the extraordinary collaboration between team members from FedEx Express and FedEx Logistics since the onset of this pandemic.
"There is an urgent need for PPE, not just for our brave healthcare workers but first responders, law enforcement and other essential workers as well. FedEx Express team members take pride in doing their part to support relief and recovery efforts during this crisis, and we commend the work of the U.S. Department of Health and Human Services and companies like DuPont and Medline for their outstanding commitment to serving these needs" said Don Colleran, President and CEO of FedEx Express.
"I am very proud of the FedEx Logistics team for collaborating with FedEx Express to make this happen. Utilizing our network to support critical need is who we are and what we do, said Udo Lange, President and CEO, FedEx Logistics. "From pick-up and break-down, to document preparation, export and import clearance, cross-docking and storage, the FedEx Logistics teams used our vast expertise to ensure critical PPE is available for use around the country."
FedEx will continue to support Project Airbridge in the weeks and months ahead, as a part of the company's broader commitment to provide transportation and logistics support to COVID-19 relief efforts. 
March 31, 2020: The first delivery of medical shelters arrived at a community hospital in South Los Angeles last week that is preparing to deal with a surge in COVID-19 patients to its already-busy emergency department.
But more help was needed.
Los Angeles County has become the epicenter of the virus in California, with more cases than any other county in the state and the most deaths. To help area hospitals deal with the crisis, FedEx, in collaboration with International Medical Corps, is delivering two additional mobile health facilities — one of which has already arrived and been deployed at Los Angeles County + USC Medical Center, and the other being set up April 1 at Olive View-UCLA Medical Center.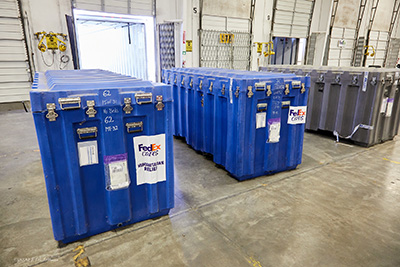 The mobile units join facilities that had already been delivered by FedEx to Martin Luther King Jr. Community Hospital, which operates in one of the most medically underserved areas in the nation and has been taking proactive measures to prepare for an increase in patients due to the spread of COVID-19. Here, the facilities are helping the hospital, which serves an area of 1.3 million people, manage patient flow, triage and treatment.
"FedEx's support is crucial, enabling International Medical Corps to immediately deploy medical shelters and supplies to help meet needs across hospitals in Los Angeles, as they prepare for the surge as a result of the COVID-19 pandemic," said Ky Luu, Chief Operations Officer for International Medical Corps. "Their assistance helps our teams get critical equipment at a moment's notice to those who need them."
It's not the first time FedEx and the International Medical Corps have worked together. In 2018, FedEx shipped supplies to the Democratic Republic of Congo to help fight Ebola. And just last year, FedEx planes transported medical supplies and a health facility to Grand Bahamas island, which had nearly been leveled by Hurricane Dorian.
The health facilities can be fully operational 48 hours after a major disaster hits anywhere in the world. When fully deployed with all units, the hospital has a 60-bed capacity, 12 medical shelters that take up the length of the feedback field and weighs some 50 tons.
FedEx logistics experts worked with International Medical Corps to make the field hospital even more flexible, to support varying levels of disasters, and the company provides warehousing for the hospital near its Memphis Hub. This location, where the company's fleet of aircraft is based, enables the rapid deployment of individual health facilities or the hospital in full.
"Now more than ever, a quick response is needed to deliver resources where and when they are needed most, and that's exactly what we did in partnership with International Medical Corps," said Adrian Pomi, Director of Global Citizenship at FedEx. "We swiftly mobilized our global network to deliver their mobile health facilities to the LA community, to help with the surge patients battling COVID-19. This is who we are and what we do best."
March 27, 2020: In mid-March, as coronavirus testing began across much of the country, a nimble network of FedEx team members sprung into action to answer a call from the White House Task Force to transport COVID-19 test samples from test sites to labs for analysis.   
In less than 24 hours, FedEx designed pick-up and delivery operations to move more than 20,000 COVID-19 test samples from 50 test sites in a dozen states to labs in ten states for analysis. It all occurred over a weekend when people are typically not working, and included 28 flights, 40 trucks, and countless team members.  

The initial operation was successful, and FedEx is now scaling up as Task Force testing centers expand throughout the country. Working with different government agencies from the onset, FedEx is now well versed in compliance with the regulations and rules for transportation of COVID-19 test samples.  
It all began with a text to Sam Smith, FedEx Government and Regulatory Affairs, from a former colleague who now works in the Administration. After further discussions between Gina Adams, Corporate Vice President of Government & Regulatory Affairs, and the Administration, an all-hands-on-deck operation was activated by FedEx Express team members in a matter of days to execute the transport of the first test samples from drive-thru test centers to labs for analysis.  

"They asked if FedEx would be willing to step in," Smith recalls. "And of course, our entire team was willing to do whatever possible." 

A team co-lead by Joe Stephens, FedEx Express Senior Vice President of Global Engineering & Business Transformation, and Frank LeRose, FedEx Express Senior Vice President of Global Support Services, set to work designing a plan to ship the test samples. 

Because FedEx already works with some of the largest private testing labs in the country, the company stood ready to move these critical shipments on short notice with Priority Alert monitoring, temperature-controlled shipments, and advanced SenseAware tracking technology. 

The unique importance of the task at hand did not escape the team. "This is a true-life situation for a lot of people, where the purpose of this mission was a goal well above business," said Bobby Dunavant, Managing Director of FedEx Express Global Operations Control. "We knew, if this comes out well, it's possible we can help stop the spread of this virus."  

Team members went above and beyond the call of duty: running routes, teaching public health officials how to package appropriately, advising the Task Force on network capabilities and safety protocols. And when the time came to activate, the team was ready.  

"Under a normal timeframe, we have a couple of weeks to plan something of this magnitude, but for this it was only a matter of hours," said Mike King, FedEx Express Managing Director of Operations Planning and Engineering, who was one of five FedEx Support teams who helped manage the project. "It was complex, things were constantly changing, but it was folks' can-do attitude and skill sets that made it happen… everybody knew what was at stake."
FedEx is positioned to flex its network to accommodate the critical transportation of test samples, and is also working closely with the labs to adjust pick-up and delivery times so as to not overwhelm them with samples.  
"The FedEx team has been outstanding in responding to these complex requests," Smith said. "No other company could do what we are doing to support these efforts and we will continue to work hard on whatever unique challenges lay ahead." 
And FedEx team members are making it happen.  
"What differentiates us is our people and I am incredibly proud of our team at FedEx Express for executing such a critical operation," Stephens said. "Everyone is committed to collaborating, no matter what it takes. Our team members are eager to play their part to help those in need. This certainly would not have happened without Doug Jones, Marcus Martinez, Christopher Coburn, Mike King, Karl Lindsley, Bobby Dunavant and Brad Wilson."