Packing Checklist: How FedEx Office Packages Items for Shipping

This is what we use to expertly pack your shipments.

The pros at FedEx Office know how to pack your items for shipping in a way that will help ensure everything arrives in the same condition that you sent it in. We are passionate about our service, and we take the responsibility for what we pack very seriously. That is why we only use the best packing materials. Check out what we use to secure your items for shipment so you can send them without worry.

Securely wrap your items.

We start by properly securing your item. Whether it requires sheets of packing paper, bubbles or our expanding foam, our experts are able to use the right supplies to help ensure your item avoids any damage while in transit.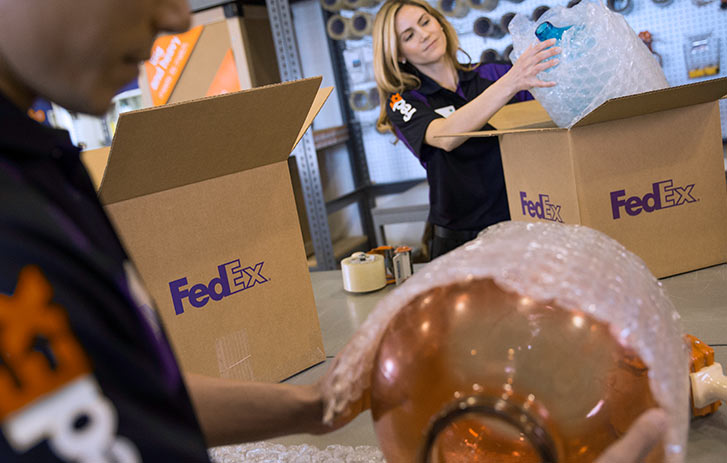 Choose the right box.

A box consists of more than just six sides of cardboard. Size, shape and material are all factors in choosing the right box for your item. It needs to simultaneously allow for cushion and support. It must be sturdy enough to support your item's weight. We also make sure the box we use is not too large, because not only will that increase your risk of damage, it will increase your shipping cost as well. There are a lot of things to consider when choosing the right box, and our packing pros are box experts. In fact, if we can't find the right box for your item, we will make one!

Filling the empty space around your items

Now that your item is securely wrapped and the perfect box has been located and assembled, it is time to fill in the space between your item and the box walls. This provides cushion and security for your item to withstand the bumps in the road that are part of any transit. At FedEx Office, we use a lightweight paper material that keeps your item in a secure position and in good condition. And as part of our EarthSmart® commitment to sustainability, it is also 100% recyclable. For items that need a bit more of a snug, custom fit, we utilize a handy little product that forms a foam shell around your item, molding itself to your item's shape. It then hardens and you have a sturdy, custom case for your item.

Properly taping your boxes

You know you need this package to go from point A to point B, so you walk into a FedEx location. The helpful team member then asks you which shipping option you'd like to choose. "Options?" you ask yourself, a bit overwhelmed. "I just need it to go from here to there on time and for a reasonable price." 
We want to break down all of your FedEx® shipping options so that you can choose the best one for your needs and save some money along the way.
Check out these helpful resources