Establish an international returns policy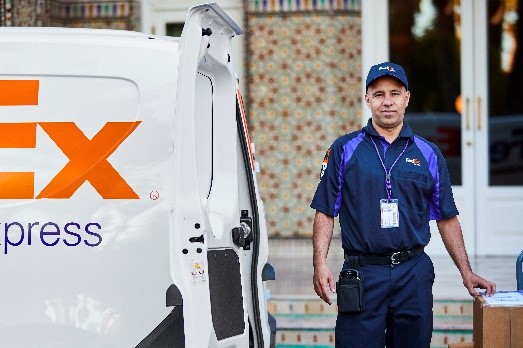 Small businesses shipping internationally drive sales by keeping pace with shifting consumer shopping trends and broadening their base. After all, 70% of global purchasing power comes from countries other than the U.S. However, there are also returns where there are sales. This means it's essential to have an international return policy and return-shipping solution when fulfilling cross-border orders. Returns also influence customer behaviors; 96% of customers will shop with a retailer again based on an "easy" or "very easy" return experience. Learn how to establish an international returns policy for your business by understanding what drives customer returns, how to handle duties and taxes, and more.
How small businesses may reduce customer returns
There are many reasons why customers make returns. Understanding these can help your small business reduce costly and time-consuming international returns by taking proactive, preventative steps.

Establish quality control procedures: The number of consumers returning defective or damaged items more than doubled between 2017 and 2019, going from 12% to 26%. Simply having a procedure to inspect items before shipping can save time and money down the road. 
Ensure detailed product descriptions: In just two years, the number of returns based on a reason of "not as described" doubled. Ensuring your website features high-quality images and accurate descriptions is an investment that can pay off with a lower return rate.  
Employ fit technology: Trends show that online consumers are making the final decision to purchase something once they have seen it in person. The solution: 81% of consumers think improved fit technology and size guides would reduce their return rates.  
Establish a prompt return timeframe: The longer a customer has a product, the less sense of urgency they feel to make the return. Some experts believe businesses with longer time limits on returns see fewer of them.
Creating an international return policy
Consumers desire a clear return policy when purchasing. More than half say they want a hassle-free return policy and 49% of consumers stated poor returns options dissuaded them from ordering online.
Apply transparency in your return policy: Defining the terms and setting expectations is vital when establishing an international return policy.

The products a small business sells will impact the policy. For example, customers shopping for items like clothing, footwear, and toys may want a more flexible return policy, while brands selling higher-value goods might have more restrictive options.

Considerations for creating an international return policy include: 
Use plain, easy-to-understand language and avoid legalese, and jargon. Ensure your return policy is also translated into local languages for the countries to which you're selling.


Prominently display your return policy on your website and include it on your packing slips. 


Refund or replace products that arrive damaged for free.


Implement an extended window (compared to domestic customers) to make returns. A 2017 study found that customers expect at least 30 days to return an online purchase so consider extending further to account for longer shipping times. 


Establish a process to collect data on the reasons for returns and take steps to mitigate them. 
Understand local regulations: Different countries have different regulations regarding returns. In one instance, a U.K. business must issue a refund if a customer requests this within 14 days of receiving the order. Others might offer free returns within 30 days of when the order shipped.
Consider the return process for lower priced items: International shipping is expensive, and in some cases, the cost of facilitating a return can exceed that of the item. Some businesses find it more cost-efficient to write off lower-cost goods rather than returning them.
Taking care of taxes and duties
One of the greatest challenges small businesses cite when dealing with international returns is managing taxes and duties. This is because different countries—and even states, provinces, republics, and territories—have unique tax laws. Failure to properly account for taxes can cause a shipment to be delayed or, worse, confiscated.
In some cases, taxes can be a straightforward process. For example, goods under 40 CAD shipped from the U.S. into Canada are not subject to taxes or duties. Others can be more complicated, making tools like FedEx's Global Trade Manager (GTM) invaluable for estimating these potential fees. 
How FedEx can help with international returns
Cross-border transactions can be more regulated, complex, and expensive than their domestic counterparts. The closer a small business can come to mirroring a domestic experience for international shoppers, the greater success they're likely to encounter. FedEx provides various return-related services so small businesses can easily meet the specific needs of their customers.
FedEx Package Returns Program (PRP) allows international customers in Canada to send packages back to U.S.-based businesses, with the company covering the shipping expense.


Remote Pickup Inquiry (RPI) enables businesses to authorize FedEx to pick up items from customers and bill businesses for the service.


Editable international return shipping labels are customizable and let customers return almost any order—for example if they ordered three items and only want to return one item.

FedEx can also help small businesses control the expense of printing international return labels and refunds by allowing them to choose faster transit times. This way, they can get in-demand items back into the inventory and slower, more cost-effective travel times for lower-priority stock. 


Documentation: Sometimes, a mistake as simple as incorrectly writing an international return address can lead to delays and unexpected costs. However, with the FedEx Global Trade Manager (GTM), shippers can find the necessary forms to make this component of the shipping experience as seamless as possible.  
Digital tools: An additional resource is the FedEx Electronic Trade Documents (ETD), which lets customers submit customs documents online—saving time and reducing errors. 
A strategic approach combined with a partnership with FedEx can help ease some of the unique overseas-related challenges and unexpected expenses.
Related reading