Communicating with customers in times of disruption
Anyone running a business has seen the importance of communicating with customers in ways that build affinity, trust, and repeat purchases. In a world with a lot of new norms, customer communication requires a thoughtful, proven approach.
As you reconsider your communications strategy in this new environment, there are still a few golden rules you can lean on to protect your brand's reputation and your relationships with customers during a time of disruption.
1. Understand how your customers have changed
Many consumers are thinking and acting differently when it comes to purchasing decisions. Consider what you can do to better understand how your customers are thinking, feeling and acting.

Now may be an ideal time to conduct a survey and closely audit your inbound communication channels. As you do, ask yourself what should change and what should stay the same based on how your customers' perspectives have shifted. It could be something as simple as tweaking your return policy for a time. Whatever you do, be sure it's based on the reality your customers are facing right now.
2. Overcommunicating is better than under communicating
Proactive communication can go a long way to resolving problems before they ever start. You shouldn't assume your customers are aware of the issues your business or industry are facing and silence can make people uneasy.  
Telling your customers about potential disruptions in service before they make a purchase can help set expectations. When possible, provide detailed updates and tracking information after purchase. Let them know specific ways your business has been disrupted and what specific actions you're taking. Customers will appreciate and respond positively when you can show you've done all you can, and proactive communication can be the path to making things right.
For example, Butcher Box, a meat delivery subscription service, set expectations with an immediate message right on their homepage: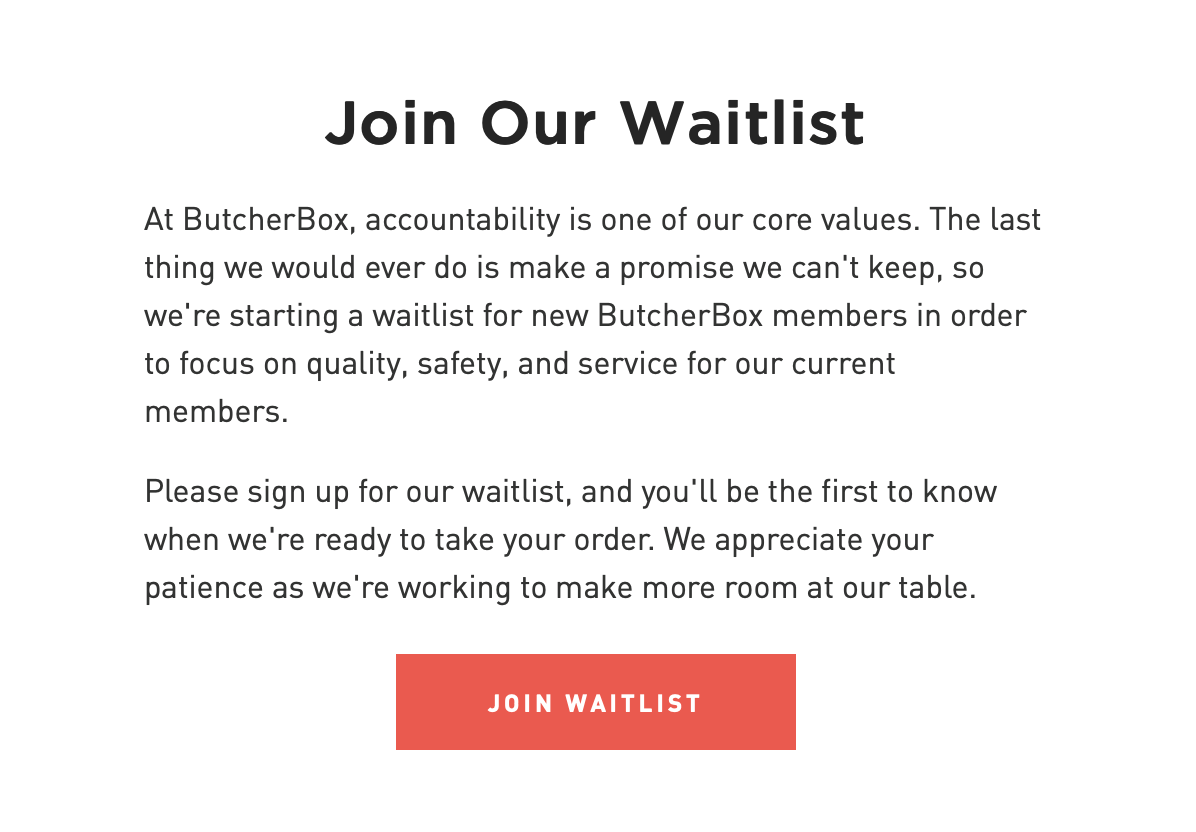 Rather than taking on every possible customer and risking delays and other issues, Butcher Box started a customer waitlist and clearly communicated why they did this. By managing customer expectations this way, they protected their own reputation, managed their supply chain and distribution channels to avoid being overwhelmed and build trust with their prospective customers. 
3. Lead with your values
It's okay to share good, positive news about you, your business, your employees or your community. Some small businesses are sharing how they've been helping first responders, their efforts to provide for their employees or giving back to their communities in a way that is authentic to their business. The key is to understand your customers and what they will positively respond to. Of course, anything you say needs to be handled with care, and appropriate for the moment
. 
2020 FedEx Small Business Grant Winner, Waterlust, which makes eco-responsible apparel, decided to make and sell masks at cost with nothing more than a desire to use their resources to help. Although it wasn't their goal, they saw a significant jump in adjacent online sales as soon as they shared the news online and via social.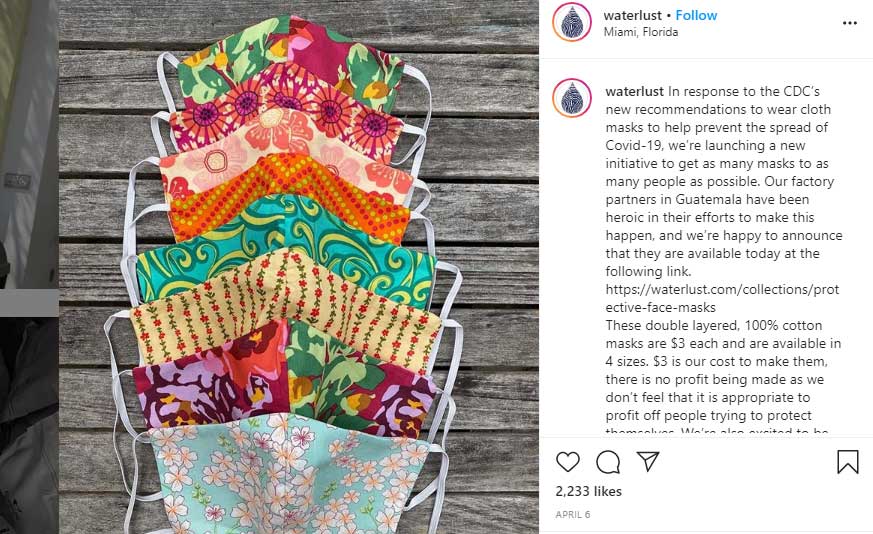 4. Look for new ways to communicate with current and potential customers
Many small businesses have used this time to try out new forms of communication and offer new services to continue to reach their customers and provide value.  One good example comes from another former FedEx Grant Contest Winner, SuitShop. Since their product is dependent on wedding events, they've had to pivot their offering for those now planning weddings from home. They launched a new virtual meeting option allowing customers to schedule a planning appointment online, helping meet the need in this moment and stay in touch with their customers.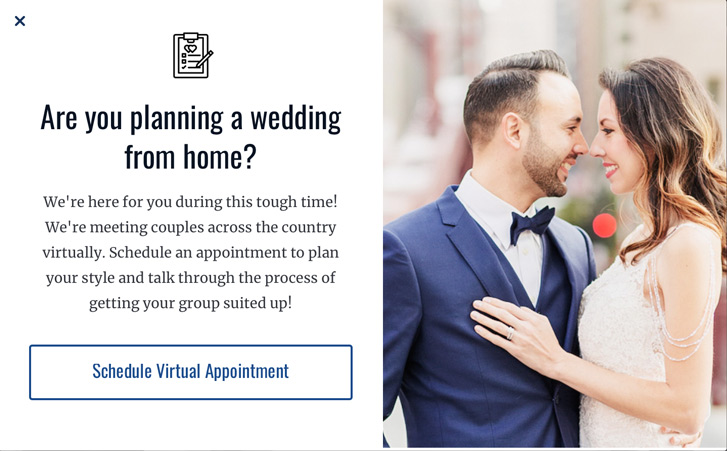 Dauntless Wine Company is another FedEx Grant Contest Winner who decided to offer their customers alternatives including free delivery, complimentary shipping and contactless curbside pick-up. They communicated their new service to customers front-and-center on their homepage.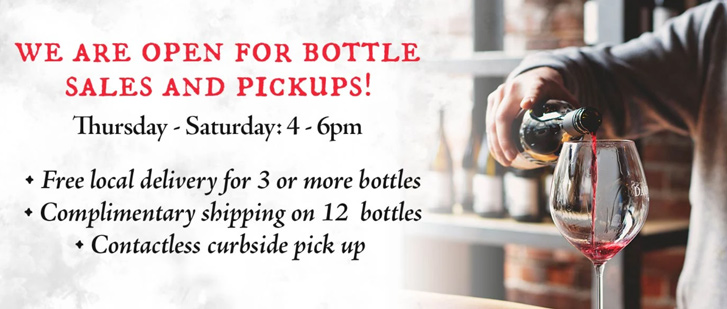 5. Think like a customer
With so much changing so quickly, you have a lot to think about to keep your business adapting and growing. When making adjustments, put yourself in the perspective of your customers and try to understand what they're thinking and feeling. Their priorities may have shifted, things like safety and access that didn't used to be top of mind, may be more prominent in their decision-making.

In times of crisis, whether it be on a personal or global scale, showing authentic empathy is critical. Use a clear, unambiguous tone in any communication – how you say it really matters. Automated, generic responses can create confusion or even ill-will. Personalize your communication and speak one-on-one whenever possible. Something as simple as addressing customers by name can help create a more personal connection and improve a relationship.