BroglieBox: Thoughtfully curated, specialized boxes for health and wellness
After losing her brother to suicide and struggling with their own mental health challenges, Julia Broglie and Dustin Belt created BroglieBox, which are beautifully curated care packages to help those with mental health challenges. From hand-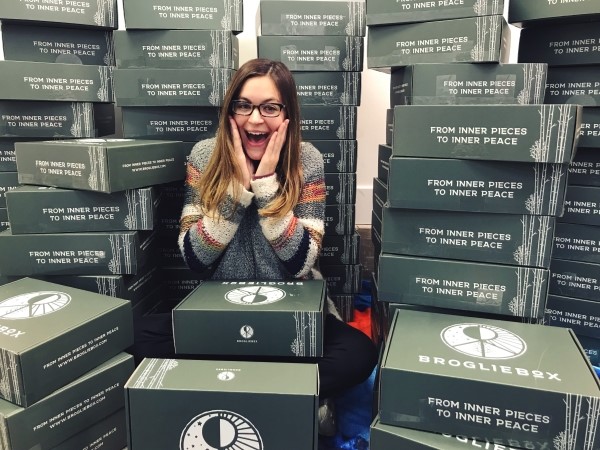 selected products to tailored content from healthcare professionals, BroglieBox provides people with tools and resources to help improve their mental health. Julia, a former chemical engineer in the skincare and cosmetics industry and Dustin, a former child actor and musician, both shared their personal experiences with mental health, giving back and supporting those who in need.
Ready for some Q&A? We chatted with Julia and Dustin, founders of BroglieBox and winners of the 2020 FedEx Small Business Grant Contest, to get answers to some of the top questions and challenges asked by small businesses looking to grow their business.
As you turned BroglieBox into a functional business, what necessary steps did you take? How did you get there?
Julia: Initially, we were both working other jobs, and this was more of a side hustle for us. Fast forward six months and the business kicked into high gear. That was when we realized we had real potential and we needed to dig in full time. Our goal is to help people, so we did our research searching for the best products and aligned brands, and ultimately asking our community about their needs. When it came down to selecting products, we made sure that every product is not only of the highest quality, but also functional and relevant to the mental health theme of that box. Each item ties into our core 6 pillars of mental wellness: mindfulness, gratitude, nutrition, sleep, fitness, and relaxation.
Dustin: We also realized that there are other gift box companies out there, but there aren't many in the mental health field that are packaged with their own magazine filled with articles, guides, and visual tools from healthcare professionals. We want everyone who receives a BroglieBox to feel empowered in their health, to feel a little more hopeful, and to know that someone out there wants them to thrive.
What's the long-term goal for BroglieBox?
Dustin: Now that these boxes are finally out of the development stage and are set to go, we can really focus on spreading the word about the company and help others get the tools they need. A few businesses have started reaching out to us wanting to buy bulk boxes for their employees, which I think is great, because it's showing that these companies care about their employees and they care about their mental health. We've also been collaborating with universities to get BroglieBoxes into the hands of students, or into their mental health care centers at the universities.
Julia: We're gaining momentum and confidence with our student boxes, and are working with universities to customize boxes to their needs. That in itself is a huge pillar for us and a main goal for us moving forward. Along with our current themes of student success, wellness warrior, grief relief, alleviate anxiety, and stress less, we are developing boxes for sleep and for postpartum mothers.
With the current health pandemic, COVID-19, has that impacted your business? Is it changing things?
Julia: We've received an overwhelming number of requests, especially from corporations wanting to send their employees boxes. However, our mission has become even more critical given the situation because people are desperate for resources and we have specific care packages ready to go. We've felt like we had to step up to the plate and provide even more free content on our website and blog for those who are looking to strengthen their mental resiliency. We launched the BroglieBlog and started putting out content on how to deal with anxiety as it relates to COVID-19, in addition to a multitude of other mental health resources.
Dustin: I think it's one of those things, too, where mental health has always been there, and there's always been this stigma around mental health. Now that people are stuck at home and can't go out and distract themselves with activities, people are realizing that their mental health is just as important as their physical health.
What are your top 3 tips for small-business success?
Take care of yourself and your mental health. Start by putting yourself first. You are your company's greatest asset.  Even though we are supporting many others in their mental health, we've had to understand and appreciate the need to check in on our own mental health.
Don't be afraid to ask for help. We found a team of mentors and advisors who believed in us, BroglieBox, and what the company stands for. Without asking for help or what to do in certain situations, we wouldn't be where we are today. None of us get to be where we want in life by doing it alone.
Take a leap of faith. Overcoming the fear of getting started is real. But, you have to be willing to take the first step to get anywhere. Every day is not going to be a home run – sometimes you have to hit the ball to get to first base.
Related reading
Additional resources