Bright ideas for small-business success from lumenomics
A beacon of light for commercial building design
Inspired by the window treatment industry that she grew up in, founder and CEO, Marti Hoffer decided to put a modern and natural twist on shading and daylighting design when creating her company, lumenomics, a 2020 FedEx Small Business Grant Contest winner.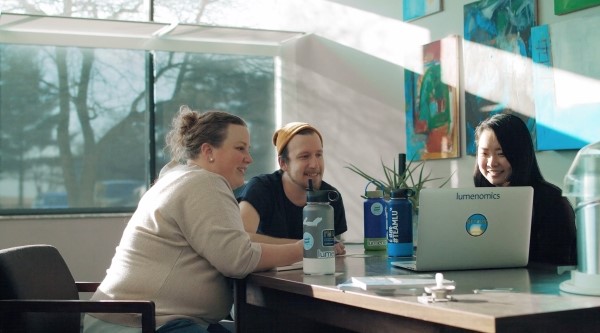 Using natural light, lumenomics helps increase the comfort, productivity, and happiness that occupants experience in designed spaces. From design concept to installation, lumenomics uses smart technology to help facility managers easily control and manage buildings' energy efficiency and brighten up unique spaces with daylight.
We chatted with Marti Hoffer for a little Q&A to get her insights that may help other small businesses.
What's the mission of lumenomics and how did you get this idea for a business?
At lumenomics, my mission is to maximize natural light in designed spaces. I grew up in a family business that manufactured window coverings. I began to notice that the window covering industry was moving towards automated coverings and that the energy code for building design was shifting. The goal for lighting design became how to get the most light naturally, depend less on electric lighting, and save energy. For the first time in my life, I was now interested in this industry and was excited by the possibilities. To meet these new industry shifts and challenges, I began to create lighting designs focused on what's free and plentiful first: natural light. This became the founding process of our daylighting roadmap, which we now use to guide us from design through installation and create efficient, sustainable, and beautifully lit spaces designed for occupants.
How did growing up in an entrepreneurial environment help prepare you?
I grew up with two parents who had been their own bosses their whole life, and it inspired me in many ways with my own business  I admired their boldness and attribute my own fearlessness to their example, but I also l saw the dangers of an unbalanced work/life relationship. As entrepreneurs, they rarely would take time off for themselves, which definitely shaped my approach with lumenomics.  In order to attract employees, grow, and scale, I needed to institute a healthier work culture – or "equilibrium" as we refer to it- as a core value in the company and provide benefits like paid time off.
What is next for you?
We're finishing some large design-build projects for well-known companies and agencies in the Pacific Northwest. I really want to be able to translate the valuable experiences we gain on these projects to case studies.  These case studies can help us explain how lumenomics adds value for general contractors and owners who are pursuing the design-build contract method for their projects. I'd also like to take learnings from these case studies and discuss internally what we need to do better to help contractors and owners that are building our infrastructure. 
What are your top 3 tips for small-business success?
Create spaces at the table. It's really important to create a leadership group with diverse voices, whether it be experience level or background, to make sure that different points of view are heard. It's not always the person with the most experience who has the best or most interesting idea.
Good communication is key. There is no tool more important in a supply chain than communication. Whether it is with clients or team members, it is impossible to work successfully without clear communication strategies.
Company values matter. We feel it is vital to have a passion for giving back to the community, whether that be the local community, work community or home community. Having distinct values and programs like our Volunteer Paid Time Off provides a structure for the team to encourage their passion and entrepreneurial spirit.
FedEx Small Business Grant winners like Marti are doing creative and exciting things in their businesses. See more inspirational winner stories and get insights for business success from past grant winners, plus other entrepreneurs and small-business experts.