Modern Christmas Trees shares tips for small-business success
Taking Christmas trees to the next level
For many small-business owners, the holidays are synonymous with "peak season." Some say holidays are the best time of the year. For Matt Bliss, owner and CEO of Modern Christmas Trees, a 2020 FedEx Small Business Grant Contest winner,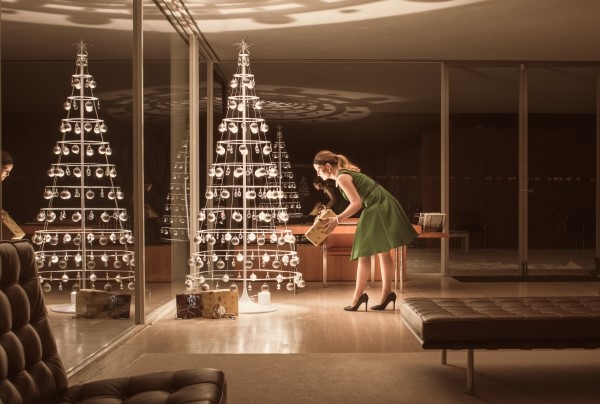 spending time with the family around the Christmas tree was what his family looked forward to the most and what inspired him to start his business. Driven by his fondness for his grandfather and his extraordinary 60s-inspired, handcrafted Christmas tree designs, Matt started Modern Christmas Trees. Today, the personal-tribute-turned-business is bringing happiness and smiles to people all over the nation. 
Let's dive into some Q&A with Matt on his business success and tips for small businesses getting started.
Tell us how the idea of Modern Christmas Trees came about?
My grandpa was an engineer and due to an allergy in the family to real trees, he designed a Christmas tree made out of concentric cardboard rings for our family back in 1966. He decorated it differently each year until about 1992. After that, It sat in his garage unused until about 2008 when I asked if I could have it – I took it home, put it up and left it up for three years.

What I wanted to do is pay tribute to him and show people his contribution to design, so I made a couple of his trees. The goal for this was to create a legacy for him. The last few years of his life were tough on me because he suffered from Alzheimer's, but if there was a way I could turn him into a famous designer, that's what I wanted to do. His signature is laser engraved on the bottom of every tree that I make.
What's one of your company's core values?
One satisfying thing about this business is the thousands of dollars raised per year for charities. Many nonprofits use our trees for holiday fundraisers. We donate trees to a variety of these nonprofits, and they will then auction off that tree and use the proceeds for their cause. I donated a tree to the LGBT Center in Palm Springs and they auctioned off a fully decorated tree that retails for $900, for $1600.
How environmentally friendly are your trees as compared to other trees?
Both artificial and real trees often end up in landfills. The data I've seen is that if you can keep your artificial Christmas tree for at least five to six years, then your carbon footprint is lower. Buying a real tree every year has an impact, especially over a lifetime of a new tree each year. The great thing about Modern Christmas Trees is that they're going to look the same 30 years from now. The tree that my grandfather gave me – the tree I still use – was made in the late seventies. It still looks great because it has a timeless classic design that is still relevant.  
Do you create any special or custom packaging for the Christmas trees?
Yes, all of our trees come in white boxes with special accessories. We try to create an experience with the trees all the way down to providing butler gloves for the chandelier crystals and the trees. We also provide a holiday guide to go with the tree that has instructions, and more.
What are your top 3 tips for small-business success?
Have thick skin. When you get credit, you should get credit by going all in and putting yourself out there. I was able to put myself out to the world but understood there would be criticism along the way.
Learn and be open. My experience on Shark Tank taught me to be open to other's opinions and suggestions. You can't be the smartest person in the room. You have to seek advice from and surround yourself with people who are smarter than you.
Trust your gut. Do your research and trust your gut. When you make mistakes, try not to beat yourself up. 
FedEx Small Business Grant Contest winners like Matt are doing creative and exciting things in their businesses. See more inspirational winner stories and get insights for business success from past grant contest winners, plus other entrepreneurs and small-business experts.