Olori shares tips for businesses getting started
Building more than beautiful bags
Driven by the desire to empower women who can then positively impact other women, 2020 FedEx Small Business Grant winner and luxury African handbag brand Olori, which means "queen" in Yoruba, a Nigerian language, seeks to showcase the beauty of Africa in a way that has yet been done.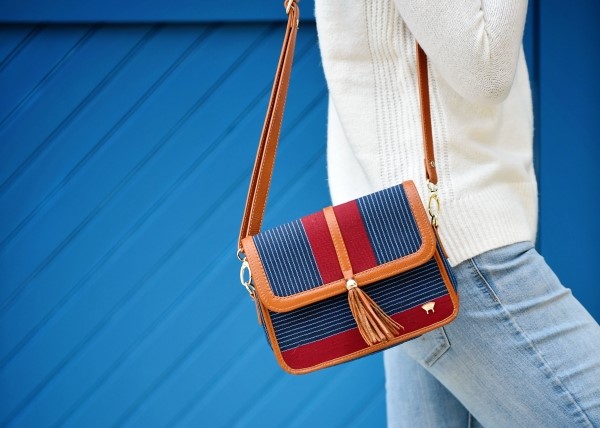 CEO and founder, Tomide Awe was inspired by her grandmother's passion for girls' education and building on her legacy of positively impacting future generations of women. Not only are Olori's textiles and designs bold and unique, but they also serve as a symbol to further push the mission you can also find in Olori's tagline, "Good for Women, Women for Good."
Let's dive into some Q&A with Tomide on her business success and tips for small businesses getting started.
How is your business inspired by your African background and heritage?
The name of the business is Olori which means queen in Yoruba, a Nigerian language. That's where I'm from. And the whole idea is being able to have empowered women, empower other women, and just showcasing the fact that there's inherent strength and beauty in women in general. So, that inspired the name. We offer gorgeous African handbags that empower women. And within that, I would say it's a combination of two passions of mine. Primarily, it's more about showcasing the beauty of Africa. Africa is beautiful, but what the media puts out there focuses on things like poverty. There's so much more that Africa is made of.
The African culture is really beautiful and colorful. I want to showcase the beauty of Africa through our culture and our textiles and be able to make it inclusive for everyone. I want Africans and others to be excited and proud to wear it.

Olori supports schools in Africa. Where does your passion for this come from?
The other part of the inspiration behind Olori was my grandmother. She lived in this obscure village in Nigeria, and she was the only female child of her parents. She was not educated like her brothers were. And this was all as a result of the fact that in those days, male children were seen to be more valuable than female children. So, even though she didn't have an education and she was not by any means rich, she knew she must be successful, so she sold everything she had to make sure my mom would have an education. And in turn, my mom also became passionate about education. She has two degrees and made sure I and my siblings also had a good education. Now I have three degrees. All my siblings have multiple degrees, and we're all scattered around the world here in the U.S. and in the U.K.
How did Olori get started?
I've always had the entrepreneurial drive. I lived in Nigeria until I was 17 and then studied in the U.K. for five years. From there, I went to do my MBA at the Wharton School in the U.S. At first, I didn't want to select my major because I wanted to take courses that I was going to be interested in. It was there, in my entrepreneurial course, that I had the opportunity to work with a team and conceptualized the idea of bringing 'Africa out of Africa into the West' – which ended up being the beginning of Olori. Once I graduated, I spent another year prototyping and flew back to Nigeria to work with artisans to weave out the textiles. It took me about a year to prototype before we actually launched Olori.
What are the ups and downs as an entrepreneur?
The good would be growth and making progress. I've never been an entrepreneur before, so this is my first business - everything I'm doing, I'm learning. The progress we've made, winning a FedEx grant and having an increase in sales and revenue growth, has been a testament to the fact that we do have a great brand. There's a lot of alignment between us and our customers and our target market. We're seeing that people are still supporting us even in this time. That's really good for us. The bad is, it's a lonely journey.
If you could share 3 tips with business owners just starting out, what would they be?
Figure out what is best for your company. Everyone wants to give advice which is why it is important to first figure out what is best for your own company before following the guidance of someone else. Each company's journey is unique and ultimately, as a founder, it's important to find out what that journey is on your own.
Believe in yourself. Confidence is key. It's important not to doubt yourself early on. I used to think 'oh well this person has a marketing background, which I don't, so they must be better than me in marketing,' but I've found that every time I've trusted someone over myself, that has cost me.
Have a strong mission. I want to leave a legacy behind and I'm doing that by being part of a community and making an impact there. The mission of Olori, in turn, keeps customers coming back. 
FedEx Small Business Grant Contest winners like Tomide are doing creative and exciting things in their businesses. See more inspirational winner stories and get insights for business success from past grant contest winners, plus other entrepreneurs and small-business experts.