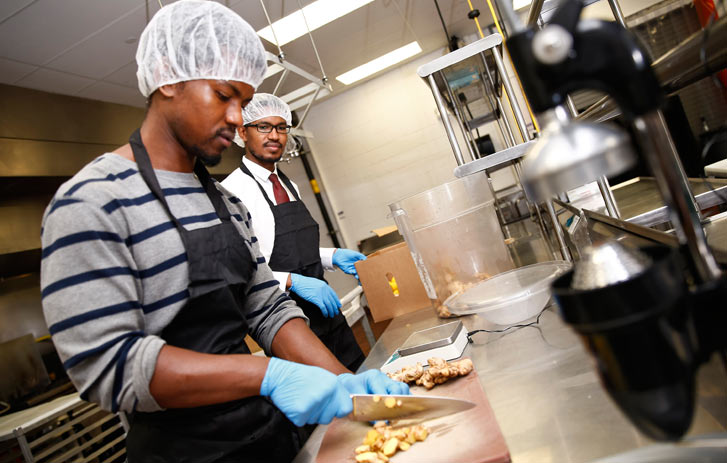 FedEx Small Business Grant winner and co-founder of Ginjan Bros, Ibrahima Diallo, hires additional staff during the rush season to help him and his permanent staff avoid burnout and keep productivity high.
Peak season is stressful for business owners and employees alike, but a solid staffing plan can go a long way. We asked some of our past FedEx Small Business Grant winners about how they approach staffing for their rush times and what they've learned from previous years.

Ask yourself:
1. Is my regular staff prepared?
Before the rush of peak season hits, check in with your regular employees to make sure they feel prepared. Explain how important this time of year is for the business and the value that each individual brings to the group to set up your team with an "all-hands-on-deck" mindset going into rush season.
Find out about vacation schedules early. "Differing schedules are the number-one challenge we face during rush season," explains Dana Donofree, owner of AnaOno, a lingerie and loungewear company that caters to those affected by breast cancer. "We try to be flexible when possible, but if your team knows the importance of the rush season in advance, they can also plan their family time around those expectations."

Make sure your team is fully trained and ready to be leaders, especially if you're hiring additional help. Regular staff members are your core crew — they can help identify gaps and flag problems early, as well as support newer staff.
Finally, take the time to amp them up! The rigor of rush season can wear out your employees, so try motivating your team with positive energy and incentives, like a group outing when the busy time is over.
2. Will I need to hire additional team members?
Planning ahead and taking a pragmatic approach will ensure you have the right people at the right time. Donna Durham, owner of Weighting Comforts, a seller of weighted comforters that help customers sleep better and reduce anxiety, shares her method: "To determine the amount of staffing we'll need during rush season, we set our financial goal for the year and figure out how many blankets we need to sell to meet that goal. Then we check our data from past years to see how many team members are needed to get that many blankets out the door."
Hiring additional team members can also help relieve the burden on permanent staff, whom you rely on for their expertise and dedication. "Staff enough to avoid burnout," suggests Ibrahima Diallo, co-founder of beverage company Ginjan Bros. "You'll end up losing more money in productivity by having burned out employees than you would by staffing adequately."
Running a big promotion? Andrea Sreshta, owner of LuminAID, a seller of solar-powered energy products, urges you to consider the staffing impact. "If we run a certain marketing campaign or promotion, our main consideration is whether we have the right resources, inventory, and people in place to deliver on time. If we can't do any one of these things, we may consider a different promotion — for example, we may lower our discount if we think we can't manage the volume of orders."
Small business owners have different approaches to hiring temporary team members, so you have to do what works best for your unique business. The majority of our past grant winners say they use word of mouth and local community organizations to find trusted help.
3. How will I divvy up the work among the new team?
As a manager, you may need to decide who will take the lead on which tasks or aspects of the work. "We throw our temporary staff in the mix right away for tasks that require less training and oversight. Over time, they learn a wider variety of tasks and can handle more complicated work," explains Paul Pallas, operating manager at SWISCO, a seller of replacement hardware.
"For example, customer service has always been reserved for permanent staff because our training is extensive and the expectations are high; however, in the future we may start using newer staff in the customer service department for simple phone inquiries."
Weaving in new staff members also requires thoughtful scheduling to create a well-oiled machine with your team. Aqila Augusta, owner of Edge Entity, maker of an all-natural hair-follicle stimulant, provides her approach: "Our temporary staff is hired on an 'as needed' basis, so the permanent staff will have more hours. Prior to rush season, we establish that the workload will increase, and we ask our permanent staff to share availability further in advance."
4. How do I ensure my new staff members are trained and ready to meet the higher demands?
Setting clear expectations is key to a happy, productive team, especially when you're dealing with a mix of existing and new employees. "Create procedures for training and onboarding. Put your processes in writing. The more structure you have, the easier it is for things to fall into place," suggests Donna.
If you anticipate that any of the expectations on your employees will change during the strain of your busy time, be sure to disclose that to your team in advance. Whether it's the need for overtime or the implementation of a new process, being upfront with your staff early on will allow them to adapt and make appropriate arrangements.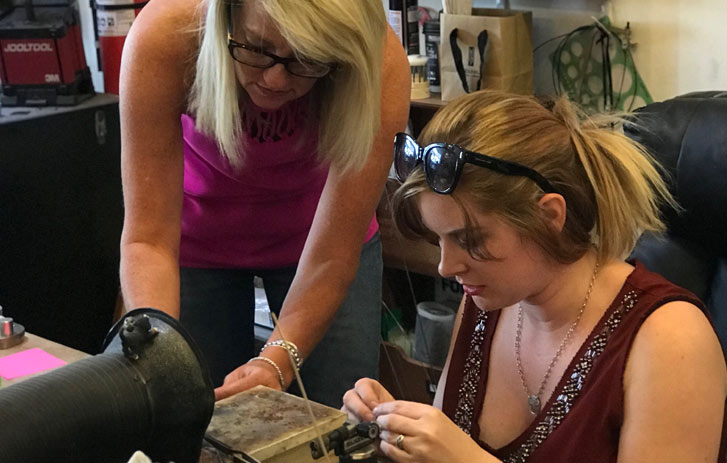 Heidi Hale of HeidiJHale Designs and Details leans on permanent staff to lead during rush season.
When you have your structures and procedures firmly in place, you can feel more confident leaning on permanent staff to help train the newer team members. "Each year, my permanent staff will be the leads in certain areas of the work," explains Heidi Hale, owner of HeidiJHale Designs and Details, a producer of custom jewelry. "With their added experience, they will be responsible for overseeing temporary help."

5. How will I boost morale and keep everyone energized and on target?
Here's some great advice from our past grant winners:
"I handwrite thank you cards to all employees on Thanksgiving. Ensure regularly that everyone knows they are valued." — Liz Powers, founder of ArtLifting, a business that empowers artists living with homelessness or disabilities
"Food! We love to keep our team members fueled up! Days are already busy, and if we have to go into the night, it is best to stay fed. When we can all eat, take a breather, and go back at it again, we can feel the support and dedication for one another." — Dana Donofree, owner of AnaOno
FedEx Small Business Grant winner and owner of ArtLifting, Liz Powers, makes a concerted effort to make staff feel appreciated and keep morale high, especially during rush season.
"Make sure the employees see the owners working shoulder to shoulder. Hustle hard, keep the load even, and take everyone out to dinner." — Nik Hawks, co-founder of Paleo Treats, maker of paleo desserts and chocolates
Brian Munoz, founder of Penny Luck Shoes, a men's leather shoe company, leaves us with some wise advice: "Everyone has a plan until the unexpected presents itself. If you're a startup going into rush season, plan ahead and simply be determined to overcome whatever comes your way."
Related reading
Additional resources