Nine tips for sending company Christmas cards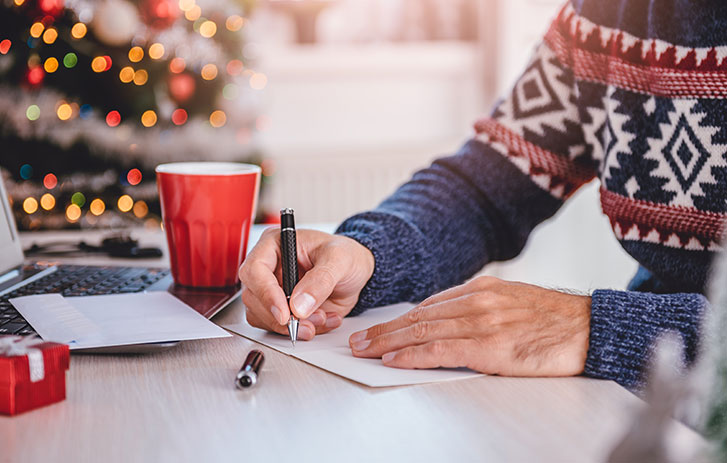 Company Christmas cards are a long-standing tradition in the business world that has become even more impactful in today's digital age. Unlike emails, which get lost in cluttered inboxes or sent to spam folders, traditional mail remains an effective way to communicate with customers. According to the U.S. Postal Service, 98 percent of people check their mail daily. Even more compelling data comes from a survey from Epsilon, which found that 77 percent of consumers sort through their physical mail as soon as they get it. 
To make the most of your investment of time and money into holiday cards, follow these nine tips for sending a Happy Holidays message to clients.
1. Send high-quality company Christmas cards
The holidays are not a time to cut corners, especially in the cards you send to customers and clients. Deliver your corporate Christmas message to clients on a high-quality card made from thick paper stock and crisp, clear printing that reflects how much you value the recipient. Choose a flimsy card printed on office paper and you risk looking like a Scrooge or making your customer feel underappreciated. 
2. Adopt the right tone
Holiday cards provide an opportunity to take a more casual tone with customers and clients. However, the card and message should convey your brand's tone. If you're in a more buttoned-up industry, consider sticking to traditional holiday imagery and formal messaging. Conversely, if you're a small, family-run business, a more personal card with the family dressed in ugly Christmas sweaters and a playful tone is a fun alternative that conveys your business's image.  
3. Be careful with "Christmas"
According to Gallup, 93 percent of Americans celebrated Christmas in 2019. While that might sound like a high number, it means almost one in 10 people on your holiday card list doesn't celebrate. Because you want your holiday cards to foster goodwill and grow business, keep them inclusive and tasteful; consider sending a New Year's message to clients instead. A good rule of thumb is to choose subdued and tasteful cards without any specific holiday or religious imagery. Similarly, stick to safe phrases such as Happy Holidays, Season's Greetings and Happy New Year, rather than more specific messaging like Merry Christmas. 
4. Save the sales pitch
Just because you're sending holiday cards to your customers and clients doesn't mean you're required to hit them with a sales pitch. A holiday message to clients is just that; express your gratitude for their support and let them know how much you value their business. If you want to include a business-focused message, keep it subtle with something like I look forward to continuing our relationship in the new year.
5. Time it right
Get started on your holiday cards early to allow plenty of production time and ensure they reach their recipients in advance of the holidays. Ideally, you'll get your holiday cards for clients in the mail shortly after Thanksgiving or by the end of the first week of December. Remember, people's schedules are disjointed in December — it's a popular time for taking extended vacations. Additionally, many employees will have time off that needs to get used before the new year, and the celebration of holidays such as Hanukkah changes annually.
6. Make it personal
People want personalization — according to Statista, 90 percent of U.S. consumers find marketing personalization very or somewhat appealing, which is a compelling reason to include a personal message in your holiday cards. Show your customers you care with a short message expressing a heartfelt holiday greeting. Consider including a personal detail or reminiscing about a project you were both involved in.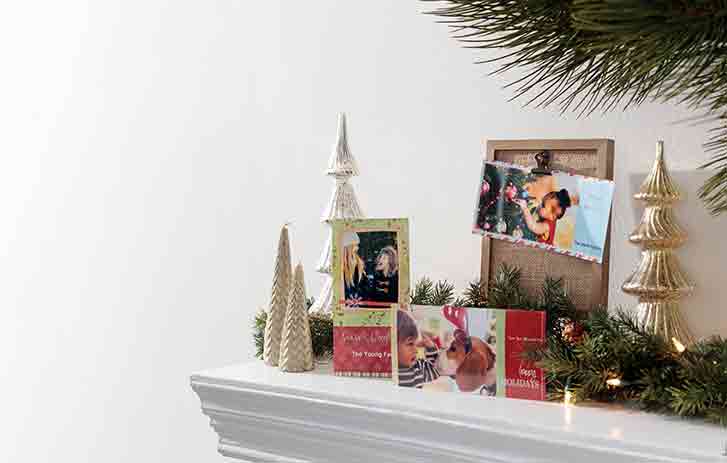 7. Hand write your "Happy Holidays" message to clients
According to Salesforce, 82 percent of business buyers say personalized customer care influences loyalty. Taking the time to hand write a note is a fantastic way to emphasize your appreciation and add a personal touch to your season's greetings. Even if your cards come with your name custom printed on them, make sure to personally sign them. 
8. Close with care
You've taken the time to write personal and sincere messages in your Christmas cards to clients — now be sure to close strong with a warm, season-specific salutation such as, "Wishing you happy holidays," "Best wishes for a great year ahead," or "All the best in the new year." Avoid generic one-word closings like Sincerely, best and regards. 
9. Stamp it done
A seasonal stamp is the perfect finishing touch for creating impactful envelopes. Look for a stamp that is colorful and attention-getting, while steering clear of stamps with religious and holiday-specific images. Winter birds, seasonal landscapes and snowflakes are all good choices that are fitting for the season. 
A well-designed and carefully crafted holiday message to clients is a proven way to stay on the top of your customers' minds during the busy holiday season and to show appreciation for the business they've given you in the past year. However, this strategy is equally effective for other holidays. For example, your customers likely receive numerous holiday cards, but how many of them receive custom Valentine's Day cards? Whatever your card needs, FedEx Office can deliver.
Related reading
Additional resources
---
The information on this page and links provided are as a convenience and for informational purposes only; they do not constitute an endorsement or an approval by FedEx of any of business, products, services, or opinions of any other corporation or organization or individual. FedEx bears no responsibility for the accuracy, legality, or content of any external site or for that of subsequent links. It is important to do your own analysis based on your business needs before using any third-party products or services. Any actions you take upon the information on this page is strictly at your own risk.