Four steps to determine small business advertising costs
Your business is up and running. You have a full suite of products and services, a loyal customer base and you're making enough sales to keep the lights on. It's time to start thinking about growth. But how do you get there? How do you take your business from sustainability to expansion?
The answer lies in marketing. You can use marketing to promote your brand, products and services to a new and bigger audience. But high-quality marketing isn't free. The challenge is deciding how much you should spend on marketing and advertising your business. 
Determining how much to spend on advertising
Advertising is an important component of your well-crafted marketing strategy, but it should only make up a portion of your marketing budget. The general rule: your marketing budget should be seven to eight percent of your annual sales revenue. Of that, about 15-20% of that budget should go toward advertising costs.
Here's an example: Lulu's Prints sells $500K worth of postcards, posters, wall art and party decorations through its online store. The owner is making an advertising budget for the new year.
Based on yearly revenue, Lulu's prints should allow up to $40K for marketing. Advertising costs will account for $6-8K of that.
Now that you have an idea of how much to spend on advertising for your small business, let's figure out how to spend that money effectively.
Allocating your advertising budget
1.     Develop an advertising strategy based on business goals
Your advertising strategy is the roadmap that guides your decision-making. This strategy covers which audiences you want to target, how to reach them and how to measure success. A comprehensive advertising strategy is part of a larger marketing plan. It's key to getting your products in front of your target customers and making a compelling case for them to buy.
2.     Understand potential return on investment (ROI)
Your advertising may include online and mobile ads, sponsorships, print media and direct mail. Knowing your audience and the data behind how they respond to different advertising methods can help you make precise decisions on where to spend your advertising budget. 
For example, there is significant data showing that direct mail like postcards are a high-return advertising method, even among millennials. However, if you own an internet-based business, it may make sense to spend much of your advertising budget on web-based marketing like online ads and email newsletters.
Look at your customer pipelines, which will inform where you should increase your budget, as well as areas with lower ROI. From awareness (where a prospective customer first encounters your brand) to action (where a prospect becomes a paying customer), the highest conversion rates may come from different sources, such as: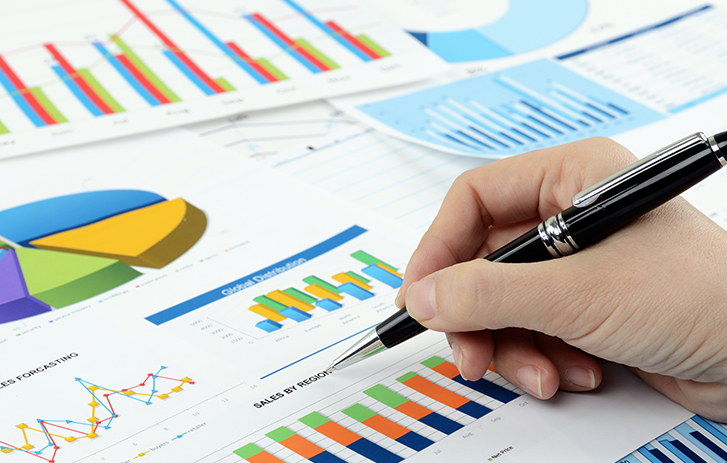 Inbound customers who sign up for email updates
Customers who use a promotional code from a postcard they received in their physical mailbox
Sometimes you need a more mobile option to take on the road. Tripod banners are lightweight and require minimal setup, making them an ideal choice for presentations and table displays. You can opt for a large floor display, and tabletop tripod, or both.
Implement your best business banner ideas on a tripod banner display for maximum effect at:
Trade show booths 
Arts-and-craft shows 
Charity events and raffle tables
Food vendors 
4.     Allot your total advertising budget
With details in hand about your target audience and which advertising methods get them to act, you'll be prepared to calculate what portions of your budget should go to which methods.
Here's an example of how to spend an $8K advertising budget:
25% to Pay-Per-Click (PPC) ad campaigns through search engines and social media
25% to broadcast advertising like radio, tv, podcasts and streaming services
50% to print advertising like flyers and brochures for event promotions and direct mail
5.      Execute your strategy and track results
Advertising takes time. If your budget includes hiring a PPC consultant, you'll need to spend the time to educate them on your business's goals and priorities. If you want to mail out 10,000 postcards advertising your big Fourth of July sale, get the wheels turning on design and edits early. Give yourself plenty of time to send out the cards and let your customers know about the sale.
Follow the impact of your campaigns and track the data for year-over-year analysis. When it's time to budget for next year, you'll have a head start developing your advertising strategy. Each year, you'll be able to adjust how much you spend on each type of marketing to home in on the most effective means (although keep in mind that trends change and be ready to adapt).
An effective marketing strategy can help you find new customers and take your business to the next level. To use your advertising dollars wisely, decide what you can safely spend and develop a targeted plan to reach your audience.
Related reading
Additional resources
---
The information on this page and links provided are as a convenience and for informational purposes only; they do not constitute an endorsement or an approval by FedEx of any of business, products, services, or opinions of any other corporation or organization or individual. FedEx bears no responsibility for the accuracy, legality, or content of any external site or for that of subsequent links. It is important to do your own analysis based on your business needs before using any third-party products or services. Any actions you take upon the information on this page is strictly at your own risk.