Doing for others becomes even more top-of-mind during the holidays. Perhaps, more than any other time of year, we want to do good and feel good. For some entrepreneurs, doing good is more than a seasonal theme, it's part of their business and culture year-round. We're inspired by the ways many of the FedEx Small Business Grant Winners, as well as members of our Entrepreneur Advisory Board (EAB), have made "giving back" core to their business model, with products or services that improve the lives of others. Giving is good for them and their business, as well as the communities they work and live in. Read on for a case of the holiday warm and fuzzies and to be inspired by businesses like these that put so much good out into the world.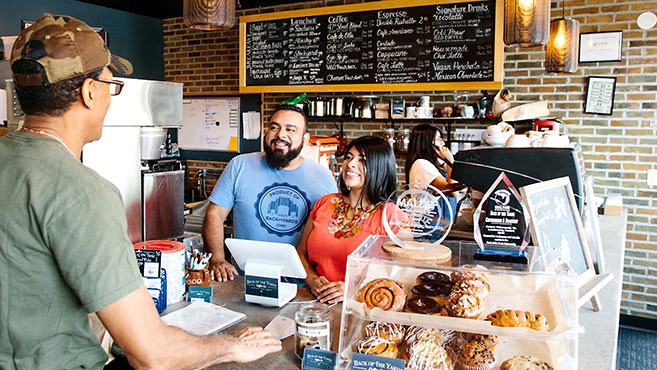 Back of the Yards Coffee
Owners, Jesse Iniguez and Mayra Hernandez reveal how their business doesn't just simply serve up a great cup of joe, it's actually helping redefine the future of the Back of the Yards community of Chicago's South Side.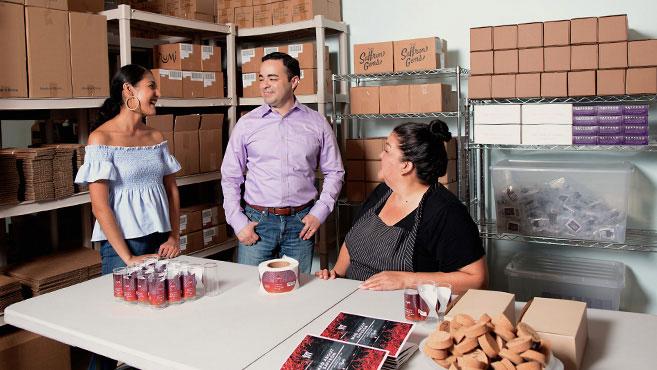 Rumi Spice
Keith Alaniz, one of the owners of Rumi Spice, shares how a socially-conscious idea has grown from a small but ambitious endeavor to the largest private sector foreign investment in Afghanistan agriculture.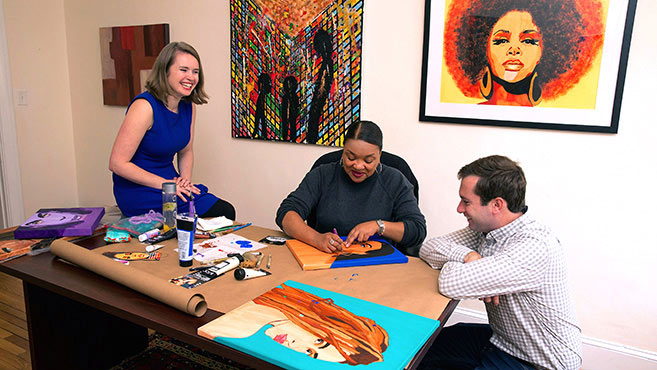 ArtLifting
ArtLifting may be a clever name, but "life lifting" may be a more accurate description of the empowering effect this small business has on over 150 artists experiencing homelessness and disabilities in 20 different states.
Back of the Yards Coffee: Making a difference with a great cup of coffee
Though caffeine may be the fuel that gets their customers going each morning, it's Jesse and Mayra's spirit, tenacity and commitment to social impact that's fueling opportunities for the next generation of their community, known as Back of the Yards. The two share a love of their local roots but are keenly aware of the social issues that plague their city and, specifically, their own neighborhood. It's an area scarred with negative press that doesn't hint at the kind of legacy that a small but mighty young business is building in its own backyard. Growing up here, Jesse and Mayra know firsthand how difficult it is to not be defined by your situation or environment, yet overcoming it is the message they are sharing with the young adult and youth population that live in the area. As Jesse explains, 4000–5000 young people in the neighborhood are out of school and unemployed, leaving them with little opportunity for stability or success. As social entrepreneurs, Jesse and Mayra serve as role models to this group, and demonstrate that with hard work, determination, and support, dreams really can come true.
 
Following that same empowering vision is their plan to acquire a nearby abandoned firehouse to transform into their own roastery as a symbol of what is possible within the neighborhood now and in its future. They want to prove that this community can thrive, but it doesn't stop there. Back of the Yards also extends its mission beyond borders, by partnering with a coffee farm in Chiapas, Mexico, that was discovered by pure luck. A neighbor, originally from Chiapas, Mexico, introduced Jesse and Mayra to her family of coffee farmers. Over the past 3 years, both Chicago's South Side and Chiapas, Mexico have benefited from the partnership, with increased coffee production directly related to the improved infrastructure and innovation that Jesse and Mayra brought to the table.
 
Many entrepreneurs have good intentions for improving their communities, but real change is often hard to attain and harder to sustain while building a business. For Jesse and Mayra, the key seems to be a business model that has social impact as the core value of their business model, and it's woven into everything they do, from showing environmental awareness through recycling and composting to paying their 10 employees fair wages and contributing money to social programs that promise positive shifts in the community they call home. Though giving back makes sense for the heart, it's a commitment that's more than a feel-good perk of running your business on your own terms, it's also financially the wise thing to do. We love Jesse's advice to other entrepreneurs, "Think through your business model and be intentional about giving back instead of considering giving back as an afterthought."
 
Find out more about Back of the Yards Coffee.

Rumi Spice: An unexpected international partnership
Rumi Spice is a company that evolved from a conversation between a curious U.S. Army veteran and an Afghan farmer at a local market. What followed was a mission to cultivate peace in Afghanistan through exporting the world's highest quality saffron direct from Afghan farmers for multiple benefits. Rumi Spice provides farmers with market access to this extremely high-value crop — a product previously limited to local markets — and, in turn, creates economic opportunity and independence for the Afghan workforce while helping to shift their perception of the U.S. and our perception of the Afghan culture. That's no small feat.
Catching up with Keith, he shares how the company has been "transformative" for both the U.S. and Afghanistan and the many people involved with the company since its inception. Among Keith's unexpected findings along the way, the Afghan people were surprised that he had a business partner who is a fellow veteran and a woman, Kim Jung; the Afghan farmers were unfamiliar with women in the business world. Reminiscing about the company's beginnings, Keith shares that Rumi Spice originally worked with 10 farms and now impacts 350 farms. Keith's stories are filled with the joy and pride of the relationships that flourished; they required mutual trust. Illustrating the impact on Afghanistan's workforce, and particularly women, Keith explained that women have not traditionally been in the workforce and they now represent most of the 300+ employees in the processing centers. Another huge impact is that 1000+ Afghan women hand-harvest the plants during the harvest season. These women earn direct wages for their labor, which is new and life-altering for them. That opportunity means independence, security, respect, and confidence for Afghan women, an advantage many take for granted in other areas of the globe.
What's next for this cross-cultural change-maker? Rumi Spice has already expanded their product line since opening in 2016, and their vision includes adding additional spices from Afghanistan as well as other countries because, as they revitalize the spice market, their intention is to help people worldwide.
ArtLifting: Empowering the homeless and disabled through art
The idea of ArtLifting came to Liz Powers, a member of our EAB and a volunteer caseworker, while attending Harvard. She found that many of the area's homeless and disabled population found some kind of peace or internal happiness through their art. At that point, the activity was simply a creative outlet, and nothing became of the artwork that was being created until Liz realized that what was lacking for this group was a marketplace to share their talent with the rest of the world. And, with her brother's assistance, that is exactly what they created. But, it's more than a sales channel, and it reaches far beyond the art itself. The homeless and disabled artists involved with ArtLifting benefit from additional support in the way of counseling, learning life skills, and other things that people need in order to function in society. The marketplace is mainly online, though individual companies sometimes provide sales opportunities for the artists, widening their exposure to new audiences.
One of Liz's favorite stories is about artist, Scott Benner. Scott was a steel worker who lost his job, had medical challenges, and had gone through all his savings. ArtLifting has changed his life. An extremely talented artist, Scott's artwork has been recognized and has an impressive sales record. With his increased confidence and new opportunities, Scott is a now a successful painter who has even created artwork for Google and designed a limited series of Starbucks gift cards. Perhaps most importantly, Liz was proud to share that he also now has housing.
The self-esteem and respect that these artists have gained through their talent has given life a new meaning for them. In many ways, it can give an artist his life back when hope has been lost. Liz shared that, according to a Cone Communications Study, "85% of people in America want to buy from socially conscious companies given similar quality and price." Look to marketplaces or businesses that give back the next time you're shopping for artwork for your home or office. Chances are, you'll find a painting that lifts more than your spirits, it may be lifting a life.
Related reading
Additional resources