Pivot your small business with these four tips
Ask any small business owner, they know the risks as well as the rewards of launching a new business. Even without the recent health crisis, small businesses are constantly shifting what they do and how they do it as new challenges and opportunities arise. This flexibility often has a big impact on success. What is not always clear, though, is when or how to pivot your products to respond to changing demand.
David Zamarin is the founder and CEO of DetraPel. A Fedex Small Business Grant Contest winner, his business previously focused solely on manufacturing a non-toxic, protective coating for fabrics and leather that can repel liquids. Like many other businesses, DetraPel saw demand for their products drop at the onset of the COVID-19 health crisis.
"We essentially had a choice to sink or float," said David. His business was able to use their existing infrastructure and pivot to make disinfectant and sanitizer. "It made sense for the safety of our community and our business," he said.
While not everyone is able to transition their offerings to respond directly to this specific need, there are some themes that apply regardless of the industry you're in, the challenge your facing, or the pivot you're considering.
1. Develop a detailed transition plan
Not sure where to start? David recommends first asking some of the most fundamental questions, "What value do you currently offer? Who does your company primarily serve? How do you monetize your product or service? Starting here helps to focus the direction of your pivot," he said. From there, look at your logistics. "Ask yourself, will we be able to use our existing infrastructure? What will we need to source? Is it possible to get these supplies at this time? How long is it going to take? Are we staying in accordance with new government regulations? How will we proceed safely and with new business regulations in place?"
Businesses are built on solving problems. According to David, "Think about what new problems your population is experiencing and fill that gap for them where you can." You also need to get your team onboard and stay organized. "Having a good, thorough discussion on the mechanics of the pivot and outlining a concrete plan is critical to establish before operating," he said.
For David, he also found there were a number of helpful resources from local government organizations. "We were able to find state resources and support from our local government that provided good technical assistance for small business manufacturers." They also found grants and loans specifically helping businesses get through, or pivot, during the pandemic, which made a big difference. "We applied for several grants and a couple emergency loans which helped to minimize the risk of investing in new raw ingredients and machinery," he said.
2. Identify and lean in on the strengths of your business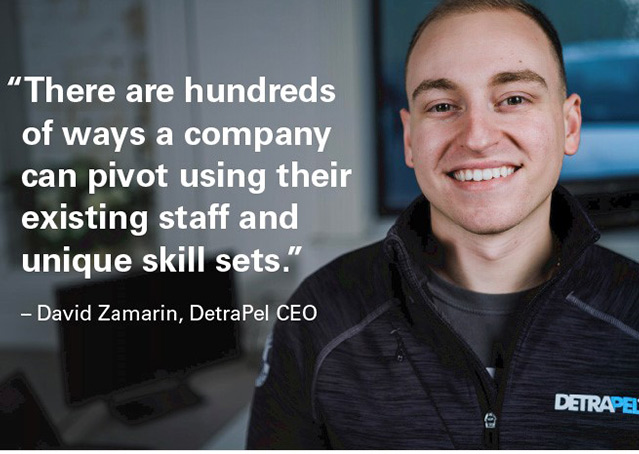 Just as you did when you launched, your primary focus should be on identifying where you can really provide value. David recommends looking at your existing skills and assets and sticking to what you do best. "We were very familiar with formulating, producing, packaging and shipping liquids," he said. "Producing disinfectants and hand sanitizers was a natural fit for us."
Of course, not every business will be able to transition so seamlessly, but recognizing where your strengths lie and finding creative uses for your resources and expertise will not only be the most impactful, it will keep you engaged and driven.
"There are hundreds of ways a company can pivot using their existing staff and unique skill sets," said David.
3. Act decisively and seize the opportunity
It's expected to have some level of concern when something you've poured your whole life into is undergoing a significant shift. Even so, David recommends moving forward confidently and deliberately when you feel strongly about making a decision to change. "As they say, without risk there is no reward. You already know that if you're a small business owner!" For him, focusing on facility preparation, staff guidance, and communicating with his team helped the transition feel smoother.
If your pivot involves responding to a sudden shift in demand, you may need to ramp up quickly. David's team had to act quickly to implement all the changes that needed to take place in such a short time span. "It felt like a risky move," he said. "But our internal R&D department was able to support a quick pivot leveraging our existing assets and infrastructure in the process."
Even with their preparation, not everything went perfectly to plan. "We quickly started falling short on our commitments as we ran into long hours, fatigue, and simply not having the right equipment to produce more at a faster rate," he said. Delays in getting the right equipment in place and a learning curve with training staff on the new process were time-consuming, but in the end, they managed to increase their daily production volume by tenfold.
4. Even as you transition, stay true to your mission
While your offerings might change, it's crucial you stay committed to who you are as a business. "The DetraPel slogan "Protect What you Love" is ingrained in our DNA," said David. "We realized that the best way to survive the crisis would be to become a part of the solution." While their pivot made sense for the safety of their community, they also felt it was in line with what they were at their core. "Your pivot doesn't have to be major, it just has to be meaningful," he said. "Find a meaningful way to support your community … and they will be there to support you in the future."
David thinks, in this moment, businesses have a unique opportunity to provide truly meaningful work to support their customers. "In the long run, it can bring back customers to your existing products or services, as they will remember your support during these unprecedented times."
For resources dedicated to helping small business navigate the COVID-19 environment, please visit our COVID-19 Small Business Resources page.
Related reading
5 tips to recharge yourself and your business
Breathing new life into your business can equip you to face the competition. Check out these engaging ways to recharge your business and help it grow.
Read more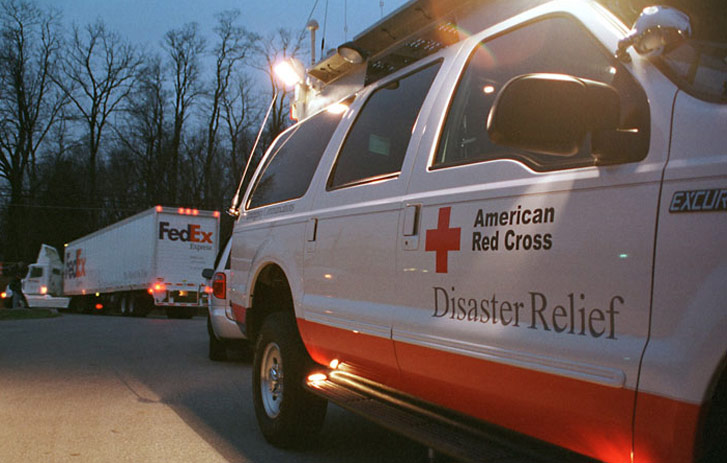 Emergency preparedness checklist for small businesses
Developing an emergency plan is one of the most important decisions a small business owner can make. Use this checklist to help protect your business.
read more
Pivot your small business with these four tips
Thinking about transitioning your business, pivoting, or growing? Check out these tips to successfully pivot your business.
read article
Additional resources