5 ways to promote social distancing with signs and floor decals
COVID-19 has forced businesses to change the way they operate. Reinforcing social distancing and health protocols is vital in protecting the health and safety of your employees and customers, avoiding further shutdowns and remaining in compliance with regulations. When creating your social distancing marketing materials, remember the rule of seven—a person needs to hear a message seven times to remember it.
The more you can spread people out, the better the long-term prospects are for remaining open. Creative sign and decal placement informs customers of your store guidelines before entering. When creating your signs, remember to include:
A social distancing reminder (e.g., stay six feet apart)
A prompt not to enter if symptomatic
A request to follow directional ceiling or floor signs
The space's occupancy limit
Approved payment methods (such as not accepting cash)
Next, consider where to place your guidelines for maximum exposure. These five sign and floor decal ideas can help promote social distancing guidelines and encourage customers to follow your new policies.
1. Yard signs
Customers are more likely to follow regulations if they see them before entering, and an A-frame or yard sign in front of your location is an excellent way to display your requirements. When designing a yard sign, remember to:
Keep your message short and concise
Make the font large enough to read from a distance
2. Banners and signs at the entrance
Place a large sign at the entrance that reinforces your social distancing guidelines and provides shopping tips. For example, a prominent banner or poster can call attention to:
Handwashing stations and antibacterial wipes
Special hours for high-risk shoppers
Limits on specific products or merchandise
3. Wayfinding ceiling signs and floor decals
Wayfinding ceiling signage is highly visible and helps create customer flows in places like stores and restaurants. They also naturally encourage social distancing and help keep people from gathering in groups in high-traffic areas and pinch points.
Floor signage works in combination with ceiling signs to give customers a visual representation of social distancing. Consider these ideas for using floor decals:
Floor decal stickers that direct restaurant customers to designated areas for online orders and takeout options
Custom removable floor decals to mark the flow of traffic and one-way aisles
Footprint floor decals that show customers where to stand while waiting to checkout
Custom floor decals that meet the unique needs of your operation, such as

Minimizing crowds near restrooms

Highlighting curbside pickup

Directing customers to a hand sanitizing station
4. Social distancing signs for employees
Reiterating the importance of social distancing isn't just for customers. Floor decals and floor signs also direct traffic in busy stockrooms and keep employees appropriately apart in break areas. Take it a step further with an employee-facing brochure that details your social distancing strategy. Guidelines can include:
Staying home if you're sick
Isolation protocols if an employee gets sick at work
Installing plexiglass barriers at checkout areas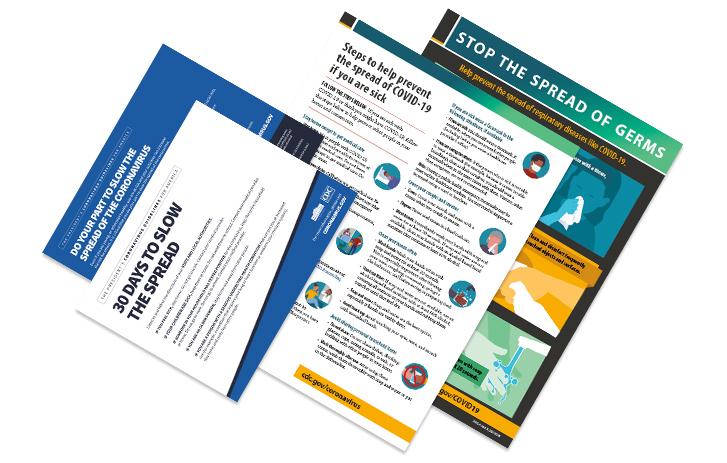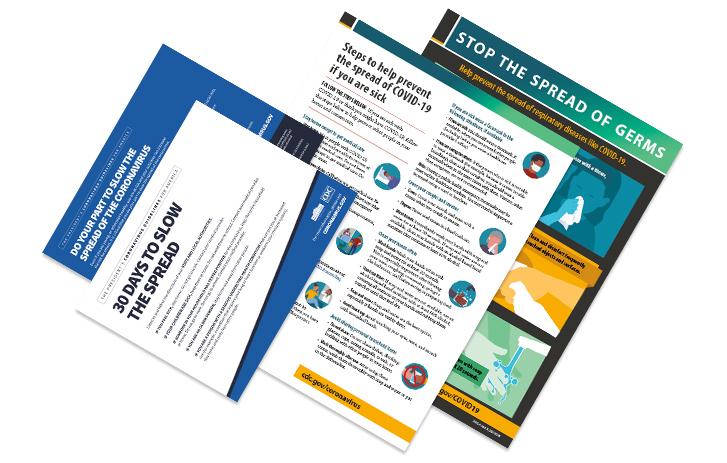 Staying home if you're sick
Isolation protocols if an employee gets sick at work
Installing plexiglass barriers at checkout areas
5. Grand reopening signs
If your business was temporarily closed, let people know you're back with these grand reopening ideas: 
Create flyers announcing your grand reopening and new guidelines
Create a pamphlet highlighting new services or existing services that promote social distancing, such as online ordering, curbside pickup and delivery
Send a postcard to customers announcing your reopening date and incentivize them with a promotion
Another idea is to cross-promote with another business. For example, a fine wine store and restaurant can team up to create a fancy, at-home experience with a takeout meal paired with an appropriate wine.
The right signage can help your small business implement new guidelines and keep customers safe. Whether your operation needs an eye-catching grand reopening sign or directional floor decals, FedEx design services make it easy to create and print all the marketing materials you need.
Related reading
Small business guide to canvassing
If you have a deal that's worth sharing with the whole neighborhood, here's how to get the word out effectively.
read more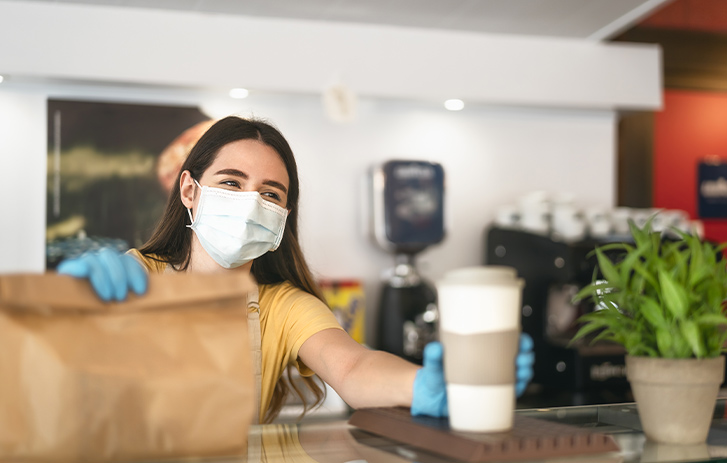 Contactless business practices to create a safe customer experience
Here's a retail health and safety checklist to make your retail business shopping safe/friendly in the age of COVID-19.
read more
How to create successful customer loyalty programs
Loyalty programs for small businesses engage and reward customers and build long-term relationships
Read article
Additional resources